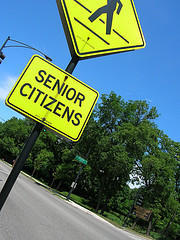 For the better part of a century, Southern California has been seen as the land of surfers, hipsters and youthful innovators. Yet the land of sun and sea is becoming, like its East Coast counterpart Florida, increasingly geriatric.
This, of course, is a global and national phenomenon. From 2015-25, the number of senior-headed U.S. households, according to the Joint Center on Housing Studies at Harvard University, will grow by 10.7 million, compared with 2.5 million households headed by people ages 35-44.
After some delay, this aging process is accelerating in California. Large-scale immigration, which supplied a younger population for decades, is slowing markedly. Once considerably younger than the country, the state appears to be heading toward the national median age. Since 2000, the senior population in Southern California has grown by 24 percent compared with 18 percent nationally. Unless immigration or domestic migration pick up soon, this aging trend should accelerate.
At the same time, our analysis shows that some areas – notably along the Orange County coast – are rapidly becoming virtual retirement communities, with a diminishing number of children and young families. For those sitting in their houses in affluenza-afflicted enclaves of Southern California, this may seem good news: "aging in place" while their homes increase in value. But this trend is less a boon for younger people, particularly families, as well as for companies seeking to launch and expand here.
Read the entire piece at The Orange County Register.
Joel Kotkin is executive editor of NewGeography.com. He is the Roger Hobbs Distinguished Fellow in Urban Studies at Chapman University and executive director of the Houston-based Center for Opportunity Urbanism. His newest book, The Human City: Urbanism for the rest of us, will be published in April by Agate. He is also author of The New Class Conflict, The City: A Global History, and The Next Hundred Million: America in 2050. He lives in Orange County, CA.
Wendell Cox is principal of Demographia, an international pubilc policy and demographics firm. He is a Senior Fellow of the Center for Opportunity Urbanism (US), Senior Fellow for Housing Affordability and Municipal Policy for the Frontier Centre for Public Policy (Canada), and a member of the Board of Advisors of the Center for Demographics and Policy at Chapman University (California). He is co-author of the "Demographia International Housing Affordability Survey" and author of "Demographia World Urban Areas" and "War on the Dream: How Anti-Sprawl Policy Threatens the Quality of Life." He was appointed to three terms on the Los Angeles County Transportation Commission, where he served with the leading city and county leadership as the only non-elected member. He served as a visiting professor at the Conservatoire National des Arts et Metiers, a national university in Paris.
"Senior Citizens Crossing" photo by Flickr user auntjojo.