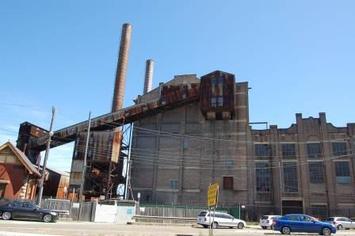 According to property analysts CoreLogic, the Sydney median vacant land selling price has hit $450,000, a massive 20.5 per cent higher than the same time last year. This follows the New South Wales Valuer-General's January announcement that in the 12 months to July 2016, land values across the city's north-western and south-western corridors rose by around 25 per cent. Yet a general reluctance to identify out-of-control land values as the prime cause of our housing crisis is matched by a strange indifference to their distorting effects on Sydney's economic structure. One exception is Michael Cook of Investa Property Group, who recently captured the essential problem. "South Sydney, once the domain of the industrial juggernaut Goodman, is now dotted with high-density Meriton apartments," he writes. "Where once 'office' or 'industrial' was the highest and best use, residential is now commanding the big bucks."
Cook's observations are consistent with this account of classic "deindustrialisation" from land economist Alan Evans of Reading University, applicable in many respects to conditions in Sydney:
It has already been argued that the high price of land will have led to the substitution of other factors for land where this is possible. Where substitution is more difficult, industries will face higher costs, and competition from countries where land or other prices are lower will force them to contract. The net result will have been a shift of production and employment away from some activities which use a lot of space, primarily in manufacturing industry, and towards activities which use relatively little space, primarily services. In this way the planning system will have contributed to the so-called de-industrialisation of Britain over the last 30 years or so.
While most of our civic and opinion leaders contemplate a "truly global city" for the world's best and brightest, processes of contraction and dislocation are reshaping Sydney's industrial base. "The broad trends being observed within Metropolitan Sydney, amplified over the past two years", said Sass J-Baleh of Colliers International in March, "has been the shift in preference for industrial users, particularly those large users within the manufacturing and logistics industry sectors, to locate further west of Sydney, and the urban renewal of industrial-zoned land in pockets of inner and middle ring areas." By 'urban renewal' she means the conversion of industrial land for residential and 'mixed use' purposes, and 'pockets of inner areas' means, mostly, the old industrial transportation axis of South Sydney, stretching from Sydney Harbour down to Central Station, Alexandra Canal, Kingsford-Smith Airport and Port Botany.
In a 2015 report to the NSW Department of Planning, consultancy Urbis note that "industrial land users traditionally located around Sydney's East and South subregions (ie Botany, Mascot, Banksmeadow etc) have progressively moved west as the city's population and urban footprint expanded and competition from alternative land uses increases." Urbis found that in the east and south industrial development has been "priced out … because of their diminishing industrial base (a function of increased inner-city residential densities and planning pressures)." South Sydney industrial land values for larger sites reached $700 per square metre in 2012, say Urbis, while south west and outer south west values were as low as $300 and $250. In the case of industrial development that differential has a large impact, since it's "delivered at lower margins than development for other land uses." In other words "land value has a greater role in determining the overall feasibility of development."
Colliers report that South Sydney land and capital values achieved a record growth rate of 19.4 per cent over 2016.
Across metropolitan Sydney, 35 hectares of industrial land was rezoned for other uses in 2013, of which 18.3 hectares was rezoned for medium-density housing. Unsurprisingly a high 79 per cent occurred in Botany Bay LGA (Local Government Area), the lower sector of the old South Sydney hub closest to the port, encompassing Mascot, Botany and Banksmeadow (renamed Bayside LGA in September 2016). While local industrial land values reached $850 per square metre in 2014, the equivalent figure for residential values in Mascot was $1,385. Hence the observation by Colliers' Edward Princi in 2015, that "residential approvals and rezoning have reduced the traditional industrial base of the city's south by about 2 million square metres." CBRE Research estimate that South Sydney will lose 210,000 square metres of industrial stock over the next 5 years. In contrast, the residential populations of Botany Bay LGA and City of Sydney LGA were forecast to grow by 23 and 30 per cent respectively.
From the gentrified, inner-city band around the CBD, City of Sydney LGA extends down to the industrial zone's northern Alexandria-Waterloo-Zetland sector. Here residential land values are more than triple those of Botany Bay, as much as $4,751 per square metre in the old factory suburb of Waterloo, just 4 kilometres south of the CBD. "Greater high density development and ongoing gentrification are underpinning the evolution of South Sydney from a blue collar, industrial working class area to an upmarket, mixed-use precinct with a rapidly growing local population", say agents Jones Lang Lasalle. In June 2015, City of Sydney Council rezoned what are officially called the Southern Employment Lands ("employment lands" are roughly equivalent to industrial lands in NSW planning jargon) to allow for a range of other business activities and housing (parts like Green Square were already the subject of special arrangements). This may just be a case of responding to pressure from landowners, but Lord Mayor Clover Moore's "green, global and connected" administration would have needed little encouragement.
By the 1940s, Alexandria/Waterloo was the "largest industrial municipality in Australia", 415 hectares crowded with 550 smokestack factories churning out products as diverse as soap, tallow, fertilisers, springs, brushes, aircraft, storage batteries, furniture, sporting goods, glass, matches, industrial gases, paper containers, paints and varnishes. "The Birmingham of Australia", was its nickname. Today Alexandria, Waterloo and Zetland converge on a very different landscape. "One of the largest urban renewal projects undertaken in Australia", Green Square is a complex of towers providing 20,000 new apartments around a Town Centre with two public plazas, at least one park, an 'urban stream', an aquatic centre, a library, and an underground railway station. With an estimated 2030 population of 61,000 packed into 2.78 square kilometres, it will be the country's most densely populated urban area. The economic principle, elaborated by Evans and others, that "capital is substituted for land in the production of space as land becomes more expensive", is thus borne out.
Other parts of industrial South Sydney are being similarly transformed. In 2015 alone, no less than 1,701 apartments were planned or being built amidst the derelict factories and workingmen's bungalows of neighbouring Rosebery.
While South Sydney was the heartland of the old industrial zone, it also branched off along the south shore of the harbour west of the CBD, where waterfront sites attracted bulk commodity processing industries reliant on seaborne transportation. Among them the woolstores at Darling Harbour, timber sawing at Rozelle Bay, coal-fired power generation at White Bay, sugar refining at Pyrmont, then further west as Sydney Harbour becomes the Parramatta River, livestock slaughter at Homebush Bay, iron ore smelting at Rhodes, coal-fired gasworks at Mortlake, and oil refining at Camellia. Over the decades, these industrial hubs were uprooted by rising land values and rents, and factors like the availability of motorised transportation. For instance, Urbis point out that between 1993 and 2012 (before the most recent explosion in prices) standard residential land values within a 15 kilometre radius of Sydney CBD rose at double the rate of small industrial land values, by 8.38 per cent and 4.44 per cent respectively.
Mostly, the old waterfront sites were rezoned for residential, commercial or recreational purposes, but not other industrial uses. Darling Harbour is now a convention, exhibition and entertainment precinct. Rozelle Bay and White Bay, along with Johnston Bay and Blackwattle Bay, are part of The Bays Precinct, an urban renewal plan for mixed use and 16,000 new dwellings on 95 hectares of derelict waterfront land. The small peninsula of Pyrmont is currently Australia's most densely populated suburb following the completion of Jacksons Landing, a planned community featuring five massive high-rise apartment blocks. Redeveloped as the site of the Sydney Olympics, Homebush Bay is the subject of a 2030 Master Plan for several 45-storey residential towers housing 21,000 more people in 10,700 new apartments. At Rhodes, a project allowing up to five 25-storey buildings will take the expected population to 11,000, "making it one of the most densely populated areas of Sydney outside the CBD." And Camellia has its own government Land Use and Infrastructure Strategy, proposing "a town centre … public plazas, high-rise apartments and parks."
Dislocating land values are having an impact beyond the traditional zones, however. Now they are rippling out to the secondary or middle ring of industrial sites in Sydney's central west region. From the 1960s and 1970s, places like Blacktown, Holroyd, Rydalmere, Rosehill, Silverwater, Chullora, Villawood, Milperra, Smithfield, Moorebank and Wetherill Park emerged as industrial centres in conjunction with the shift of working class population to the western suburbs and highway upgrades. Urbis identify Smithfield, Wetherill Park and Chullora, along with South Sydney, as locations from which industrial operators are relocating to the outer west and south west.
Ray White Commercial's head of research Vanessa Rader explains that "the market extending from Enfield to Moorebank, taking into account regions such as Milperra, Villawood and Chullora in recent years, has been contracting due to competition from other uses such as retail and residential, resulting in increases in land value …" She describes the region as "home to manufacturing, fabrication and wholesale type uses." Similar analysis came from CBRE's Raj Chaudhary, who said "the withdrawal of about 100,000 square metres from the central west industrial market, due to rezoning and conversion to residential, is reducing supply in an already tight market …" Last year's sale of 3 warehouse units in Holroyd for a price equivalent to more than $3,000 per square metre was "the highest industrial per square metre building rate ever achieved in the area."
These processes of contraction, dislocation and relocation have transformed Sydney's industrial geography. According to the NSW Department of Planning's last Employment Lands Development Program (ELDP) report, 79 per cent of Greater Sydney's total zoned employment lands, and 93 per cent of the 22 per cent zoned but not yet developed, are now in the central west, south west and outer west subregions. This is up from 60 per cent of all employment lands in 1991, say Urbis. The question is whether planning authorities are supplying enough zoned land serviced with water, sewerage, electricity and road connections on the western periphery to meet demand from new operators and those driven out of other locations, and to relieve pressure on land values generally. While this will receive more detailed treatment on another occasion, the evidence suggests they are failing. "Under the average take-up rate of 163 hectares per annum there is only 2.8 years of supply", says the ELDP report, "this does not meet the supply standard for undeveloped and serviced land (5-7 years supply)." Malcolm Tyson of Colliers warns that Sydney could run out of industrial land in just 6 years. Dreaming of "global city" amenities like dense housing, commuter rail, walkability and bike paths, our planning elites may be occupied elsewhere. But this is a crisis in the making.
John Muscat is a co-editor, along with Jeremy Gilling, of The New City, a web journal of urban and political affairs.
Photo: Derelict White Bay Power Station, Rozelle, Sydney, 2014