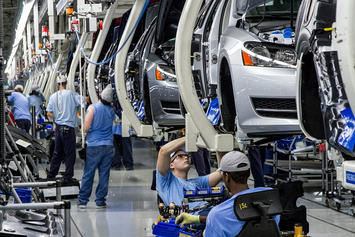 President Trump's critics find it hard to give him credit for anything, especially given his extraordinary boastfulness. Yet Trump's economic policies seem to be working. New job numbers are robust, GDP and wages continue to rise, stocks are soaring, unemployment continues to decline, and overall growth is at its highest in 13 years. And this salutary picture is not exclusive to big business; the index of small business optimism, as measured by the National Federation of Independent Business, has reached its highest level in the 45-year history of the survey.
Some positive trends can be traced to the Obama years, but there's clearly been a shift in trajectory and direction of the economy. As President Obama once noted, "elections have consequences." Under Obama, federal policies—the "stimulus," non-regulation of tech giants, ultra-low interest rates— benefited urban core, blue-state bastions that now constitute the unshakeable base of the Democratic Party. Under Trump, most working- and middle-class workers benefit from higher standard tax deductions and energy deregulation, while the affluent in high-tax states like California, New York, and Illinois are likely not to do as well.
Read the entire piece at City Journal.
Joel Kotkin is executive editor of NewGeography.com. He is the Roger Hobbs Distinguished Fellow in Urban Studies at Chapman University and executive director of the Houston-based Center for Opportunity Urbanism. His newest book is The Human City: Urbanism for the rest of us. He is also author of The New Class Conflict, The City: A Global History, and The Next Hundred Million: America in 2050. He lives in Orange County, CA.
Photo: Via Magoda.com.