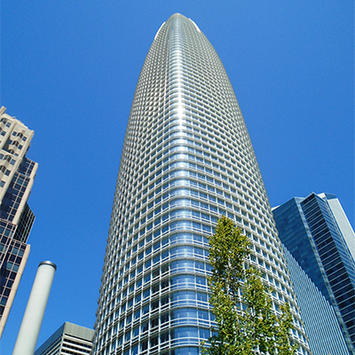 COVID-19 lockdown and social distancing strategies have led to a huge increase in the number of people working at home (working remotely). According to Gallup, by mid-April, 62% of US employees were working at home. Further, Gallup found that about half of the remote workers preferred to continue working from home, with another quarter interested in remote working out of pandemic fears.
Companies are listening. By the end of the year, Columbus, Ohio based Nationwide Insurance will replace 16 of its 20 locations with remote working, as it moves to a "hybrid" model where employees go to the office only in four locations. Twitter, Microsoft, Google, Canada's Shopify and Amazon are making remote working arrangements permanent or extending them. Salesforce is allowing employees to work at home through the rest of the year. Facebook says that at least half of its employees will work from home within 10 years.
Facebook: Leaving Silicon Valley Means Lower Salaries
The high cost of living, particularly in the Silicon Valley could induce many employees to move to lower cost metropolitan areas to substantially improve their standards of living, imagining what their Silicon Valley salaries could buy in lower cost markets like Cincinnati or Greensboro. However, Facebook CEO Mark Zuckerberg announced that employees who decided to work remotely, but left Silicon Valley, would be paid salaries reflective of their new residences, rather than their previous higher salaries.
This may have been a blow to some considering a move, especially those who might not understand the extent to which consumer economics have become distorted in Facebook's home state, California. From time to time, I encounter California residents who think that California's higher costs of living — the result of its higher housing costs — are compensated for by it higher incomes. This is a myth of profound proportions, as will be shown below
Excessively High Cost of Living in Silicon Valley
Software developers are highly paid, with a national median salary of $107,500. Silicon Valley software developer salaries are the highest. In the San Jose metropolitan area (Santa Clara and San Benito counties), software developers had a 2019 median salary of $141,600, according to US Department of Labor Bureau of Labor Statistics (BLS) data. In the San Francisco metropolitan area (Alameda, Contra Costa, Marin, San Francisco and San Mateo counties) the median salary for software developers was $141,000. This is considerably higher than the national median software developer salary of $107,500. Among the 107 metropolitan areas with 500,000 or greater population, only one (Seattle) is less than $20,000 below the two in Silicon Valley metropolitan areas (Figure 1).
The Biggest Gains from Remote Working Outside Silicon Valley
But in the Silicon Valley, the purchasing power of the high salaries is effectively discounted by 40% or more by hyper-inflated costs of living. (Figure 2). In both San Jose and San Franciscothe purchasing power of software developer salaries is well below the national median. When adjusted for purchasing power, only one of the metropolitan areas among the top 10 in nominal salary remains in the top ten (Seattle) (Note).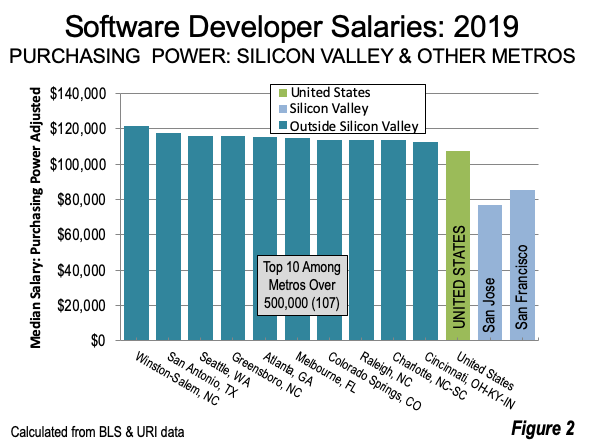 The purchasing power of the median software developer salary is higher than Silicon Valley in nearly all of the largest metropolitan areas outside California. This article provides data on the 10 most financially remunerative in comparison to the Silicon Valley.
In top ranked Winston-Salem, NC, the median software developer purchasing power adjusted salary was $121,600, well above the $76,700 in San Jose and the $85,500 in San Francisco. While Winston-Salem is not known as a tech hub, it is less than 90 minutes by car away from the Research Triangle, between Durham and Raleigh.
San Antonio, TX has the second highest salary, at $117,500, just ahead of Seattle. San Antonio is conveniently located where the Texas hill country begins, about 90 minutes from tech hub Austin, where software developers have a median salary about $15,000 less, when adjusted for purchasing power.
Seattle, WA is ranked third at $115,000, and might be considered the nation's second leading software development hub, by virtue of its 3.72 LQ for software developers (location quotient, which measures the extent to which the share of an occupation's employment in an area exceeds or trails the national average), trailing only San Jose's 7.5.
Greensboro, NC ranks fourth, at $115,900 (a few dollars less than Seattle after rounding) and is one hour away from the Research Triangle, and only 90 minutes away from Charlotte, NC-SC.
Fifth ranked Atlanta, GA has a median software developer salary of $115,700, and is by far the largest metropolitan area among the top ten. Atlanta is now ranked 9th in population and at its strong growth rate could exceed Philadelphia in its 2020 Census population.
Melbourne, FL is ranked 6th at $114,800 is the only Florida metropolitan area in the top 10, and is located less than 90 minutes away from Orlando.
Colorado Springs, CO is ranked 7th at $113,900 and is less than 90 minutes from Denver, a tech rich metro where the purchasing power of a software developer is about $15,000 less.
Tech hub Raleigh, NC is ranked 8th at $113,800 and shares part of the Triangle Research Park with adjacent Durham. Raleigh is the fourth fastest growing metropolitan area among the 107 (since 2010).
Charlotte, NC-SC has the 9th highest software developer median salary, adjusted for purchasing power, at $113,700. Charlotte is the largest metropolitan area between Washington and Atlanta, and the fourth fastest growing metropolitan area among the 107 (since 2010).
The tenth highest purchasing power adjusted median salary for software developers is in Cincinnati, OH-KY-IN. Cincinnati has one of the lowest costs of living in the nation --- six median priced houses can be purchased for each in San Jose. Granted, incomes are higher in San Jose, but not that much. House prices in San Jose, adjusted for incomes, are three times that of Cincinnati.
Three of the nation's Census Divisions were not represented in the top 10. But each has metropolitan areas offering substantial salary gains to Silicon Valley software developers.
In the West North Central, St. Louis, MO-IL has a purchasing power adjusted salary of $111,200 (ranked 15th). Birmingham, AL has a purchasing power adjusted salary of $104,900 (ranked 32nd). Worcester, MA-CT, in the New England Census Division, has a purchasing power adjusted salary of $104,900 (ranked 34th).
Higher Standards of Living
The advantages of such a move could be substantial. The greater purchasing power of the new salary would enable a better standard of living. Purchasing a house could be far easier.Transportation expenses would be reduced or eliminated. Remote workers would have, on average, about one more hour free each day, without having to drive to work and more if they had commuted by transit. However, this is not to suggest that there will be a rush of software developers to leave the state.
Yet, 2.4 million more people have moved out of California than moved in over the past two decades. The pace could accelerate since more people and more companies have learned during the lockdowns that productivity can even improve when work becomes remote. There are plenty of lower cost alternatives, with higher standards of living. This could alter our understanding of the geography of tech growth in the coming years.
Note: The purchasing power of salaries is calculated using the cost of living index from the Urban Research Institute (URI) 2020 Standard of Living Index. Purchasing power is calculated using data from the US Bureau of Commerce, Bureau of Labor Statistics, the American Community Survey and the National Association of Realtors. The data includes most taxes on consumers, such as sales taxes, real estate taxes and gasoline taxes. The data excludes federal, state and local income taxes.
---
Photograph: Salesforce Tower, San Francisco (by author).
Wendell Cox is principal of Demographia, an international public policy firm located in the St. Louis metropolitan area. He is a founding senior fellow at the Urban Reform Institute, Houston and a member of the Advisory Board of the Center for Demographics and Policy at Chapman University in Orange, California. He has served as a visiting professor at the Conservatoire National des Arts et Metiers in Paris. His principal interests are economics, poverty alleviation, demographics, urban policy and transport. He is co-author of the annual Demographia International Housing Affordability Survey and author of Demographia World Urban Areas.
Mayor Tom Bradley appointed him to three terms on the Los Angeles County Transportation Commission (1977-1985) and Speaker of the House Newt Gingrich appointed him to the Amtrak Reform Council, to complete the unexpired term of New Jersey Governor Christine Todd Whitman (1999-2002). He is author of War on the Dream: How Anti-Sprawl Policy Threatens the Quality of Life and Toward More Prosperous Cities: A Framing Essay on Urban Areas, Transport, Planning and the Dimensions of Sustainability.