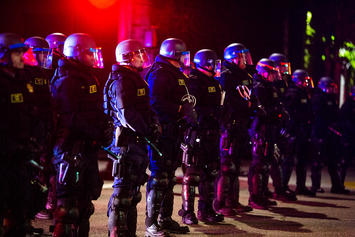 In the summer of 1966, Attorney General Nicholas Katzenbach warned that there would be riots by angry, poor minority residents in "30 or 40" American cities if Congress didn't pass President Lyndon Johnson's Model Cities antipoverty legislation. In the late 1960s, New York mayor John Lindsay used the fear of such rioting to expand welfare rolls dramatically at a time when the black male unemployment rate was about 4 percent. And in the 1980s, Washington, D.C., mayor Marion Barry articulated an explicitly racial version of collective bargaining—a threat that, without ample federal funds, urban activists would unleash wave after wave of racial violence. "I know for a fact," Barry explained, "that white people get scared of the [Black] Panthers, and they might give money to somebody a little more moderate."
This brand of thinking, which I have called the riot ideology, influenced urban politics for a generation, from the 1960s through the 1980s. Perhaps its model city was Baltimore, which, in 1968, was consumed by race riots so intense that the Baltimore police, 500 Maryland state troopers, and 6,000 National Guardsmen were unable to quell them. The "insurrection" was halted only when nearly 5,000 federal troops requested by Maryland governor Spiro Agnew arrived.
In the years since 1968, Baltimore has proved remarkably adept at procuring state and federal funds and constructed revitalization projects such as the justly famed Camden Yards and a convention center. But Baltimore never really recovered from the riots, and the lawlessness never fully subsided. What began as a grand bargain to avert further racial violence after 1968 descended over the decades into a series of squalid shakedowns. Antipoverty programs that had once promised to repair social and family breakdown became by the 1990s self-justifying and self-perpetuating.
Click to read or download the rest of this essay.
Photo credit: Thomas Hawk via Flickr under CC 2.0 License.