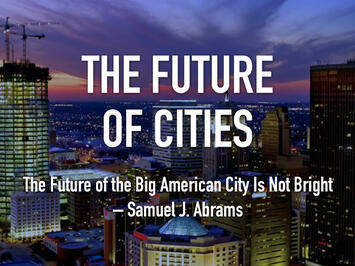 As COVID-19 begins to wane and become endemic, the question for policymakers, theorists, and Americans at large is: What is in store for our nation's big cities? The nation has moved from a rural to urban population over the past century, but do the hearts and minds of Americans and, in particular, younger generations still pine for the lights and opportunities historically present in our nation's big cities—from New York to Atlanta, Dallas, and Los Angeles?
This book is being published as a series, with permission of the American Enterprise Institute. Each week a new chapter will be published, with links to each chapter.
Click or tap a link below to read or download each chapter. (PDFs open in new tab or window)
Introduction: Welcome to the Urban Future – Joel Kotkin
I. The Big Picture for Global Geography
American Aspiration is Metropolitan – Ryan Streeter
The Urban Future: The Great Dispersion – Wendell Cox
The Future of the Big American City is Not Bright – Samuel J. Abrams (new this week)
---
Samuel J. Abrams is a profesor of politics at Sarah Lawrence College and a nonresident senior fellow at the American Enterprise Institute.