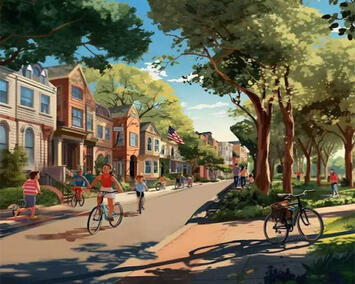 As a kid I used to draw imaginary cities all the time. I was inspired by a trip to Disney World when I was 11 years old and I saw the Magic Kingdom's Main Street USA and EPCOT. Without even knowing the truth I realized they were designed environments, meant to evoke certain feelings from visitors. It was something that brought many people into the field of planning. It brought me into it.
As I got older and understood more about the inequalities of cities, I shifted from wanting to create new cities to wanting to make existing cities better. Growing up in Detroit in the '70s, I saw an inner city that did not stoke the passions of people but had the potential to do so. I saw suburbs that were also less than inspiring in the public realm, mostly because they were inwardly focused, private environments. I viewed cities as being closer to realizing that potential.
But honestly, the desire to create imaginary cities never completely went away. It's a desire that urbanists have been trying to fulfill for centuries. The proposed effort to create a new city in California's eastern Solano County, between Sacramento and San Francisco, is but the latest effort to reimagine cities.
Quote from the New York Times article:
"In 2017, Michael Moritz, the billionaire venture capitalist, sent a note to a potential investor about what he described as an unusual opportunity: a chance to invest in the creation of a new California city.
The site was in a corner of the San Francisco Bay Area where land was cheap. Mr. Moritz and others had dreams of transforming tens of thousands of acres into a bustling metropolis that, according to the pitch, could generate thousands of jobs and be as walkable as Paris or the West Village in New York.
He painted a kind of urban blank slate where everything from design to construction methods and new forms of governance could be rethought. And it would all be a short distance from San Francisco and Silicon Valley. "Let me know if this tickles your fancy," he said in the note, a copy of which was reviewed by The New York Times."
Moritz was able to get the buy-in of many of Silicon Valley's tech elite, and they began buying up every piece of eastern Solano County that they could, currently totaling more than 50,000 acres. That's more land area than the entirety of San Francisco today.
The company that was buying properties had the benign name of Flannery Associates. However, since the New York Times article came out, California Forever has been revealed as the parent company of Flannery Associates and the thrust behind the new city movement.
The eastern Solano County site is indeed a good location for development, particularly for a part of California that struggles with housing affordability. Only an hour's drive from Sacramento and San Francisco, the site is lightly populated, unincorporated ranchland situated just north of where the Sacramento and San Juaquin rivers come together before emptying into San Francisco Bay. Perhaps its perceived isolation kept it from being developed earlier? It's not served by an interstate highway; California's State Route 12 travels through the area, but is mostly a low-capacity two-lane highway.
The California Forever proposal is just the latest in a long line of planned "new" cities designed to reimagine urban living in the aftermath of the Industrial Revolution. Most were conceptual, but a few did become real.
Read the rest of this piece at Corner Side Yard Blog.
---
Pete Saunders is a writer and researcher whose work focuses on urbanism and public policy. Pete has been the editor/publisher of the Corner Side Yard, an urbanist blog, since 2012. Pete is also an urban affairs contributor to Forbes Magazine's online platform. Pete's writings have been published widely in traditional and internet media outlets, including the feature article in the December 2018 issue of Planning Magazine. Pete has more than twenty years' experience in planning, economic development, and community development, with stops in the public, private and non-profit sectors. He lives in Chicago.
Photo: This image depicts one kind of neighborhood being considered for the proposed California Forever planned city development in eastern Solano County in California. It looks great -- yet it also looks like dozens of neighborhoods that line Chicago's boulevards today. Source: californiaforever.com