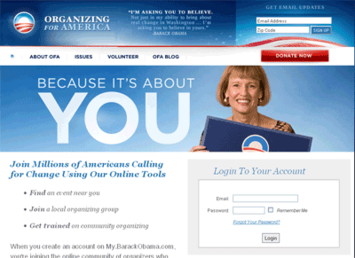 President Obama's campaign was indeed a revolution, not one of policy, but rather a dramatic change in how candidates communicate with voters. It is a reality that helped make Barack Obama our chief executive, but now threatens his ascendancy as well.
It all started with Obama's hiring of Chris Hughes, one of the founders of Facebook, as part of his campaign team. Hughes' job was to develop an online community for the campaign. He was largely dismissed by seasoned political operatives more comfortable with conventional media and campaign tactics.
David Plouffe, Obama's campaign manager, gave an honest assessment saying, "Technology has always been used as a net to capture people in a campaign or cause, but not to organize. Chris saw what was possible before anyone else. I still can't quite wrap my mind around it."
Hughes built for the Obama campaign the ability to create and manage content and conversations with vast numbers of people in mere seconds. With an entry into Facebook, video download, or link to information the Obama campaign could shape the opinions of millions of people across America, answer criticisms, and organize campaign events.
The results of Hughes work was reported on Fastcompany.com: "By the time the campaign was over, volunteers had created more than 2 million profiles on the site, planned 200,000 offline events, formed 35,000 groups, posted 400,000 blogs, and raised $30 million on 70,000 personal fund-raising pages."
Hughes had given Obama the ability to do things in real time. He showed the inherent weakness of newspapers as they were reporting what seemed like yesterday's news. He was out in front of network nightly news programming. He made the Obama campaign a source of news that rivaled networks like never before in history. In short, he was shaping opinion at its source.
In some ways this was a departure from the ways campaigns were waged in the past: staging huge armies and fighting battles on defined battlefields. The Obama campaign was more like a guerrilla force whose battlefield was at the time and place of their choosing. It bypassed staging. It ran lean. It organized by word of mouth and "buzz" among a new breed of political "activist" who understood the potential of new technology. Obama provided the opportunity to take the new political technology for a "test drive".
Fast forward nine months and the same technology that helped Obama win his election is now serving to undermine his policy initiatives. The ability to go viral was not proprietary of MyBO.com.
People showed how to take marketing viral, like Mark Hughes in his book "Buzzmarketing". Hughes engineered the successful takeover of Half.com using "buzz" generated from renaming a town in Oregon. He made ads specifically for YouTube rather than networks. One ad, for the "duckbill" dust mask, went viral and sales shot through the roof. You can still find the ad on YouTube. Hughes understood how conversations were changing. He knew that sending content to someone online could quickly go viral when inserted into that person's social networks. This is the foundation of "buzz."
President Obama won several quick and decisive victories early in his presidency with stimulus, omnibus budget, and "cap and trade" legislation. The President's goodwill ran high in the early months. His resounding campaign victory using new tactics to reach voters held Members of Congress in awe of both his political and fund raising abilities.
But, the same technology that Obama developed to win an election just nine months ago is now being successfully used to organize grassroots opposition to his policies. What stated as "Tea Parties" across America has developed into a broad based uprising opposing Obama's health care initiative. The opposition has found its voice and it is spreading its word virally. These communications are quickly outpacing our political leader's ability to spin issues.
John McCain recently commented that there was a "peaceful revolution taking place." He went on to amplify this point by saying, "There is a grass-roots uprising the likes of which I have never seen. There's anger; there's concern about the future. There's concern about the generational theft that we've committed by running up unconscionable and unsustainable deficits."
The usual tactics to stem the latest grassroots tide are not working. The more politicians talk down the protesters defining them as "un-American" the more energy it provides. Sarah Palin's post on her blog that the health care bill contained "death panels" worked virally through networks with resounding speed. The result was the Senate removed the provision (end of life counseling) from its bills rather than risk a protracted fight in cyberspace.
How is this happening? People are organizing around information in real time. Visit Drudge Report, Huffington Post and Politico every day and you can read and see politics happening in every corner of America. With YouTube you can be there at a town hall meeting hosted by Barney Frank on the left or Michelle Bachman on the right. You can take this content and send it into your social networks like Facebook, Linkedin, MySpace or hundreds of other platforms. Ordinary Americans can now instigate discussions, mold and change opinion and do it all under the radar. This is fundamentally changing our politics.
President Obama and Congress both now have to deal with the curse of MyBO.com. Social networking has enabled Americans to organize in new ways. Grassroots and community organizing are no longer the sole domain of the political left. In real time every misstep and piece of misinformation works its way into public dialogue on blogs, YouTube and websites where political thought is collected, dispersed and refined.
The days of politics as usual are over. The Obama team will have to play the game under a set of rules that have not all been written yet. This new era in politics will be much more open and subject to more public scrutiny than at any time in history.
The same communications tactics that won President Obama an election in 2008 may prove to be his greatest challenge in building public consensus for action going forward. In the age of "buzz" our young President will face challenges like none other. His greatest challenge may be in learning how to tame and control the inherently unruly politics of the information age.
Dennis M. Powell is president and CEO of Massey Powell, an issues management consulting company located in Plymouth Meeting, PA.