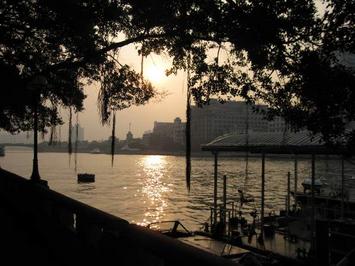 In Southern China, the Pearl River Delta is giving rise to an urban super-power in the first rank.
In 2005, the wealthiest metropolises were still led by the thriving urban agglomerations of the leading advanced economies in North America, Western Europe and Japan; that is, Tokyo, New York City, Los Angeles, Chicago, Paris and London. The scale economies of these metropolises are as significant as those of many national economies. For instance, the estimated GDP of Tokyo and New York City, respectively, was not that different from the total GDP of Canada or Spain, whereas London's estimated GDP was higher than that of Sweden or Switzerland.
In contrast with 2005, when most of the top-100 wealthiest cities were in the G-7 economies, by 2020 a third of these wealthy cities will be in the large emerging economies. However, such rankings are based on linear extrapolations, which tend to downplay growth differences and the impact of rapid urbanization. One of such rapid-growth regions is the Pearl River Delta (PRD), or Zhusanjiao – Southern China's low-lying area where the Pearl River flows into the South China Sea.
This area includes Metropolitan Guangzhou, a city of 10 million, capital of the Guangdong Province, which has more than 110 million people; Shenzhen, one of the fastest-growing cities in the world; and Hong Kong, one of the most competitive cities worldwide. In this region, urban planners are joining forces to create a massive Pearl River Delta Megapolis – which includes half a dozen cities of more than 4 million people each (Guangzhou, Shenzhen, Hong Kong, Dongguan, Foshan, and Jiangmen).
Since the economic liberalization in the late 1970s, the PRD has become one of the leading economic regions and a major manufacturing center of China. It is an ideal place for foreign investment. Hong Kong provides a world-class financial, logistics and service center, while Guangdong has first-rate electronics and manufacturing capabilities. It is these complementarities that are expected to drive the rise of the PRD region.
Two Cities, Two Systems: Hong Kong and Shenzhen
In 1997, Hong Kong reverted to Chinese sovereignty as a Special Administrative Region (SAR). China promised Hong Kong a 50-year autonomy; "one-country, two systems", as Deng Xiaoping put it.
Measured by purchasing power parity, Hong Kong's GDP per capita today is about $42,600 (the U.S. average is $46,600). With its seven million people, it is almost as prosperous as Switzerland in terms of GDP per capita.
This success is linked to China's soaring economic growth, Hong Kong's tax incentives, financial services, and its role in global trade. Despite Asia's 1997 crisis, the technology sector slowdown, and SARS, Hong Kong's economic engine has continued to hum. Today, the resilient city-state remains a globally important trade, shipping and the financial hub for the Greater Pearl River Delta.
In the past, Hong Kong was the main gateway to mainland China. As the mainland has given rise to rapidly-growing and increasingly prosperous 1st tier metropolises, there are now almost 110 cities with more than 1 million people in China (by 2025 there will be more than 150 such cities in China). As a result, the role of gateway cities is becoming redundant.
In 2008, Hong Kong International Airport handled almost 48 million people. However, since the opening of the Baiyun International Airport in Guangzhou, just one hour away from Hong Kong via a high-speed ferry, the region has been growing as an air transportation hub for the region. In 2008, it handled more than 33 million people and was the 2nd busiest airport in mainland China in terms of passenger traffic. Currently, Guangzhou is preparing for the Asian Games in late fall 2010, which will attract millions of visitors.
Despite 30 million tourists in Hong Kong last year, the growth levels are highest in nearby Macau, China's Las Vegas, where half of the $22 billion GDP is attributed to gaming, tourism and hospitality industries. It was shipping that initially made Hong Kong, still one of the world's biggest container ports by output. Ever since Yangshan, a massive deepwater port off the southern coast off Pudong, opened its first phase in 2004, Shanghai's role has risen rapidly. In 2008, the list of the world's busiest container seaports – measured by total mass of shipping containers – was led by Singapore, followed by Shanghai, Hong Kong, Shenzhen and Guangzhou.
Since Shenzhen was established as China's first economic zone in 1979, the former fishing village has exploded into a prosperous city of 9 million; if, floating migrant population is included, the population base probably exceeds 14 million. Today, Shenzhen has been rated the fifth most crowded city in the world, following Mumbai, Calcutta, Karachi and Lagos – and the first in population density in China, according to Forbes magazine.
The urban density of population in Shenzhen is 17,150 people per square kilometer, followed by Shanghai at 13,400 people. For a comparison, urban density in metropolitan Los Angeles and New York is 2,750 and 2,050 people, respectively. Unlike the U.S. cities, however, Chinese cities continue to grow – rapidly.
Shenzhen lacks Hong Kong's financial sophistication and global mindset. Hong Kong would like to take advantage of Shenzhen IT capabilities and manufacturing cost-efficiencies. Together, the two could evolve into the mainland's technology hub and IPO venue.
In 2008, Shenzhen's GDP per capita was already $13,200 (almost approximate with Taiwan or South Korea). Combined, the total GDP of Hong Kong ($215 billion) and Shenzhen ($120 billion) would be about the same as that of Argentina or Iran.
"Front Shop, Back Factory" Is No Longer Enough
As the United States was swept by the global recession in late 2007, the Guangdong and Hong Kong governments intensified their high-level strategies for cooperation. The leaders of the province and the city-state see the next 20 years as a golden age in the acceleration of economic integration between the two territories, and in the creation of a world-class Pearl River Delta Megapolis.
The proponents of the integration tend to use the term 'metropolis.' In fact, the PRD agglomeration would simply dwarf existing metropolises worldwide. Accordingly, the term 'megalopolis' may be more appropriate.
The basic goal of this massive integration would be to enhance quality of life and status of the Greater Pearl River Delta agglomeration. Accordingly, the proponents of the GPRD seek to speed up the upgrading and restructuring of industries in the region. They hope to ensure Hong Kong's continued prosperity and stability and increase the integrated competitiveness of the region. They also hope to develop an important engine for the development of China and the Pan-Pearl River Delta Region.
Naturally, such objectives require substantial industrial restructuring and upgrading. In the course of 30 years of China's reform and opening up, Hong Kong and the Pearl River Delta region jointly created an economic miracle based on the model of "Front Shop, Back Factory". In this model, the PRD region served as the factory of the world, while Hong Kong exploited its service capabilities.
The growth model is no longer sustainable. It has been continuously weakened. At the same time, signs of change have already become apparent in Guangzhou.
The Pearl River Delta manufacturing industry has entered an era of restructuring, consolidation, and upgrading in three major sectors; that is, the region's key industries, the high-tech industry and industry supporting systems. Overall, future prospects for the manufacturing industry look bright.
Megapolis-in-Progress
In Guangdong, Party Secretary Wang Yang has called for new thinking on Guangdong-Hong Kong economic integration, while Hong Kong's Chief Executive Donald Tsang has stressed the need to strengthen Guangdong-Hong Kong economic cooperation. Nearly 80 percent of the residents in the two territories surveyed express confidence in accelerated cooperation between the two territories.
Still, the plan also poses monumental problems and obstacles, including differences between Guangdong and Hong Kong in their legal, economic, public administration and social services systems. In addition to these differences, the region's rapidly-growing urban centers have strategic objectives of their own. Competitive strains also exist between the different cities in the region.
Yet, the incentives for agglomeration are more powerful. The development of the PRD Megapolis would spur growth in the region's GDP, trade and investment. Some think-tanks expect the GDP of the PRD Metropolis to exceed $2.7 trillion on the basis of the current exchange rates in the next 30 years. For all practical purposes, this would mean that, by 2038, the PRD GDP would be comparable to that of the New York or London metropolitan areas. It will no longer be and up-and-comer; like Tokyo, it will stand as an urban super-power in the first rank – but more than three times bigger.
Dr. Dan Steinbock is research director of international business at the India, China and America Institute (USA). He currently also serves as senior fellow at the Shanghai Institute for International Studies (SIIS), and visiting professor at the Shanghai Foreign Trade Institute. Dr Steinbock divides his time between New York City, Shanghai and Guangzhou, and occasionally Helsinki, Finland. His new book is Winning Across Borders: How Nokia Creates Strategic Advantage in a Fast-Changing World (Jossey-Bass/Wiley, April 2010) and his most recent policy brief is "Legacy and Globalization: Shanghai and Hong Kong as China's Emerging Global Financial Hubs" (SIIS).