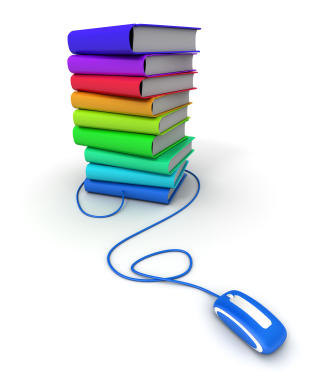 The rising Millennial Generation has been cast as the leading force in teaching current technological advancements, and in predicting what will come next. Labeled "Digital Natives" because of our familiarity with digital communications and media technologies, the rise of the Millennials has run parallel with the rise of the cell phone, the computer complete with Internet, and the launch of MP3 players. In keeping with expectations that we'll provide leadership on the digital media world, here's what to expect of the sophisticated technology of Kindle, the digital book:
Named "Kindle" to evoke the crackling ignition of knowledge, this software and hardware platform was developed by Amazon.com for rendering and displaying e-books and other digital media.
First released in the U.S. in, 2007, the device represents the turning point in a transformation toward Book 2.0, the revolution in progress that will change the way readers read, writers write and publishers publish. Originally it was designed to present an aura of "bookishness". With the dimensions of a paperback, the Kindle weighs 10.3 oz and mimes the clarity of a printed book by using a colorless "E-Ink". Unlike most wireless devices, the Kindle doesn't run hot or make beeps, and the battery is durable and made to last at least 30 hours on charge. It runs on "Whispernet", a wireless connectivity-based on EVDO broadband service offered by cell phone carriers which provides access everywhere, not just in Wi-Fi hotspots.
Any bookworm can carry 200 books onboard the device and hundreds on a memory card. "The vision is that you should be able to get any book—not just any book in print, but any book that's ever been in print—on this device in less than a minute," says Amazon president Jeff Bezos.
Search tools provide convenient access to a high volume of books. Consumers can read multiple books online for free, instead of buying books one at a time at a higher price. It pairs nicely with a trend towards short content: news stories, online journals, blogs, and short e-books. The short story phenomenon has grown among young writers who prefer writing short fiction blogs rather than lengthy novels.
Amazon prices Kindle editions of New York Times best sellers and new releases at $9.99. The price for the Kindle edition books drops for classic novels; Edgar Allan Poe works are under $5.00, and vintage hardboiled reads are available for under $7.00. The first chapter of almost any book is available as a free sample.
Digital book prices are in danger of rising. Beginning in March, books from Macmillan will reportedly cost up to $14.99. Five additional publishers have negotiated higher prices for digital publication on iPad.
When purchased, the Kindle e-book is auto-delivered wirelessly to your Kindle in under a minute. A Kindle owner can also subscribe to major newspapers or popular magazines. When issues go to press, the virtual publications are automatically beamed into the user's Kindle. A user can also subscribe to selected blogs, which cost either 99 cents or $1.99 a month per blog.
Kindle allows the reader to personalize the reading experience. Users are able to change the font size, which is particularly accommodating to the Boomer generation and those older who may struggle with small print. For tech savvy multi- taskers, an electronic highlighter captures passages, which can be linked via web access to Wikipedia and Google. Another feature includes a personalized Kindle e-mail, which allows users to file any word document or PDF file into a personal digital library.
The original Kindle proved to be revolutionary and popular device, selling out within its first six hours on the market. Within less than two years, Kindle 2 and Kindle DX were released.
Kindle 2 developed into an "international version" of Kindle. Currently, it works in 100 countries using AT&T's U.S. mobile network. Kindle DX is a little larger, with greatly increased book storage and, of course, a higher price.
As authors adapt to online literature, the current book readership demographics may change as well. Scott Moyers, Director of the NY office of Wylie Publishing Agency, categorized the readers of e-books as "People who view the physical book as disposable". Moyers believes that the first genres to solely go e-book will be Romance and Mystery novels, based on rapid turnover of the vast amount of works available in those genres. Visually intensive books — such as photography books that are beautifully produced — will be the last genre to go e-book, suggests Moyers, since these would be a "paler echo on the colorless Kindle".
Piracy poses a threat, as in the music industry; pirate sites may gain access to scan the online books. As far as "peer-to-peer" file sharing, Kindle has attempted to create a limit: a user can freely borrow an e-book for one month. Although this suppresses most excessive file sharing, online file sharing could become more popular.
Despite potential dangers, Kindle has expanded along with the wild success of internet visibility on computers and cell phones. "Kindle for PC" and the Kindle application for the iPhone are now available. Can "Kindle for Mac" and "Kindle" for Blackberry be far behind?
Kjellrun Owens is a freshman at Chapman University. Originally from Minnesota, she plans to pursue a career in Broadcast Journalism/TV.