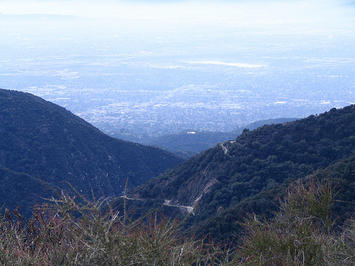 In 1952, a white Protestant couple from Pasadena, California along with their newly born first child, moved 22 miles east to a small town called Covina. There, among acres of open space and endless rows of orange, lemon, and avocado trees, the young family was able to purchase a plot of land and build a brand-new home with swimming pool for a total of $20,000.
Not far away, in an unincorporated area of Los Angeles County straddled by the towns of La Puente, Baldwin Park and West Covina, a Mexican-American Catholic couple from central Los Angeles with two small daughters purchased a newly built 3-bedroom, 2-bath home with a large backyard for $15,000. The young husband had served in the Navy during World War II, allowing the couple to buy their home with the help of the G.I. Bill. The year was 1956.
The two couples featured are my paternal and maternal grandparents. Both were young families of the prosperous post-war years claiming their stake on the middle class American Dream. My paternal grandfather worked as a sales representative for Drackett Products (the creators of Drano and Windex- now part of S.C. Johnson & Son) while my maternal grandfather worked as unionized welder at an aerospace plant in Burbank. Both grandmothers were career stay-at-home moms.
The place they chose to call home is the San Gabriel Valley- a sprawling expanse east of Los Angeles comprised of 47 independent municipalities and unincorporated areas. Today, the region is a demographically diverse melting pot of more than 2 million residents. To a casual visitor heading east towards the Inland Empire on one of the Valley's three main east-west arteries (the 210, 10 and 60 freeways), the separate municipalities-with names like Glendora, Rosemead, and Duarte-are virtually indistinguishable. Aside from Pasadena, the oldest city in the Valley and famous for its Rose Parade and accompanying Rose Bowl Game, most San Gabriel Valley cities are largely forgettable in terms of architecture or town planning.
Such failings in the built environment were not a consideration back in the 50s and 60s. My father describes his childhood setting as 'heaven on earth' where he could ride his bike with friends for miles from his home exploring rolling hills, untouched rivers and endless citrus groves.
My mother describes her childhood neighborhood as what Life magazine once dubbed 'kidsville. She recalls the neighborhood kids playing a variety of games outside in the street after school. Most often, she would not even be allowed inside the house until 5 pm when dinner was promptly served. On special occasions, her parents would take her and her siblings, my aunt and uncle, to a new fast-food joint called In-N-Out Burger. The now iconic chain had their first location literally just around the corner from their home.
By the mid 1970s, both of my parents had left the San Gabriel Valley for another valley in Northern California where they met and later got married. My younger sister and I were raised in the Bay Area's Silicon Valley, but we would still make the drive down to Southern California at least once a year to visit relatives.
This trip always prompted mixed feelings from my parents.
My father later explained to me that over the course of 25 years the San Gabriel Valley had devolved from an idyllic bedroom community to a crowded and polluted assortment of endless strip-malls. The year he left, 1973, had one of the worst air-pollution levels on record. Most days it was impossible to even see the majestic San Gabriel Mountains towering over the Valley. Sometimes, my father tells me, his high school football practices had to be canceled due to the inability of the players to catch their breath.
Today the air-quality is significantly improved (thanks in large part to the introduction of catalytic converters to automobiles).
The demographic make-up is also drastically different. My mother's childhood street, which was about 50-50 split between Mexican-Americans and white Americans is now predominately populated by Central American immigrants. Long gone are the children playing on the street and neighbors socializing with each other. Now, most homes have unkempt front lawns surrounded by chain-link fences and windows and doors with security bars on them. On commercial streets nearby, strip malls are dominated by small restaurants and grocery stores with signs in Spanish catering to the local Latino community.
In the neighboring city of West Covina, the present demographics are markedly more mixed. About half of the population is of Hispanic origin while the remainder is split between white and Asian. The Asian influx to West Covina is a recent phenomenon, taking place over the past two decades. This is physically visible in several strip malls throughout the city catering to Chinese immigrants and Chinese Americans.
The growing Asian population is part of a larger trend in the greater San Gabriel Valley region. Already, cities in the western part of the Valley, including Alhambra, Monterey Park, San Gabriel, and even the upscale enclave of San Marino, are majority Asian. Die-hard foodies of Southern California claim this area has the most authentic Chinese food in North America.
I can't blame my parents for wondering what happened to the suburban utopia of their youth. Many other Baby Boomers across the U.S. probably share similar sentiments about the communities where they grew up.
Yet if the dream seems endangered, or even delusional, to many sophisticated Americans, many other people, particularly immigrants from outside of America's borders, want a piece of it.
Ultimately these newcomers may be the ones to save suburbs like those in the San Gabriel Valley. They are the ones now starting businesses, improving their houses, and building the new cultural institutions. This may not be the suburbia of my parent's childhood but it is not the doomed dystopia imagined by many urbane observers.
These newly energized suburbs will also not depend as much on the center city. More residents now work closer to home, and fewer commute to the core of Los Angeles, which has lost hundreds of thousands of jobs over the past decade.
Instead these towns are reviving along the lines of 'suburb as village', building on now underutilized downtown areas with charming mid-century structures that once served as commercial hubs for their respective towns. A growing emphasis on locality, as well as a renewed interest in civic identity, may help these places find their individual character once again – even if the signs of revival may be in Mandarin or Spanish as well as English.
Adam Nathaniel Mayer is a native of California. Raised in Silicon Valley, he developed a keen interest in the importance of place within the framework of a highly globalized economy. Adam attended the University of Southern California in Los Angeles where he earned a Bachelor of Architecture degree. He currently lives in China where he works in the architecture profession. His blog can be read at http://adamnathanielmayer.blogspot.com/
Photo by BurlyInTheBay