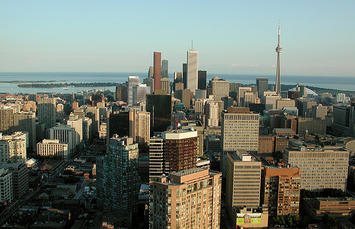 Despite Toronto's international reputation for livability, all is not well in the city. Many politicians and pundits blame the outgoing city council, and Mayor David Miller. While they've done their share of damage, the city faces deeper, systemic problems. The source of the problem is more fundamental than stifling bureaucracy, or the stranglehold of the public sector unions. These are symptoms of the institutional sclerosis caused by the amalgamation of Toronto and surrounding areas into the new Toronto Megacity.
The first taste of this malaise came in the form of a nasty garbage strike last summer. Torontonians waited weeks to have their garbage picked up as it rotted in their front yards. Those who dared to pick up trash for a fee were threatened with legal sanctions. This incident helped propel provincial cabinet minister George Smitherman into the political limelight. The prominent Liberal helped spearhead a volunteer effort to clean up the city. Smitherman was seen by many as the right man to fix what was wrong at city hall. The strike was eventually resolved, but the contract was widely seen as a union payoff. The blowback convinced Mayor Miller not to run for a third term. Smitherman was considered an early frontrunner to replace Miller. He has a reputation for being a maverick who could whip the city into shape. This optimism quickly faded, and it looks increasingly as though the Smitherman could lose.
There are times when a simple photo shared on Twitter can outrage an entire population. This happened this summer, when a picture of a sleeping toll collector on the Toronto subway ignited months of anger at the city's public transit system. In the wake of the garbage strike, Torontonians were incensed to see employees sleeping on the job. Frustrated downtown residents were looking for a change, which they assumed would be embodied by Mr. Smitherman. But few commentators seemed to realize what Jaideep Mukerji recently pointed out: while downtown residents are frustrated, suburbanites are downright angry. This has lead to a surge of support for Etobicoke's hot-headed, penny pinching councilor Rob Ford. Unlike downtown residents, who primarily want to ensure that services such as transit are efficiently delivered, Ford's supporters want to cut spending, and end the "war on drivers."
It turns out that service delivery was only the tip of the iceberg. The true source of the city's malaise is the realization that amalgamation may have turned Toronto into an ungovernable city, serving neither the suburbs nor the downtown core. Because of this, the election is evolving into a culture war between downtown and the suburbs.
The Toronto megacity dates back to 1995, when Progressive Conservative Premier Mike Harris attempted to unshackle an economy crippled by unsustainable tax and spend policies and burdensome regulations. In his quest to find efficiencies, Harris commissioned a KPMG study to determine how to make the provinces most populous city run more efficiently. The answer was amalgamation. The study claimed that if the six cities in Metro Toronto were to merge, they could save between $300-$645 million dollars in operating costs per year. These savings could be purchased for a mere $220 million in transition costs—or so the report went. The actual cost ended up being $275 million. More importantly, the operating cost savings were far lower, at $135 million per year. If this were the whole story, the merger would likely be considered a success.
The theory of amalgamation revolves around saving money by reducing redundant bureaucracy. According to a study by York University economist Harvey Schwartz, the opposite happened. All of the efficiency savings created by amalgamation were dwarfed by a massive increase in city government employment. Between 1997-2008, the city added 4,741 employees. Over the same time period, the operating budget ballooned from $5 billion to $8.1 billion. The promised savings simply never materialized.
Not only has amalgamation failed to save money, it has also lead to policies that have left neither downtown residents nor suburbanites happy. To a great extent, representatives from the newly annexed cities have felt consistently marginalized. Take, for example, a recent council motion to force all retail stores to have public washrooms. The motion was overwhelmingly popular with councilors from North York, Scarborough, and old Toronto, gaining 77% of their votes. Not so in Etobicoke, and East York, where only 22% of councilors from their old boundaries favored the motion.
Though public urination or lack of toilets may be an issue in some parts of the megacity, it isn't necessarily a problem everywhere. Forcing coffee shops in Toronto to have toilets may seem reasonable, though requiring a print shop in Etobicoke to pay for the installation and maintenance of a public washroom is an unjustifiable cost imposition. East York and Etobicoke councilors also overwhelmingly opposed the introduction of a garbage tax, this time with the help of their North York counterparts. Only 25% of their representatives voted for it, while 91% of Toronto and Scarborough councilors voted for it. The motion carried due to the greater population of the core.
Arguably the most symbolic recent vote in terms of the city's post amalgamation malaise could be seen in a recent vote on whether non-unionized employees should receive pay increases equivalent to their unionized counterparts. Two thirds of East York and Etobicoke councilors supported the motion, while two thirds of the rest of the megacity opposed it. This vote underscores a core problem with amalgamation: elimination of policy experimentation.
Amalgamation into megacities is analogous to the decline of federalism in North America. Both the Canadian and American constitutions lay out a division of powers, which allows for varying degrees of policy experimentation. The virtue of this, as later articulated by public choice scholars, is that it lets people vote with their feet. If taxes are too high in Massachusetts, you can move to Maine. If you're fed up with business regulations in California, you can set up shop in Nevada. On a more local level, you don't like the regulatory regime in Los Angeles, you can move to Burbank or Calabasas.
This competition between states and regions impels the more competitively minded jurisdictions to craft policies that will attract people and business. This was one reason for the massive suburban exodus during the 60s and 70s in both Canada and the US. People didn't like how things were going in major cities, so they packed up and left.
Amalgamation eliminates this competition. To escape the Toronto tax regime, you need to either move well outside of reasonable commuting distance, or leave the Toronto region all together. Rather than having small cities competing, we have one big city that won't let you leave. This is the ultimate source of Toronto's malaise.
Amalgamation is slowly making its way into a campaign issue. Mr. Smitherman, to his credit, has proposed empowering community councils to decentralize decision making. He even went so far as to say he wants to adopt a "concept of de-amalgamation." This would be a start, although it still wouldn't allow for tax competition, or sufficient local control over land use planning, and other major policies.
Hopefully the fact that amalgamation is becoming an issue in one of North America's biggest megacities will lead to a rethinking of the concept. Many cities are continuing to move in this direction, largely due to annexation emerging from the core. While many big city politicians feel the need to continually expand, it is to the detriment of their cities. Urban cores have different needs from their suburbs. Amalgamation has left neither old Toronto nor the suburbs happy. Perhaps one day Toronto's political elites will finally realize that de-amalgamation is necessarily. Unfortunately, the only thing more difficult than a bad marriage is a messy divorce.
Downtown Toronto photo by Small
Steve Lafleur is a public policy analyst and political consultant based out of Calgary, Alberta. For more detail, see his blog.