The National Association of Realtors has just published its quarterly median house prices and the trend continues downward in Miami. At the end of the third quarter, the median condominium price had dropped to $82,900 in Miami, about the same as the list price for a BMW-7 sedan. This places condominium prices at 77 percent below the 2007 second quarter median of $367,000.
While Miami has experienced perhaps the most substantial condominium bust in the nation, other metropolitan areas, such as Atlanta, Seattle, Los Angeles, San Diego, Chicago and Portland (Oregon) have seen huge decreases and a spate of spate of distress auctions and conversion of units to rentals.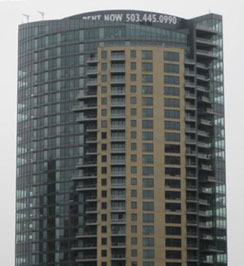 A recent article in The Wall Street Journal noted that condominiums have experienced an even greater market decline than detached housing. The over-building of condominiums may have been spurred by rose predictions from urban planners about the demand for central city housing being far greater than the supply. For example, the developer of City Center Las Vegas indicated that they built too many condominium units, at least in part in response to information received an urban planning symposium.
Photograph: Condominium Conversion to Rentals in Portland (by author).