By Joel Kotkin and Mark Schill
They may be losing out politically to oldsters and youngins, as Morley Winograd and Michael Hais suggest, but Boomers will have a profound impact on our country's demography and economics for decades to come.
In some ways this is as much a matter of numbers as anything. There are lots of Boomers and until the Millennials start entering their 30s in the middle of the next decade, they will retain a massive say in what kind of places and regions will thrive.
One thing Boomers can be counted on: to disappoint many expectations cast on them. In the 1960s the punditry was full of expectations that Boomers would reject the suburbia settled en masse by their parents. They would be different, returning to the land or resettling the urban frontier. Instead the Boomers ended up turning suburbia into the nation's dominant geography.
Now that the Boomers are aging, once again the punditry predicts they will once again reshape the landscape. Maybe so, but not as quickly and not in ways widely bandied in the media and some developers.
One predominant myth is that Boomers, as they age, will desert the boring burbs and rediscover the allure of a fast-paced, defiantly "youthful" lifestyle. Suggests luxury homebuilder Robert Toll:
We are more hip-hop and happening than our parents.
We want the sophistication and joy and music that
comes with city dwelling, and doesn't come with
sitting in the burbs watching the day go by while
puttering, painting, reading, writing, making flies
for fishing, customizing your own golf clubs,
stringing your own tennis racket, tending your tropical
fish.

It makes good copy for journalists, and spurs wishful much thinking among urban developers. The reality is a different matter. Overall, downshifting Boomers seem to prefer what one critic calls "the bland American dream"; barely two percent want to move to experience the "excitement" of a dense urban area. And, like their younger counterparts, aging Americans have remained tethered to their cars; less than ten percent of seniors over 65 walk, bike or take public transport as their primary means of getting around. "Suburbanites," summarizes Syracuse University economist Gary Engelhardt, "like the suburbs."
Indeed instead of heading to dense cities, our analysis of data -- -and the findings of the homebuilding industry --- is that most Boomers, as University of Arizona gerontologist Sandra Rosenbloom suggests, are "aging in place." Rather than head off anywhere far away, most will want to stay close to their personal networks, offspring, churches or clubs.
Family ties are perhaps the biggest factor. One quarter of Generation Xers, for example, still receive help from their parents, as do nearly a third of Millennials. As many as forty percent of Americans between 20 and 34 now live at least part-time with their parents, an option that is likely to become more commonplace in areas where home prices are particularly high.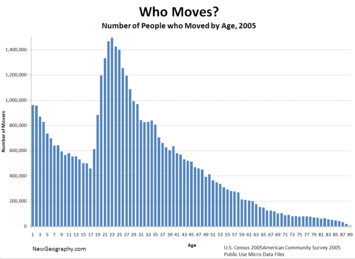 As a result, older Americans will remain a far more active force in the economy --- and in their children's lives --- than might have been the case a generation ago. Most plan to stay near where they currently live, and rate being close to family members as a major factor in their decision. Contrary to the celebration of "independence" created by marketers and advocates of the "slimmer" family, most consider themselves to be about as concerned with passing on an inheritance to their children as their parents were.
This does not mean that eventually some aging Boomers will not choose to move into smaller residences. But to lure them, successful communities need to develop cultural amenities and diverse stores and restaurants, while offering a secure environment. Nine of the top ten active-adult communities put up recently were located in the suburbs. "They don't want to move to Florida and they want to stay close to the kids," notes Washington area developer Jeff Lee. "What they are looking for is a funky suburban development --- funky but safe."
It turns out the most attractive options for aging populations are quieter ones. Only a small slice of the aging population seeks electric excitement; at older ages, most people seek repose, familiarity and general As Canadian demographer David Foot has pointed out, as people age, they tend to favor quieter activities, such as bird watching or gardening; "eco-tourism" jaunts nearby seems more attractive than bar-hopping in the fast-paced city. This tendency will extend increasingly to non-traditional populations, including childless couples and the gay community, many of whose members also apparently share the general desire for a quieter life as they age.
Indeed, if you are looking for a big movement among aging Boomers --- now roughly 55 to 64 --- the best place to look will be amenity-rich smaller towns and cities such as Douglas County, Colorado and certain counties in Idaho, in the Berkshires of New England, and even in parts of Alaska. Such counties, according to the US Department of Agriculture, grew ten times faster than other rural counties.
In many of these counties' central towns, old Main Streets are already being restored; as downshifting seniors move in, this process should accelerate rapidly. College towns in particular could win out --- something they will need to do as the number of teenagers begins to drop dramatically in the next decade.
Although not in ways foreseen by urban boosters, the Boomers still could have a major impact on our future communities. In many places, they could become a bulwark of community organizations and churches. They certainly will have more time to devote themselves to quality of life issues, including environmental activism, education and historic preservation.
And as many may still be working, they could contribute to economic growth, through their greater financial resources and accumulated skills. Expect many Boomers to work well into the 60s and 70s --- using their spare bedrooms to accommodate home offices and assisting younger entrepreneurs develop their businesses. Many will keep working because they need the money; others may still in the game for the love of it.
In the end the Boomers could play a less heroic, but still very positive role in the evolution of American communities. Even as the Millennials mature into dominance --- and the Xers assert their shot at political leadership --- the Boomers could offer the financial wherewithal, the skill and, perhaps, most surprising of all, the wisdom required by a rapidly evolving, and expanding, society.