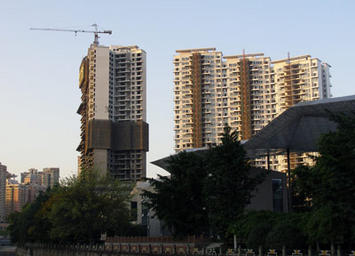 The sensationalist reporting of rising China tends to celebrate the country's ascent. But there is one area where both economists and casual observers see a potential disaster: the real estate market.  Media reports of skyrocketing housing prices in first tier cities like Beijing and Shanghai and photo essays of Chinese 'ghost cities' inject sober skepticism into the otherwise bewildering reality of rapid growth.
The claims about real estate, however, are as exaggerated as the breathless accounts of the country's path towards world economic domination. It is absurd to argue that all it will take for China to fall would be a bust in the housing market. In reality, the country has too many economic fundamentals working for this one sector to wreak too much havoc.   
Above everything, China remains a manufacturing powerhouse, providing the developed world with everything from children's toys and athletic shoes to iPads and other electronic devices. Yes, the Great Recession did have a negative impact on China's export business; this is why the Central Government took steps to direct massive amounts stimulus money towards infrastructure and real estate development.
Far from being limited by exports, China is just beginning to unleash the power of its domestic consumer market. Imported goods (in reality, foreign brands, even if they are manufactured within China) are highly taxed, encouraging Chinese consumers to spend money on cheaper, local brands, thus keeping the money supply circulating through the domestic market.
Yet this does leave China somewhat subject to real estate speculation. With   limited channels for investment, a risky domestic stock market, and little-to-no interest accrued by holding money in Chinese bank savings accounts, there is, for many individuals, nowhere else to spend their money but in the housing market.
There are a few other forces at work here as well. Since the Chinese government still technically owns all of the land in the country, real estate developers are given the right to develop land based on a bidding process, with the rights going to the highest bidder. Auctioning of land for development typically happens at the municipal level. Once a developer is awarded the right to develop a piece of land, there is a time limit (usually no more than a few years) before it returns to the hands of the government.
The purpose of this is two-fold: one is to manage the urban influx of new migrants and also to discourage land speculation by developers. As you can imagine, savvy developers often wait until the last minute to build a project to get the maximum profits from their projects.
Since income taxes are low by international standards (and easily evaded through the preponderance of 'grey money' or hidden income) and property taxes are virtually nonexistent (up until recently at least), land auctioning is by far the largest source of income for local governments. This becomes the main way these governments fund infrastructure and public works projects.
This same process is happening in cities across China. Why? Quite simply, the demand is there. The booming housing market is a revolution of sorts. This is really the reflection of the emergence of a true Chinese middle-class. The U.S. media, on the other hand, tends to remain focused on a massive China real estate bubble, perhaps as a projection of America's own recent experience of real estate exuberance.
Yet there are some major differences. For example, few Chinese purchase homes with little or no money down. Banks are not lending 'creative mortgages' such as ARMs to homebuyers. Government measures seek to discourage speculation.
For instance, Chinese home buyers are limited to purchasing 2 homes and must put at least 30% down for the first home and 60% down for the second home. Investment by foreigners into the real estate market is strictly regulated in order to reduce the amount of 'hot money' coming into the country. Non-Chinese citizens are limited to purchase one home only and must hold onto it for 5 years before being allowed to resell it.
Due to the massive size of China's population, the majority of homes being purchased are flats in newly-built residential high-rise compounds. The size of these units might be a little too cozy for Americans or even Europeans, but to young Chinese homebuyers (of which most are first-time buyers), it represents an aspiration unimaginable only a few years ago.
Take 26 year old Mei Li for example: late last year she, an administrative assistant at a construction company, and her husband, an IT professional, bought a home in the fast growing western district of Chengdu, between the 2nd and 3rd Ring Roads. The young couple put a 30% down payment on a 2-bedroom, 80 m² (860 ft²) flat on the 23rd floor of a tower that is part of a brand new residential development.
At RMB 7,500/m², the total cost of their flat was RMB 600,000 (about $91,000 USD). As required, and with some help from their parents, Ms. Li and her husband put a down payment of 30%, or RMB 180,000, and qualified for a 30-year, 6% fixed-interest home loan from Bank of China. With a combined income ranging from about RMB 8,000-10,000 ($1,200 USD – $1,500 USD) per month, their monthly mortgage payment of RMB 2,500 ($380 USD) is easily manageable.
Ms. Li and her husband are glad they got in when they did. Even though their new unit won't be ready for move-in until the end of this year, they have already seen the value of their investment increase by 10%. Located adjacent to a planned stop for an underground metro line currently under construction, the value of their investment is bound to further increase due to its convenient access to public transportation. In the future, taking the subway will be just one of their transportation options as Ms. Li and her husband plan to buy their first car by the end of this year.
Multiply Mei Li and her husband's story by the millions and you have a better idea of what is really behind the China housing boom. To be sure, speculation certainly exists, but predominately it is middle-class aspiration that is fueling urbanization.
In Chinese, the word for 'family' and 'home' are the same: jia (家). The family is the critical unit of Chinese culture, making ownership of a home a critical priority. For the world, middle-class home-ownership also promotes peace and stability in China, providing the basis for the evolution of a more consumer oriented, less predatory Chinese economy.
Adam Nathaniel Mayer is an American architectural design professional currently living in China. In addition to his job designing buildings he writes the China Urban Development Blog.