By Joel Kotkin and Mark Schill
"Suburbs," the great urbanist Jane Jacobs once wrote, "must be a difficult place to raise children." Yet, as one historian notes, had Jacobs turned as much attention to suburbs as she did to her beloved Greenwich Village, she would have discovered that suburbs possessed their own considerable appeal, particularly for those with children.
Although some still hold onto the idea that suburbs are bad places to raise children, in virtually every region of the country, families with children are far more likely to live in suburbs than in cities. Nearly all the leading locations in percentages of married couples are suburbs, from Midwestern towns like O'Fallon, Missouri to Sugarland, Texas, Naperville, Illinois and Highlands Ranch, Colorado.
In contrast, many of the places with the lowest percentages of children are urban centers. This includes many of the most highly touted urban cores such as Manhattan, Boston, Portland, Seattle and San Francisco.
This is particularly true among more affluent, middle class, educated family households. Despite the rise in the number of children in a few affluent locales, such as the upper east side of Manhattan, most middle class families tend to cluster outside the city core. Even in Manhattan the number of kids falls considerably below the national average after the age of five.
So the question remains: are families important to the planners, developers and politicians who run our cities? Veteran geographer Dick Morrill wonders if they do. He sees many cities turning their backs on working and middle class families, long the ballast of urban society throughout the ages.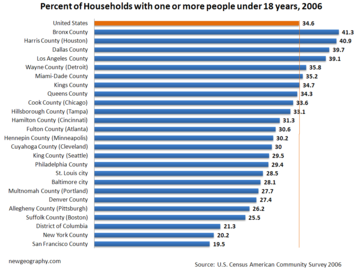 Instead, many city planners, and urban developers have focused their attention on the growing ranks of the unattached: the "young and restless," the "creative class," and the so-called "yuspie" - the young urban single professional. These advocates suggest that companies and cities should capture this segment, described by one as "the dream demographic."
The other coveted urban demographic centers on the so-called "empty nester," largely boomers who have already raised families. Developers, like luxury homebuilder Robert Toll, see a vast movement of such people from the suburbs to the inner city. "We are more hip-hop and happening than our parents," he explains. "We want the sophistication and joy and music that comes with city dwelling, and doesn't come with sitting in the burbs watching the day go by…"
Yet although this strategy might work for a handful of cities, childless urbanism may have its limits. There is, for example, little evidence that many empty nesters --- outside of the very rich --- are moving en masse to center cities. The vast majority seem to be staying put in the suburbs while a considerable group heads further out into the periphery and beyond.
This leaves the key demographic for cities to remain viable: the young and educated, one group that has shown a tendency to move into center cities. But there's a problem with relying of 'yuspies" in the long run --- they get older and grow up. Right now, as Philadelphia's Paul Levy suggests, most young couples leave once they start having children. If cities are to hold on to this population, he suggests, they must address the basics important to families, such as public safety, good schools and parks.
This issue will become even more pressing in the next few years. As the current and very large millennial generation ages, they will begin to dominate the housing market. From all accounts, they tend to be family oriented. More than 80 percent thought getting married would make them happy, and some 77 percent said they definitely or probably would want children, while less than twelve percent said they likely would not.
If cities cannot change to appeal to these young people once they enter their 30s and 40s, they will be hard-pressed to maintain, much less expand, the population gains made over the past decade. Once the Millennials are gone, the next generation of young people seems certain to be considerably smaller.
In this sense, the Millennials represent the future hope for cities. The need to shift the focus beyond the denser downtowns and towards many outlying neighborhoods will become a necessity. These places --- think of Queens in New York, South St. Louis or parts of the northwest Philadelphia --- may see less glamorous and more "plain vanilla" than city centers but they already possess some of the basic prerequisites needed by family: relatively low density, work areas nearby, neighborhood shopping streets, churches, schools and parks.
What will happen to the least child-friendly cities over the next generation? Imagine a city with fewer total residences, inhabited by fewer people, although with a significant increase in "luxury" dwellings. In the new urban landscape, high-rise towers for the rich predominate, some of them in refurbished office buildings that formerly employed the middle class. These now become the homes of the "creative class" and the nomadic rich.
This is a city whose funds come largely from the global economy, but whose needs are cared for largely by low-wage workers who eke out their existence in the city, and reside in outlying areas. Ultimately, such a bifurcated society may limit the economic functions that can be carried out in these places. A small cadre of operatives, including the CEO and some senior staff, may remain ensconced in the glamour zone but companies dependent on a broader array of talent will continue to relocate to less exclusive places, either to the suburbs or to different regions.
Such pressures have already helped Houston to replace New York and Los Angeles as the nation's energy capital. In the future a place like Charlotte will continue its emergence and its drive for financial dominance. Charlotte, suggests local real estate developer, John Harris, can compete against an expensive metropolitan region not only at the top levels of management, but across the board. "It's hard to be a mass employer in San Francisco," he notes.
In the end, the elite childless city can be seen as both the culmination of urban development and as a demographic dead end. Unable to lift up outsiders and absorb newcomers, these cities may be able to thrive as high end business hubs and elite playgrounds. But they seem unlikely to absorb more than a trickle of those Americans who may want to move into dense urban places over the coming decades. Instead, this cohort may look to those towns ready and still willing to accommodate families.
Joel Kotkin is the executive editor of Newgeography.com.