The Wall Street Journal reports that China will slow down its world's fastest high speed rail trains. According to the Journal, Sheng Guangzu, head of China's Ministry of Railways, told the People's Daily that the decision will make tickets more affordable and improve energy efficiency on the country's high-speed railways. The maximum speed will be 300 kilometers per hour (186 miles per hour), which is also the top speed for most high speed rail trains in Japan, France, Korea and Taiwan. The United Press reported that the 300 kph service would be limited to the four north-south (Beijing to Harbin, Beijing to Shanghai, Beijing to Hong Kong and Shanghai to Shenzhen) and east-west lines (Qingdao to Taiyuan, Lanzhou to Xuzhou, Shanghai to Chengdu and Shanghai to Kunming). Both sources were unclear as to whether the new speed limit would apply to the proposed 380 kph Beijing to Shanghai line, however that line is one of the four north-south trunk routes, all of which will operate at the slower speed according to the Ministry of Railways.
Currently, the world's fastest high speed rail trains operate on the Guangzhou (South Station) to Wuhan route, which reaches 350 kilometers per hour on its fastest service (which stops in Changsha, the non-stop service having been cancelled), completing the run in 3:16. This lower speed could increase travel time on the route to between 3:30 and 3:45.
The Journal cited a high-speed rail official (not Chinese) who indicated that there are safety concerns with trains running at above 320 kph. In contrast, the proposed California high speed rail line would operate at top speeds of 355 kph.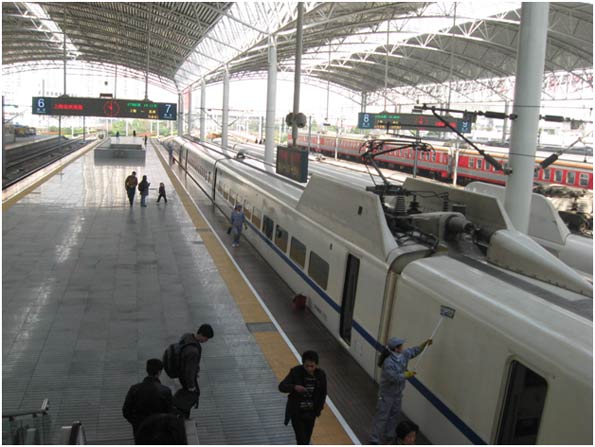 Photo: Nanjing high speed rail train, Shanghai Station (by author)