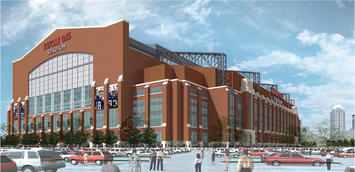 In the heart of downtown Indianapolis lies a recently constructed monolith, the envy of other cities aspiring for new digs for their NFL football team. Lucas Oil Stadium has 63,000 seats and features a retractable roof allowing for comfort control during Indiana's fickle fall weather season. And for those urban enthusiasts in the crowd, when open, the roof provides a captivating view of an Indy skyline that in years past was barely visible to the naked eye.
Many of the state's residents though are asking why a new sports venue was built in Indianapolis. In fact, one only needs to take a drive along I-65, the main interstate bordering downtown, to get a taste as to why this issue keeps surfacing. Namely, if you look directly across the street from Lucas Oil Stadium, you'll see a much larger structure that appears to be in relatively good condition. While many have confused it with a large spaceship, Indiana sports enthusiasts know it as the infamous RCA Dome.
Home of the Indianapolis Colts for over 15 years and the site of numerous NCAA basketball regional and national championships, the RCA Dome has in many ways come to symbolize Indianapolis' distinction as the sports capital of the world. The "Dome" also reflects Indiana's lore and history as the hotbed of high school basketball, having served as a venue for annual state tournaments, including the highest attended game in our nation's high school basketball history.
So part of the argument among Indiana residents is that the RCA Dome was more than adequate (it actually has a larger seating capacity than Lucas Oil Stadium). The other gripe has been the cost: $720 million to be exact, financed by a nine-county food and beverage tax that passed in 2007. In other words, many of the state's residents are footing the bill.
Advocates for low taxes would certainly argue that building the new stadium was a pompous act on the part of city leaders, interested in only the local economic and financial implications. The argument can also be made that the stadium only benefits a small segment of Hoosiers, as many state residents, struggling to make ends meet in today's tepid economic times, can't even afford to purchase a ticket to the game, let alone a hot dog and parking.
Indianapolis is not alone in terms of public outcry regarding new sports complex projects. The San Francisco 49ers are currently exploring a move to a yet-to-be built new stadium in Santa Clara, Calif., a city embedded in the ever prosperous environs of the Silicon Valley where money continues to flow like "milk and honey" despite the dot-com bust of several years ago. Recently the Santa Clara City Council put off a public vote on a whopping $916 million stadium initiative for at least a year in order to assess funding options as well as to allay environmental impact concerns raised by local residents.
In the state capitol of Sacramento, where legislators have spent months grappling over an exploding state budget deficit, the talk of the town for months has been the proposed arena for the NBA's Sacramento Kings--a movement championed by renegade owners Joe and Gavin Maloof with the support of opportunistic NBA commissioner David Stern.
Caustic battles have ensued between supporters of the Kings who believe the sports franchise is vital for the city's economic vitality and state voters who have been historically hostile to taxes for private sports facilities. The latter concern has been further fueled by the Maloof brothers who as millionnaire owners seem willing to cough up only a pittance of the new construction investment.
Then there is Robert Kraft, owner of the NFL's New England Patriots, who led the construction of a new shopping complex next to Gillette Stadium that at $300 million ended up costing as much as the stadium itself. Decked out with a football museum, four-star hotel and spa, restaurants and cool stores, "Patriot Place," as this complex is affectionately named, aspires to provide year round pedestrian foot traffic as a major dining and entertainment destination.
As the aforementioned examples highlight, there are certainly arguments that can be made against these sorts of expenditures, particularly during uncertain economic times for cities and counties. I would also argue that there may be strong reasons for constructing these sports complexes in terms of the boost they can provide to the economic and social prosperity of an area. Indianapolis is an excellent example of this in terms of branding itself as America's premier sports city. It is clear that the city's efforts to attract sports buffs from far and wide is vital to the sustainability of its local economic engine.
The Colts are not the only game in town here: Indianapolis hosts more Olympic trials and NCAA basketball finals than any other city in the nation. It is also the home of the NBA's Indiana Pacers, a franchise that plays its games in yet another downtown sports venue--Conseco Fieldhouse. There are also the Indianapolis Indians who play in one of the finest minor league baseball parks anywhere. And not to be overlooked is arguably the largest sporting event in the world, the Indianapolis 500. Mark Rosentraub a Professor at Indiana University, estimates that the speedway generates $36.5 million in state and local taxes annually. It should also be noted that the track is privately owned and races occur without public expenditures beyond local law enforcement.
So what's the verdict? A study by Dennis Coates, Professor of Economics at the University of Maryland, Baltimore County sheds some light on the "economic prosperity versus pompousness" argument. First of all his research reveals that there is little evidence that large increases in economic impact, particularly in income or employment, ensue from the construction of new stadiums. He does say however that Downtown stadiums are likely to have larger benefits than suburban stadiums.
As I see it, this latter point is the magic behind Indianapolis' efforts to promote sporting events as an economic catalyst -- that outside of the Indianapolis Motor Speedway, all of the sports facilities are located in the downtown, central district. The evidence is clear that sports venues in the "Circle City" continue to generate loads of foot traffic and activity in downtown Indianapolis, from the bustling Circle City Mall to burgeoning crowds in downtown restaurants and music venues. One could in fact argue that all of this economic and community vitality in the city's urban core would have made America's preeminent urban activist Jane Jacobs proud and maybe even a frequent visitor to the city for a hot dog and a game.