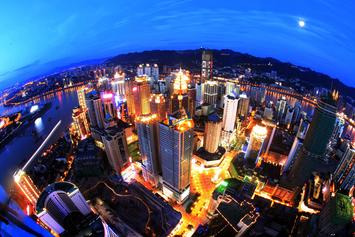 The demise of Bo Xilai, the former Party Secretary of Chongqing, has turned into one of the biggest political scandals in China in recent memory and now includes allegations that Bo's wife Gu Kailai is connected to the murder of a British businessman close to Bo's family. It is even rumored the businessman, Neil Heywood, may have had an affair with Gu.
Yet the international espionage drama has not shed much light on the peculiar politics and evolution of Chongqing, the western Chinese city which has become its unlikely setting. As a three year resident of Chengdu, a city two hours northwest by train and a traditional economic rival, I have been fascinated by Chongqing's unique history and political culture.
1940-1946: China's Wartime Capital
In many ways, Chongqing is China's version of the Wild West. Known for the rough and tumble nature of its locals, the city, divided by the mighty Yangtze River, has carried with it a crude reputation since the days of Chiang Kai-Shek when his Kuomintang (KMT) held the city as their capital. Even after the remainder of the KMT fled from the Mainland to Taiwan after defeat, the atmosphere of gangsterism and corruption nurtured by Chiang Kai-Shek and the KMT remained deeply imbedded.
China might've taken a different path had the American forces succeeded in getting the KMT and the Communist Party to unite against the common Japanese enemy. It was in Chongqing at the KMT compound where U.S. General Joseph Stilwell arranged a meeting between Chiang-Kai Shek and Mao Zedong to try to broker the deal that ultimately failed. On an official tour of the city last year, Joel Kotkin and I had the opportunity to visit the site of the meeting- a leafy hillside compound which is now a museum and a must see for visitors to the city.
1997: The Creation of Chongqing 'Direct-Controlled Municipality'
After breaking from Sichuan province 15 years ago, Chongqing direct-controlled municipality became by some measures the biggest city in the world.
Though the specific reasons for the creation of Chongqing municipality were never officially articulated, general consensus is that the decision was to administratively abate the negative effects of Three Gorges Dam project and the resulting destruction of nearby villages. Incorporating these villages as part of Chongqing was an easy way to solve the administrative problem of transferring household registration ('hukou') status and mobility for the hundreds of thousands of residents who had to relocate.
Separating Chongqing from Sichuan also had the added benefit of removing competition with the provincial capital of Chengdu. Under the administration of the Central Government, Chongqing could now move forward with unfettered development without having to deal with the demands of Chengdu. This would also provide Bo Xilai a far greater stage to promote his career ambition.
2007 - 2012 : The Reign of Bo Xilai
Bo landed in Chongqing in late 2007 with what some analysts saw at the time a demotion from his previous position as China's Minister of Commerce. Prior to working for the Central Government, Bo was governor of north China's Liaoning Province and Mayor of Dalian- the second largest city in the province.
A port city of about 3 million people, Dalian sits on the Liaodong Peninsula that juts out into the Bohai Sea. It is here where Bo proved himself as an adept politician, serving the city as Mayor from 1992 - 2000. Bo was noted for his progressive urban planning policies, putting emphasis on modernizing the city, improving the environment, adding greenbelt corridors and preserving architectural gems from Russian and Japanese colonial periods. For his progressive urban planning policies, Bo was even awarded a UN-HABITAT "Scroll of Honour" award in 1999.
To this day, Dalian still often ranks as one of China's most 'livable' cities, a title that the city's residents attribute to the work of Bo. Yet, if top-down urban planning initiatives were a popular success in Dalian, the same could not be said as unequivocally for Chongqing. While some applauded Bo's efforts, others saw his overly aggressive methods as detrimental to the existing urban fabric.
Chongqing and Dalian couldn't be further apart in character or its stage of economic development. Whereas Dalian is a pleasant seaside town based on tourism, banking and IT, Chongqing is a rough manufacturing megalopolis, known for its craggy mountains chopping through the city and unbearably hot summers.
Perhaps Bo thought he get away with a more strong-arm approach given Chongqing's history of being a city on the frontier far away (both physically and psychologically) from Beijing. When he became Party Secretary of the municipality, he came in with guns blazing, initiating a bloody campaign to crack down on organized crime. He and Wang Lijun (his former right-hand man and police chief who would later try to defect to the U.S. Consulate in Chengdu) took down the previous police chief, Wen Qiang, sentencing him to death for corruption.
Initially many locals were pleased with Bo's very public display of taking down the gangs, but not everyone was as easily convinced. As one of my friends who is a native of the city once said to me "Bo Xilai just replaced the previous mafia with his own mafia". If this is ultimately discovered to be the case, then it is perhaps not surprising for a city with a history of such internal struggles.
In Chongqing, Bo also initiated similar strategies he employed in Dalian by promoting greenbelts, the development of public transportation networks (including monorails to traverse the unforgiving topography), and an ambitious affordable housing program. Yet these urban planning projects were overshadowed by Bo himself, who wanted to be seen both by the residents of Chongqing and the decision-makers in the Communist Party headquarters in Beijing as the new star in China's political firmament.
In addition to the organized crime crackdown, Bo also initiated the now well-documented 'red' campaigns, promoting the singing of Mao-era songs in public parks and converting the local television stations into 24-hour commercial free broadcasts of red propaganda. He even went so far as to establish a museum at the city's Public Security Bureau (PSB) displaying his crackdown on crime to show off to visiting delegations.
Somewhat unnervingly, Kotkin and I were taken to the PSB as the last stop on our visit to the city. The compound, a huge Stalinist piece of architecture, features two quarter-mile long covered colonnades extending out in front of each side of the building. We were led down the first wing by an attractive young woman shouting into a microphone, introducing us first to pictures of the 'great leader' Bo shaking hands with China's top leaders, Hu Jintao and Wen Jiabao, as well as with visiting foreign officials.
Immediately following, we were bombarded with gruesome images of Bo and Wang's campaign to oust crime, showing the horrors committed by the gangs. Dead, mutilated bodies filled the walls, as well as photomontage of images from the execution of Wen Qiang. Inside the PSB main building, the contraband seized from Wen Qiang and his associates was on display, including every kind of narcotic you can think of, weapons including AK-47s and gigantic machetes, and millions of dollars worth of historic Chinese art pieces that were used for money laundering.
The exhibit was meant to show the righteous power of Bo, and belittle the previous group who ruled Chongqing. Afterwards, we were invited to coffee in the opposite wing, where prominent images of Josef Stalin, Vladimir Putin, and Mao Zedong were displayed next to imaged of Bo. The experience was so bizarre that by the time we made it onto the high-speed train to Chengdu both Kotkin and I breathed a sigh of relief to make it out of the city alive.
All of that is gone now, and Chongqing moves on without Bo. The Bo Xilai saga is a very telling narrative about where China is today. On the political side of things, Bo's takedown is a message to Chinese citizens and the world that nothing will get in the way of the country's urban development program, especially a rogue politician who draws too much attention to himself.
It also means that, for commentators in the West who think that China needs to urgently reform to a more democratic system of free elections, the individuation of high-level charismatic politicians required for this kind of style of government cannot be tolerated at this stage in development. Unfortunately at this stage, popular elections run the risk of choosing someone who cultivates a personality cult.
From the urban development standpoint (which is actually inextricably linked to the political realm, both in China and in the West), the more top-down local government policies are, the more there is the risk that those in power will abuse those powers in other ways. Finding a balance is key. Many of Bo's initiatives both in Dalian and Chongqing have their merit in improving urban life, but the manner they were initiated, and the authoritarian, self promoting style, appear now to have been a cover for something more sinister.
Adam Nathaniel Mayer is an American architectural design professional currently living in China. In addition to his job designing buildings he writes the China Urban Development Blog. Follow him on Twitter: AdamNMayer.
Chongquing at Night photo by Wiki Commons user Jonipoon.