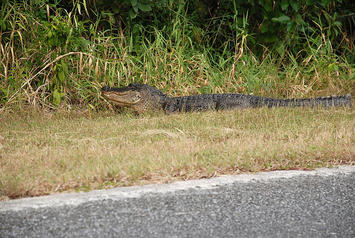 Leafy, timeless rural routes and monotonous, flat highways have characterized Florida's network of state roads since the early 20th century. Vacationers in the Sunshine State either stick to the interstates – often a hot, frustrating parking lot – or consign themselves to the stop-and-go, confusing local roads. Future Corridors, the state's vision of a future, integrated road network, is set to finish its conceptual phase this year, and promises to radically revamp the state's road system. Since this vision will quickly harden, it deserves a close look by a broad portion of the state's population to see if it truly addresses the state's needs or, like so many Florida initiatives (the state's notorious voting system comes to mind), becomes an ignominious reminder of provincial politics at its worst.
Begun in 2006, Future Corridors contains some progressive, sophisticated thinking. Taking existing corridors and redesigning them to segregate shorter trips, trucks, and transit makes sense and should have happened a long time ago. Such managed use lanes are already popular in California, Texas, and elsewhere. The study also looks at enhancing rail systems for both freight and passenger service.
Florida is already a maze of country roads, rail lines, commercial strips, turnpikes, and interstate highways, with little remote wilderness left. So enhancing, multiplexing, and otherwise modernizing the existing corridors is practical and efficient, and will conserve the state's inner beauty.
Smoothing out the lumpy traffic flow will also improve the state's economy. Florida consumes more than twice the goods that it exports in terms of freight, and its tourist-business throughput is more than that of many nations. Its boom/bust economic oscillations, however, mean that road-building comes in fits and spurts, and is not necessarily tied to real-time needs. To get from Gainesville to Jacksonville, for example, you still have to journey upon twisty, peculiar roads built in the 1930s.
Florida's home-grown turnpike, built in the 1970s to funnel tourism, is impossibly congested in some areas today. As population has swelled, it has changed into a local alternative to traffic-choked arteries for short trips and commutes, as well.
Future Corridors isn't just about highways, however. Besides its beaches, Florida's signature characteristic seems to be the ubiquitous, homogenous, low-grade commercial strips that have overtaken our once-quirky roadside culture. Along these main drags, the American narrative can be read in all of its glory: they are the great equalizers, where all institutions are reduced to blue or red logos 300 yards before the turn lane. Decried as the aesthetic horror that they certainly are, these highway markets remain, nonetheless, emblems of the American dream. Anyone with a car can access everything; emporiums are born, flourish, and die. They are transformed quickly and without sentimentality into newer offerings. These strips have transformed much of the state's coastline into a continuous, multi-stranded conduit of consumption for the masses. The Future Corridors proposal calls for more rural highways in Florida and opens up more land for this kind of development.
Florida's future, regardless of its new road plan, inevitably will include more of these strips, not fewer; more traffic and highways, not less. Nevertheless, the state's environmentalists and urban intelligentsia are already forming positions against much of the vision. As the first regions — Tampa-Orlando and Tampa-Jacksonville — are rolled out, 2013 will prove to be a dynamic year of controversy. As state government battles environmental and urbanist boosters, it seems like a California-like trajectory is already set, with some critical concerns sadly cast aside.
Florida currently suffers from "hourglass" transportation planning. On the bottom of the curve, short, regional toll highways and roads are built to enhance local connectivity, but connect only feebly to the rest of the state. On the top, the federal interstate highway system dumps huge quantities of people into the state from the Midwest, the east coast, and the South. In the middle a statewide, home-grown transportation system built to handle this volume has been notably missing.
Competing regions have little incentive to link up with each other. Tampa and St. Petersburg, for example, continue to squabble for small economic advantages, instead of looking at the bigger picture. Meanwhile, the nation's Department Of Transportation is only mildly interested in state connectivity issues. The gaping hole in statewide transportation planning has never been adequately filled, as any tourist sitting on I-75 in the springtime can attest.
Future Corridors is the latest incarnation of Florida's long, mostly inept growth management strategy. The Department of Community Affairs, a state-level regulatory bureaucracy, replaced the previous laissez-faire ethos. It survived until 2011. The regulators represented an impediment in a state that is developed largely by outside economic interests, so they were done away with. With a new bubble growing, these interests salivate over future developable land that will be made available by road-building activity. Thus, growth management continues in a sort of feudalistic twilight, where political connectedness replaces the public process with the tacit support of the citizens.
Politicians come and go, so the new process may not continue past the next election. In the meantime, public advocates for the state's future would do well to advance their own vision of the future, which should include several key ideas.
For starters, the state would benefit from a twenty-first century transportation network that is digitally connected. Planning a trip in Florida is a bit like planning a sailing trip without a weather report. Traffic jams, road construction, and other obstacles seem to crop up without warning, causing trip or meeting delays or even postponements. Delivering real-time digital information to travelers might be out of the cost and logistical range of individual regions, but the state could feasibly invest in a system that updates a driver's handheld device to help reroute traffic flow and forecast problems ahead.
And no argument about wilderness preservation or road construction carries any weight until the state's notorious safety issues have been addressed. Whether it is traffic accidents, pedestrian fatalities, or gruesome bicycle clashes, Florida's roads consistently make the list of the most dangerous roads in the nation. Buried deep in DOT PowerPoints are meek statements about safety, but little has been done. While Florida beckons the world to its door for vacation, its reputation is marred far worse by poor roads than it is by junky, bland, retail, and it must be fixed.
More strategically, however, a road system should reflect the new notion that Florida's urban clusters constitute a single large megapolis, unified in demography, economics, and culture: the so-called "Florida Archipelago". Geography is responsible for the weblike settlement pattern, and this geography should be enhanced by a safe and effective transportation system, rather than be treated as an obstacle to be ignored or plowed over with ruthless technology. Corridors should be planned to take advantage of this spread-out nature. Intensifying urban activity where it makes sense, and intelligently intertwining agriculture and wilderness into the planning process, could create a vibrant, robust tropical megapolis.
Finally, the state's transportation system should help reconcile the growing affordability gap in housing, which is glaring in Florida. A thin line of very high-priced vacation homes hug the coastline, subsidized by people living in less risky locations. This arrangement exacerbates the affordability gap in housing. Meanwhile, rural road networks are often disconnected and poorly maintained. Public transit is ineffective and perennially used as a political plaything, rather than a serious attempt to reduce car dependence for those who would most benefit from it – the low income and the elderly.
Paving over Florida's interior will close rural areas that remain within the cost of living of the state's retirees, and it points to a future that will increasingly resemble overpriced, highly regulated California. And with more and more dependence upon toll roads, the state's transportation system will, if it continues on this trajectory, further separate the haves and the have-nots.
Urban feudalism is the top-down, urban-centric, affluent-class authoritarianism that seems to be overtaking the future of Florida and of America. Historically the state has been able to escape this fate, partly because it has a diversified lower middle class, along with service and construction workers. In the past, the rich came to the state mostly when on vacation. This era appears to be waning, however.
Florida's working-class population will be squeezed tighter if policies create rising costs that move people further from their jobs. As Florida's new growth strategy, Future Corridors, moves from concept into planning stages, the broadest conversation among citizens and the planners will do the most good in the long run.
Richard Reep is an architect and artist who lives in Winter Park, Florida. His practice has centered around hospitality-driven mixed use, and he has contributed in various capacities to urban mixed-use projects, both nationally and internationally, for the last 25 years.
Photo by Adam Fagen: Roadside Gator in Monroe County, Florida, along the park road to Flamingo, Everglades National Park.