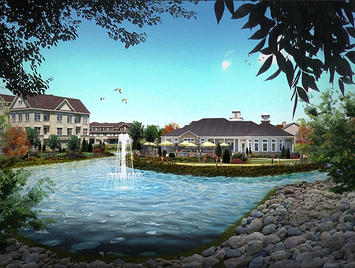 Like many older suburbs in high priced regions, Long Island faces two great crises: a loss of younger residents and a lack of affordable housing for the local workforce, including those employed as nurses, teachers and other professionals.
Often, proposed developments on Long Island are tailored to be geared towards "luxury" or are age-restricted for residents 55 or older. These proposals serve to almost completely ignore the middle class or the region's young professionals. While the depth of the "Brain Drain", or flight of the young from Nassau and Suffolk Counties is debatable, the fact remains that housing stock for the area's younger families is woefully deficient. Thanks to limited job opportunities and affordable housing, Long Island isn't the attractive bedroom to Manhattan that it once was.  
Long Island's housing woes have been in the public eye for the last few months and it's critical for residents and policymakers alike to understand the issues. The Town of Huntington recently issued a press release announcing that applications are being accepted for 43 affordable rental apartments that are part of the 379-unit Avalon at Huntington Station development. The rents range from $932 a month for a one-bedroom to $1,148 for a two-bedroom to $1,646 for a three-bedroom.
"Affordable" vs. "Attainable"
For once, the rents being billed as "affordable" seem aligned with the term. Hypothetically, a Young Islander making $45,000 and renting the single-bedroom option would pay roughly 24.8 percent of his or her salary toward housing, far less than the 35 percent threshold that is considered by the Long Island Index as a "high housing cost burden."
Compare these rents to the "attainable" 300- to 400-square-foot micro-unit options that were presented by a group recently, which, when rented at $1,400 a month, would account for about 37 percent of someone's $45,000 salary (both examples are calculated without utilities, Internet, cable, etc.).
The Avalon project contains a total of 303 rentals and 76 for-sale townhouses. Forty-three apartments and 11 townhouses will be affordable, while the remaining 260 apartments and 65 townhouses will be market-rate. The project site is a 26.6-acre parcel roughly half a mile from the Huntington Long Island Rail Road station.
A drop in the bucket
The Avalon Huntington Station project has rents that seem affordable, but the total amount of units are a drop in the larger bucket when it comes to addressing the Long Island's greater affordable housing need of 41,429 units. After Avalon is constructed, there will be 41,375 units to go. Is that progress?
Compare both projects: The microunit approach is "attainable" at $1,400 a month, while Avalon is "affordable" at $932-$1,646 a month. Both terms lack the standardization and definite boundaries necessary to legitimize them in the minds of the public. Is attainable really worth $500 more than the term affordable? Where does "workforce" fall into this ever-sliding scale?
Our patchwork approach to affordable housing needs to change. For every press release issued touting two affordable units here or 11 workforce homes shoehorned there, the elephant in the room is tackling the monumental demand in the face of our paltry, undefined supply.
Some big questions
The issue of overall demand is a very big question that our region has faced for the last 50 years and will continue to face in the immediate future. What Long Islanders must move toward is first quantifying the issue. How many truly affordable units do we have? How many can we reasonably build? What is the true market demand for housing in Nassau and Suffolk counties? Are municipalities able to successfully increase density while preserving land elsewhere?
Countless times, important planning terms like "sustainable," "smart growth," "walkable," "green" and now "affordable" and "attainable" are cheapened by misuse. These terms once represented important and innovative planning techniques that were once progressive tools in crafting a better community. When the terms are misused by stakeholders and industry insiders the result is a volatile cocktail of higher density suburban sprawl and poor urban design that further leads to suburban blight, and the public's broken faith in the system.
A democracy gets the policy it deserves. Currently, Long Islanders are disengaged with the land-use process, and have allowed it to become dominated by biased stakeholders who have much to gain by allowing those important terms to become shallow. It's easy to sell a project as "green" or "smart" when few, if any, people know what the term means.
The beauty of it all is that a democracy also can create the policy it needs. This is why it's so important to take the time to give these critical issues the attention they deserve, and work towards a better Long Island.
Why do we issue press releases celebrating the creation of 54 affordable units, or 0.13 percent of our regional need? It is because, at this point, not much else is or can be done to tackle this massive problem until we fully understand it.
Richard Murdocco is a digital marketing analyst for Teachers Federal Credit Union, although the views expressed in this post are Murdocco's alone and not shared by TFCU. Follow him on Twitter @TheFoggiestIdea, visit thefoggiestidea.org or email him at Rich@TheFoggiestIdea.org.
Photo from Avalon Communities