By Richard Reep
To date, luminaries of the New Urbanist movement such as Andres Duany and Peter Calthorpe have done little to change Orlando. The central Florida city remains balkanized, market-driven, and vaguely cosmopolitan in nature. Orlando's vitality does not depend on the physical form of the city, but rather the spiritual involvement of its citizens, the safety and security that they gain from their urban choice as well as the unique mix of jobs created by the employment of Orlando. These three intangible factors drive the form, and a healthy city planning process will not ignore this in favor of a rigid dress code.
New Urbanists, of course, can point to pockets of clustered development that echo their philosophy. Baldwin Park, Horizon West, and Avalon Park are three large examples. Mills Park, Sodo, and other smaller projects abound, for which the New Urbanist movement takes credit. All of these projects have in common a core that mixes residential, office, and retail in a form denser than the surrounding community does. All of these projects take great pains to store vehicles, once you have arrived to the core, in a way that masks them from view. In addition, all of these projects feature traditional architectural styles that express early 20th century America.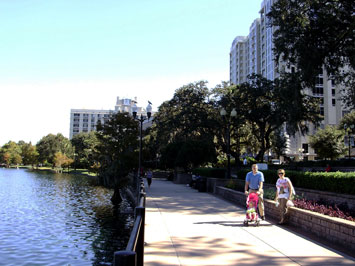 Yet these efforts have failed to produce affordable housing for those who truly want to live within walking distance of their workplace. This is in part because New Urbanists seem to have trouble with the idea of creating an economic base first. By contrast, older, organically grown clusters are thriving nicely, in areas such as Thornton Park. At one time, Lake Eola (a small, oval lake) separated Downtown Orlando from this older neighborhood walking distance of downtown. The area was shabby, violent, and chaotic. But efforts to drive downtown toward Thornton Park – painstakingly led by visionaries who believed in the neighborhood – has created an organically grown, variable density cluster that adds tremendous value to the city.
New Urbanists, however, are not approving of Thornton Park, perhaps because it was not their idea. They point to a violation of their form-based codes, which maintain seven stories the maximum height for a good structure. They point to the on-street parking - another abomination to their theology. In addition, they point to the older, single-family residential development that exists in and around the other development, citing its violations of their theoretical density hierarchy (six gradients of density, from urban to rural, which must occur in a specific order, and which are collectively labeled "the transect."). Lastly, they are mute when it comes to the older, 11- and 12-story senior living towers associated with downtown churches, which happen to be 100% full with a waiting list. Somehow, this affordable housing does not fit into the Smart Code.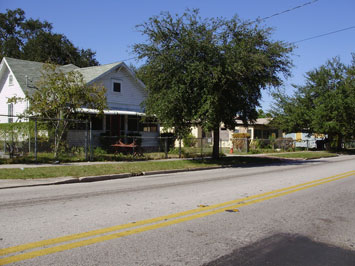 Parramore is another shabby, violent, chaotic neighborhood exists adjacent to Downtown Orlando, with similar potential to Thornton Park. Like cosmetic surgeons rushing to claim credit for a half-facelift, the New Urbanist professionals, when questioned about this area of Orlando, freeze with a faint smile, and mention that no private interests have approached them about Parramore. Until this happens, they maintain implementing the imagined order of a proper city, as set forth in the "Smart Code" by the Congress of the New Urbanism, is impossible. The code regulates form rather than use, and is generally referred to as a form-based code for this reason.
It is time to call off the form wars, and put effort into the basics what makes a city great: encouragement of a city's spiritual life, solid bases for employment, and assurance of safety and security. We have to become more pragmatic in these times of economic turmoil; embrace of a strict planning theology, and the mass dumping of land-use regulation that have shaped cities for the past 50 or more years, could inhibit more organically driven growth that may be far more economically viable.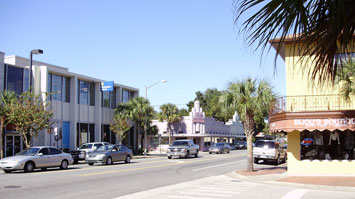 Orlando's enduring, 10-year involvement with New Urbanism has reaped mixed results. While some organically developed areas like Thornton Park add interesting and thoughtful form to the city, many of the New Urbanist projects (which are larger in scale the farther out from the urban core) add bland, living-over-retail or office-over-retail streetfronts. These developments cherry-pick from New Urbanism what developers and city planners can agree upon: traditional architecture, vertical stacking of uses, and selective relaxation of land use codes.
Although the New Urbanist projects have contributed to Orlando's messy vitality, it has also worsened traffic since one has to drive from cluster development to cluster development. And it also contributes to Orlando's tax base, because New Urbanism, as implemented in Orlando, comes at a cost premium over suburban development. This guarantees developers only propose projects where they can make the most money. It also reflects the most glaring problem New Urbanism in its current form: it leaves behind the rest of us.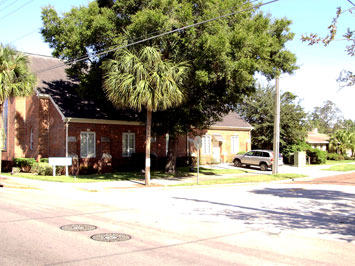 In reality although form-based codes claim to improve the city's form, they also create a host of non-form social, traffic, income disparity, and employment problems for the city to solve. To improve social involvement, attract and retain meaningful employment, and deliver a safe and secure envelope is very hard work. Citizens should care what their city looks like. However, for the city to focus overly on form, placing aesthetics above the older, more proven values is not the way to create successful places that work primarily for people, not architects.
Richard Reep is an Architect and artist living in Winter Park, Florida. His practice has centered around hospitality-driven mixed use, and has contributed in various capacities to urban mixed-use projects, both nationally and internationally, for the last 25 years.