The just released 11th Annual Demographia International Housing Affordability Survey shows the least affordable major housing markets to be internationally to be Hong Kong, Vancouver, Sydney, along with San Francisco and San Jose in the United States. Honolulu, which should reach 1,000,000 population this year (and thus become a major metropolitan market) was nearly as unaffordable as San Francisco and San Jose. An interactive map in The New Zealand Herald illustrates the results.
Rating Housing Affordability
The Demographia International Housing Affordability Survey uses the "median multiple" price-to-income ratio. The median multiple is calculated by dividing the median house price by the median household income. Following World War II, virtually all metropolitan areas in Australia, Canada, Ireland, New Zealand, the United Kingdom and the United States had median multiples of 3.0 or below. Since that time, housing affordability has been seriously retarded in metropolitan areas that have been subjected to urban containment policies. This includes virtually metropolitan areas of the United Kingdom, Australia, New Zealand and some markets in the United States and Canada.
Housing affordability ratings are indicated in Table 1.


Table 1
Demographia International Housing Affordability Survey 
Housing Affordability Rating Categories
Rating
Median Multiple
Severely Unaffordable
5.1 & Over
Seriously Unaffordable
4.1 to 5.0
Moderately Unaffordable
3.1 to 4.0
Affordable
3.0 & Under
Table 2 summarizes housing affordability ratings for the 86 major metropolitan areas in the nine nations covered. Apart from China (Hong Kong), the least affordable nation among the major markets is New Zealand, at 8.2, followed by Australia at 6.4. Both nations (and Hong Kong) are rated severely unaffordable. 







Table 2
Housing Affordability Ratings by Nation: Major Markets (Over 1,000,000 Population)
 Nation
Seriously Unaffordable (4.1-5.0)
Severely Unaffordable (5.1 & Over)
Affordable (3.0 & Under)
Moderately Unaffordable (3.1-4.0)
Total
Median Market
 Australia
0
0
0
5
5
6.4
 Canada
0
2
2
2
6
4.3
 China (Hong Kong)
0
0
0
1
1
17
 Ireland
0
0
1
0
1
4.3
 Japan
0
1
1
0
2
4.4
 New Zealand
0
0
0
1
1
8.2
 Singapore
0
0
1
0
1
5
 United Kingdom
0
1
10
6
17
4.7
 United States
14
23
6
9
52
3.6
 TOTAL
14
27
21
24
86
4.2
Least Affordable Major Markets
Hong Kong registered the highest median multiple out of the 86 major markets and also in the history of the Survey, at 17.0. Vancouver reached 10.6. Sydney had its worst recorded housing affordability, with a median multiple of 9.8. Adjacent metropolitan areas San Francisco and San Jose had median multiples of 9.2, while Honolulu's median multiple was 9.0. The ten least affordable major metropolitan areas are shown in Figure 1. In nine of these markets, housing was affordable before adoption of urban containment policy (Hong Kong data is not available).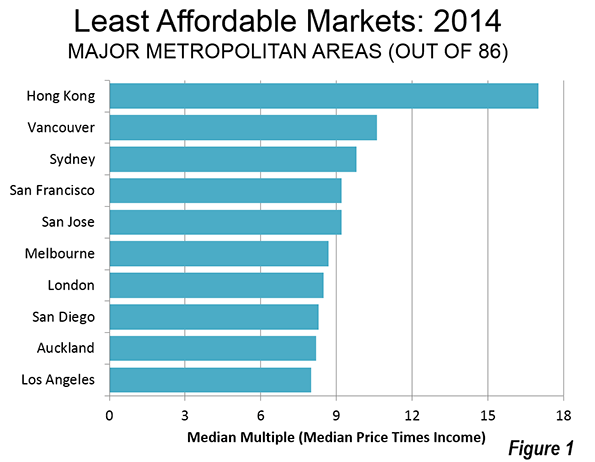 Affordable Major Markets
All of the affordable major markets are in the United States. This includes perhaps the most depressed market, Detroit as well as Atlanta, which has spent most of the last three decades as the fastest growing larger metropolitan area in the high income world. At the same time, Atlanta has consistently been among the most affordable. Detroit's median multiple is 2.0, while Atlanta's is 2.9.
Comparing Demographia Results to The Economist and Kookmin Bank
This year's edition includes a comparison of housing affordability multiple data from The Economist's survey of 40 metropolitan areas in China and Kookmin Bank's survey of major metropolitan areas in South Korea. The least affordable major markets are in China, New Zealand and Australia, all with severely unaffordable median multiples. The most affordable major markets are in the United States and Korea, both rated as moderately unaffordable (Figure 2).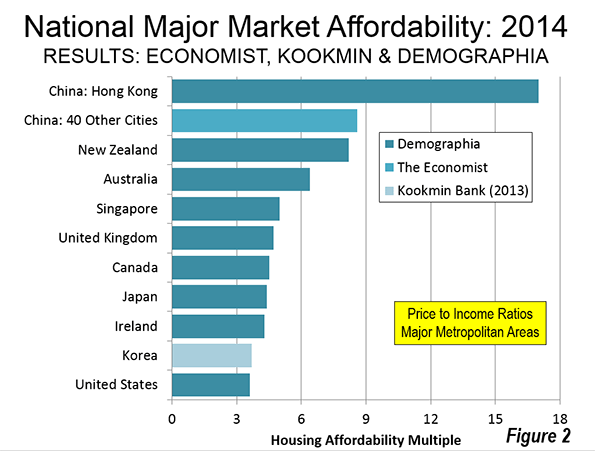 Perspective
Hugh Pavletich, of performanceurbanplanning.com and I have published each of the annual editions, which began in 2005. The perspective of the Demographia International Housing Affordability Survey is that domestic public policy should, first and foremost be focused on improving the standard of living and reducing poverty. This requires policies that facilitate both higher household incomes and lower household expenditures (other things being equal). Housing costs are usually the largest component of household expenditure and it is therefore important that public policy both encourage and preserve housing affordability.
Housing Affordability and Urban Containment Policy
However, in recent years, land use policy has not been focused on this concern. Conventional urban theory sees urban containment as a necessity. Yet, urban containment policies are associated with the loss of housing affordability, due principally to their rationing of land for development. This effect is consistent with basic economics – restricting supply of a desired good tends to drive up prices – that has been long established.
Some of the most important contributions have come from Sir Peter Hall, et al (see The Costs of Smart Growth Revisited), Paul Cheshire at the London School of Economics (New Zealand Seeks to Avoid "Generation Rent") and William Fischel at Dartmouth University (The Consequences of Smart Growth). Donald Brash, former governor of the Reserve Bank of New Zealand attributed the housing affordability losses to "the extent to which governments place artificial restrictions on the supply of residential land" in his introduction to the 4th Annual Edition.
The Importance of Urban Expansion
This year's introduction is provided by Dr. Shlomo Angel, leader of the New York University Urban Expansion Program. Dr. Angel reminds us that "where expansion is effectively contained by draconian laws, it typically results in land supply bottlenecks that render housing unaffordable to the great majority of residents."
He describes the Urban Expansion Program is "dedicated to assisting municipalities of rapidly growing cities in preparing for their coming expansion, so that it is orderly and so that residential land on the urban fringe remains plentiful and affordable." Urban Expansion Program teams are already working with local officials in Ethiopia and Colombia to achieve this goal. Angel's previous work documented the association between urban containment policy in Seoul and large house price increases relative to incomes (see Planet of Cities).
Policies seeking the same goals of plentiful and affordable land on the urban fringe are just as necessary in high income world metropolitan areas.
As time goes on, the negative consequences of urban containment policy on housing affordability and the standard of living have been increasingly acknowledged. Christine Legarde, managing director of the International Monetary Fund said that "supply-side constraints will require further measures to increase the availability of land for development and to remove unnecessary constraints on land use." in a recent statement on housing affordability in the United Kingdom.
Similarly a recent feature article in The Economist (see PLACES APART: The world is becoming ever more suburban, and the better for it) noted that the only reliable way to stop urban expansion was to stop them forcefully (such as through urban containment policy). Yet, The Economist continued, "But the consequences of doing that are severe" and cites the higher property prices that have been the result:"
The Economist continued to note the effect of the policy on households: "It has also forced many people into undignified homes, widened the wealth gap between property owners and everyone else..."
Wendell Cox is principal of Demographia, an international public policy and demographics firm. He is co-author of the "Demographia International Housing Affordability Survey" and author of "Demographia World Urban Areas" and "War on the Dream: How Anti-Sprawl Policy Threatens the Quality of Life." He was appointed to three terms on the Los Angeles County Transportation Commission, where he served with the leading city and county leadership as the only non-elected member. He was appointed to the Amtrak Reform Council to fill the unexpired term of Governor Christine Todd Whitman and has served as a visiting professor at the Conservatoire National des Arts et Metiers, a national university in Paris.
Photo: Exurban London