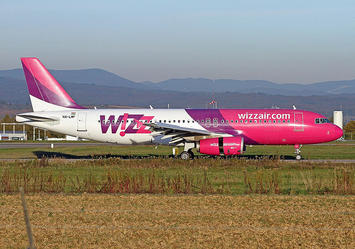 Market forces in the airline business are, for the moment, a battle between state-owned carriers like Alitalia and Aeroflot, and start-up discounters like Ryanair and AirAsia. The conflict between state monopolies and under-capitalized start-ups is a perfect metaphor for the economic debates over subsidies and competition that divide much of the industrial world in America, Europe, and Asia. When my dreams come true, carriers like these will encircle the globe with two-hour, $49 short-hop flights.
With the Internet marketing sky-high seats in real time, travel pricing has become an endless bazaar. Airborne seats are one futures market that everyone understands. For the moment, there's no clear winner in these fare/service battles, although many state airline companies are functionally bankrupt. The monopolists fly the latest jets and check bags without ransom payments, while the discounters, going nearly everywhere (Pristina, Erbil, Kochi, and Perth are among their many stops), find leg room, hungry passengers, and reclining seats annoying.
For now, don't expect the large airlines to cave in to the budget carriers. Competitive round-the-world tickets, using established airlines, can be found for about $1500-2000, although only for about $3000 can you visit all the places that may interest you and still move around the world.
Is it possible to travel around the world using only one-way, discount airlines? To try, I would start by heading east — from my home in Switzerland — to Dubai or its suburb, Sharjah, a hub of low-cost carriers. Wizz Airlines, an Eastern European carrier, can get me there for less than $100, although it means a connection in Cluj-Napoca, the capital of Transylvania.
For a little more money, I could trade my Romania stopover for Istanbul's Sabiha Gökçen International Airport (way out of town), and get to the Persian Gulf on Pegasus, a Turkish low-cost airline that links Europe to the Middle East; use it to get to Baku, Tehran or Turkish Cyprus.
From Dubai, the trick is to find a Middle Eastern budget airline — Air Arabia and flydubai are two of my preferred magic carpets — that overlaps with the vast network of Asian low-cost carriers, which include, among many others, Air Asia, Cebu Pacific, and Jetstar.
India and Sri Lanka offer a few of the "crossover airports," where I could change, say, from flydubai ($120 to Colombo) and enter Air Asia's low-cost paradise ($80 to go on to Kuala Lumpur).
Fortunately, nearly every Asian country — especially India, Malaysia, Singapore, Hong Kong, South Korea, Australia, and the Philippines — is a discount hub. For less than $300 it is easy to go from Delhi to Japan on lines such as Tiger, Vanilla, IndiGo, and Lion. You will have to change somewhere, but that provides a chance to stretch cramped legs or visit Chittagong.
It is somewhere way east of Suez that my round-the-world discount dreams start to blur.
The Pacific Ocean does not lend itself to puddle-jumping airlines. The only 'local' among the long-haul trans-Pacific flights is United Airlines #155, which in leisurely fashion connects Guam (get there on Cebu Pacific for pocket change) to Honolulu, with stops in Truk, Pohnpei, Kosrae, Kwajalein, and Majuro, atolls that the Marines liberated in World War II.
Air Micronesia (affectionately "Air Mike") used to fly this mail run across the central Pacific, but that carrier became Continental and now is part of United, which no one will ever confuse with a low-cost carrier. As best as I can determine, just to fly from Guam to Honolulu on the island hopper would cost about $1500, which is a lesson in monopoly pricing.
Without a discount airline to get across the Pacific, the only option is to search for one-way tickets on established airlines, which sometimes offer fares for about $400 to $500.
Technically, these airlines are not discounters and many of the cheap trans-Pacific fares involve cumbersome changes en route; low-fare-paying customers are routed on emptier flights. Some Pacific layovers are for about nineteen hours in places like Wuhan or Incheon.
Once you are in Los Angeles or San Francisco (LAX is the cheaper option), it's easy to embrace the discount networks of JetBlue ($159 in mid-January) or Southwest ($147) to hop across the United States.
One-way trans-Atlantic plane tickets are expensive. Generally, on the big carriers they cost the same as a round-trip tickets, sometimes more. To get home to Europe on a budget, my two best choices involve Scandinavia and Iceland.
Norwegian is a low-cost airline that has one-way flights for about $300 from New York to London Gatwick, Oslo and Copenhagen, and then connections into a wide European network.
The cheaper option is WOW, an Icelandic discounter that flies from Boston to the continent with a stop in Reykjavik (okay, you purists, Keflavik).
In mid-winter, WOW can take me across the Atlantic, although not back home to Geneva, for less than $200. To get home I would then be at the mercy of EasyJet, which is technically a low-cost airline but, to my mind, a full-cost baggage hauler, which charges crazy prices for checked luggage, with its rudeness toward paying customers thrown in for free.
On a direct line north of the equator, this trip might have cost me $1500, and would have taken me, depending on a few choices, through Romania (Cluj-Napoca), Dubai, Colombo (Sri Lanka), Malaysia (Kuala Lumpur), Seoul, Wuhan (China), Los Angeles, New York, Boston, Reykjavik, and Copenhagen. The total time in the air would have been about fifty hours.
For most of us it would be the trip of a lifetime, and it can be done for less than $1500, provided you are not checking a bag.
What could go wrong? The exposed flank in my travel plans is the Pacific Ocean. Only by plugging and playing with a lot of combinations of cities and dates can I find those one-way $400-500 fares. They only show up briefly on carriers such as Evergreen, Korean, or Air China, and just as quickly vanish.
Try as hard as I have, I cannot find a discount Russian airline, not even the alluring S7 or Yakutia, to make the land bridge from Siberia across the Bering Strait to Alaska. Even if I did get to Anchorage I would be out of luck finding a cheap airline to the lower forty-eight, except to Minnesota in mid-summer, on something called Sun Country.
Nor have I been able to find local airlines to take me across the South Pacific on, say, the path Ahab took in Moby-Dick. Fiji Airlines has some promise, but gouges whenever the opportunity arises. Jetstar, owned by Qantas, does make it possible to fly for relatively low cost between Cambodia and New Zealand. So, for now, the trans-Pacific discount trail grows cold after Fiji. Although I can think of worse places, including Cluj-Napoca, to run out of gas.
Matthew Stevenson, a contributing editor of Harper's Magazine, is the author most recently of Remembering the Twentieth Century Limited
, a collection of historical travel essays, and Whistle-Stopping America. His next book, Reading the Rails, will be published in 2016. He lives in Switzerland.
Flickr Photo by dreamcatcher-68: Wizz Air HA-LWF Airbus Z320-232.