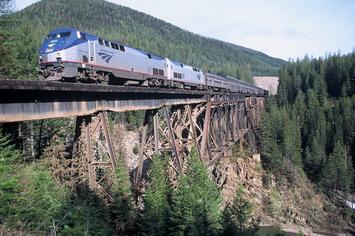 When the United States was in the money, the Congress grudgingly voted Amtrak a $1 billion subsidy every year, and then engaged in histrionics about how it might be cheaper to send most passengers to their destinations on private jets.
Then oil went to $140 a barrel, the United States dropped into recession, and one of the answers was to vote $12.9 billion in stimulus money, over the next five years, to Amtrak, the railroads, and state-supported transportation agencies.
Even though the American freight-train business has enjoyed a renaissance in the last twenty years — companies like the Burlington Northern Santa Fe and CSX are admirable for their competitive spirit and financial results — I am skeptical that Amtrak is the company that can lead the way to the re-birth of U.S. passenger service. Freight, let's remember, only flourished when Conrail was privatized and the industry deregulated.
To be clear, the $8 billion appropriated for high-speed corridor service has yet to be earmarked, and is best understood as discretionary funding that can be doled out to the states, if not to loyal unions. For his part, Senate majority leader Harry Reid hopes to open a drawbridge to fund high-speed rail service between Anaheim and Las Vegas.
Somehow, it is hard to imagine that the U.S. can restore its economic prosperity by rushing heavy rollers to the blackjack tables in Vegas.
Now in its thirty-ninth year of operations, the government-controlled Amtrak provides good service between Boston, New York and Washington, and Los Angeles and San Diego. Elsewhere, it's a land cruise company.
Beyond the corridors, Amtrak plies routes that were hastily drawn in 1971 to insure that they touch as many congressional interests as possible. That means meandering sleepers from New Orleans to Los Angeles, or Chicago to Seattle, which are a delight to vacationers (myself included), but inconsequential to the business of America, which drives or flies in order to get somewhere. Amtrak handles less than 1% of America's intercity travel.
To defend Amtrak for a moment, it has been chronically under-funded, owns little of the track on which it operates, defers its schedule to freight interests, and is hostage to union rules, Congress and microwavable food. European trains get more subsidies in a year than Amtrak has gotten in its lifetime.
So will the $12.9 billion give the United States a passenger railroad network comparable to those that are now flourishing in Europe?
Before answering the question, let's take a very quick rolling stock of what European railroads have on offer:
In Switzerland, where I live, the trains or a bus connect every village, town and city in the country. Geneva has more than 100 trains daily. Austin, Texas, a comparable city in terms of size, has two. But the railway is expensive for foreigners who visit the country. Round trip from Geneva to Zermatt for a family of four is about $600. Nonetheless, the rail network is a national asset.
The German passenger railway, Deutsche Bahn, is incomparable. Nothing matches its speed, comfort, and service. Its Inter-City Express trains (ICEs) are the best in the world for the cost, not to mention the beer that's served.
The United Kingdom, which has privatized much of what was BritRail, is a mixed bag of flash roads. Private companies are now competing for passengers, which means lovely new carriages, and better pork pies on the tea trolleys. But neither the private companies nor the government is spending what is needed on Britain's roadbed and infrastructure, which explains some of the horrible accidents in the system.
France has its Train à Grande Vitesse (TGV), which operates on segregated, elevated high-speed track, and makes the runs from Lyon and Avignon to Paris not much longer than local commuter service. I find its seats cramped in second class (too airliner-ish), and French stations are dingy, but otherwise the TGV is a model train. A comparable system in the U.S. could reduce the trip from New York to Washington or Boston to less than two hours. But it would mean building a new interstate for trains.
Italy has some excellent trains, and fast ones too. I know this, because I've seen them speed by as I have stood on platforms in Italy. But I never seem to catch any of them. The trains I ride have dirty seats, broken air conditioning, and inexplicable delays in places like Domodossola.
Eastern European night trains — I am partial to these, I confess — include heavy sleepers that go from Ljubljana to Belgrade, or Iasi to Bucharest, with reasonable fares, starched sheets on the berths, brandy at breakfast, and the chance to visit such exotic places as Debrecen, Lviv, and Chisinau.
The Russian Railways has, remarkably, become an excellent company, with improved passenger and freight services, including trans-Siberian container shipping that can get boxes from the Pacific to Berlin in less time than cargo ships.
How does Amtrak compare, and how is it likely to improve with stimulus funds?
Amtrak already looks good on one account: Europe's international reservation system is medieval. Amtrak is miles ahead of Europe here. This summer I tried, in person and on the web, to book a sleeper from Geneva to Sevastopol, and failed.
In Europe, international travel usually requires a trip to the ticket window at the station. Even simpler journeys, when they cross borders, are either prohibitively expensive or impossible to book. Geneva to London comes in at about $400; EasyJet does it in an hour for $50.
While I am all for spending stimulus money, or any money, on American passenger service, I have yet to see anything remotely like a good strategic plan for its restoration. The glossy maps projecting new corridor services depend on the states, not Amtrak, to realize the dreams.
Nor am I sure that throwing money at the Amtrak model will do much more than refurbish some Amfleet coaches and make congressmen look good in mid-term elections. The railroad, like many in American history, strikes me as better at delivering pork than passengers. The current chairman is a former small-town, Illinois mayor, and Joe Biden's son was a board member until February 2009.
Perhaps equally important, where is Amtrak's passion for railroading? Why hasn't the route map changed in forty years? Where are the car-carrying trains, the elegant stations, the sleepers that cater to business people with showers and wi-fi, or even the special tourist trains that would take travelers across America to Civil War battlefields, major league baseball games, rock concerts, or national parks?
Why do cities like Phoenix or Louisville have no trains at all? Where are the creative railroad financiers, selling sleeping cars as timeshares or condos? If it's truly a government-run corporation, why aren't there more investment-grade Amtrak bonds in world markets?
Here's another irony of the railroad stimulus package: Freight companies are prospering with deregulation and private capital, but Amtrak is running late while on the dole.
Right now we're in a golden age of railroads, much of it funded with investor capital. The common stock of large American railroads is attracting serious money, including that of Warren Buffet.
Around the world, private luxury trains are crossing Russia, India, China, Tibet, the Silk Road, the Alps, and the Andes. In Asia, investors are plotting to complete the line from Singapore over the Burma Road to China. A company in Africa charges about $30,000 — and gets it — for a deluxe train trip from Cape Town to Cairo. But bureaucratic protectionism keeps these dynamic groups from operating in the United States.
After World War II, America traded in the greatest railroad system in the world for interstate highways, sleazy rest stops, and now-crowded airports. Today, GM is broke, gas is three dollars a gallon, and politicians have to kowtow to Saudi princes.
I would love to think that for $8 billion, corridor service would flourish and that German-style trains would pop up around the country. Heck, I would love to ride a Romanian sleeper between New York and Bangor, Maine.
Despite my hopes, my fear is that the transportation stimulus money is probably going to end up on a roulette wheel in Vegas.
Amtrak Empire Builder at Marias Pass, Montana. Photograph by Alex Mayes.
Matthew Stevenson was born in New York, but has lived in Switzerland since 1991. He is the author of, among other books, Letters of Transit: Essays on Travel, History, Politics, and Family Life Abroad
. His most recent book is An April Across America
. In addition to their availability on Amazon, they can be ordered at Odysseus Books, or located toll-free at 1-800-345-6665. He may be contacted at matthewstevenson@sunrise.ch.