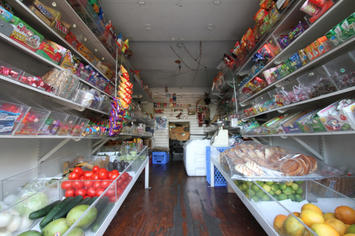 The precariat is a term coined to describe the segment of the population that lives without security or predictability. These days it often refers to the former American middle class that's currently experiencing reduced circumstances. There's always been a precariat, but it usually includes a minor subset of the population that no one really likes or cares about. Indentured Irish servants, black slaves, Jewish and Italian sweatshop workers, Mexican field hands, Puerto Rican cleaning ladies… It's a long list. People are up in arms now because the "wrong people" have fallen in to the precariat that didn't used to "belong" there. There's been a sudden realization that sometimes the structure of the economy itself institutionalizes their personal decline. Shocking! I'm not a political animal so I'll leave those discussions to others to hash out. Instead, I'm interested in how people adapt to the circumstances they find themselves in.
We're all familiar with the ice cream man whose truck rolls around with the happy music playing on hot summer days. This one is in Detroit – and it's an ice cream lady. She bought an old delivery vehicle, did a bit of hand painting, fitted it with chest freezers, and opened for business. It's a fast, low cost, and flexible way to get a business off the ground even in the most challenging economic environments.
The ubiquitous food truck fills the gap between the cost, complexity, and risk of opening a brick and mortar restaurant vs. working for someone else. A well constructed food truck isn't necessarily cheap, but it's within the reach of many more people than anything in a building. This one is in Los Angeles.
Here's a twist on the mobile shop theme that's a direct result of rising commercial rents. This woman ran a successful second hand clothing boutique for many years and was driven out when her shop rent hit $5,400 a month. You have to sell a lot of schmatta to make that nut. Now she follows various fairs and pubic gatherings with her merchandise in a repurposed school bus. She goes directly to where her customers are most likely to find her. As I've heard many times from shopkeepers around the world – it's not how much money you earn, it's how much you have left over after all the thieves are paid.
Here's a mobile veterinary clinic. Dogs, cats, horses… As the cost of a medical degree, insurance, and real estate have skyrocketed even doctors are taking a long hard look at the whole medical office building situation. The transition from a practice with a full team of professionals to a solo gig in a tricked out custom van can be described as a positive lifestyle change, but it's almost certainly about money.
I stumbled on this mobile grocery store complete with fresh produce, real bread, and dairy products. The offerings and prices were substantially better than what can be found at the alternative in this location – a classic food desert where people without access to a car have little choice but to buy low quality industrial food-like products at inflated prices at gas stations.
Down the street I found a similar grocery truck. I chatted with the family that runs the business. There was a need in the community to bring in groceries as well as an opportunity to make money. The usual chain stores on the main arterial road don't always work well for either customers or potential shopkeepers. The trucks do. They arrive exactly when and where they're needed and stock what people want. I noticed health department certificates and Weights and Measures seals. Both trucks were Grade A.
Here's a mobile woodworker's tool shop. These are specialty items not typically found in most hardware stores. This man has a relationship with various brick and mortar lumber yards who find his presence good for business. Social media alerts customers of his schedule. Mobile shops have the ability to specialize and cover a wider territory more economically than a stationary establishment burdened with overhead and a limited static customer base.
Here's one example of the challenges of opening a brick and mortar shop even if you have a generous budget. A prosperous California winery decided to open a tasting room in town to promote its products. The building had been a family paint store since the 1950s. The 2008 financial crash forced it to close. The new owners gave the old nondescript concrete block building a designer facelift. But it was a bumpy road. The climate controlled warehouse in the back was subject to a design review board that spent months rejecting the proposed color of the structure. White was preferred by the owner since it reflected heat most effectively. Evidently pure white was not in keeping with the character of the community. There was a back and forth with the oversight committee over various shades of off white, beige, and creme anglaise. Each time the committee rejected a color the process had to start all over again which delayed the opening of the shop by several weeks – which all costs money.
The fire marshal insisted on the installation of this bit of plumbing that cost $65,000. I can't think of anything more flammable than 1950s era paint – not even wine – yet somehow the building managed not to burn for sixty odd years. But no new business could open in this spot until this valve was installed. And then there was the requirement that each seat and stool in the tasting room have a corresponding parking spot on site while not interfering with the ability of a giant fire truck to completely encircle the entire property.
Here's the other end of the spectrum. A mother and daughter sell cold drinks at a busy bus stop from an ice chest. Totally ADA compliant!
But the award for creative entrepreneurial capitalism goes to this mobile video game kiosk that regularly parks outside a San Francisco bar on weekend evenings. Comfortably liquified patrons settle in to folding chairs and play electronic games on the sidewalk. Free! (But please keep the tips coming.) It's been in the same spot for so long the bar owners must not mind. This is how you work a side hustle when you're part of the precariat.
This piece first appeared on Granola Shotgun.
John Sanphillippo lives in San Francisco and blogs about urbanism, adaptation, and resilience at granolashotgun.com. He's a member of the Congress for New Urbanism, films videos for faircompanies.com, and is a regular contributor to Strongtowns.org. He earns his living by buying, renovating, and renting undervalued properties in places that have good long term prospects. He is a graduate of Rutgers University.