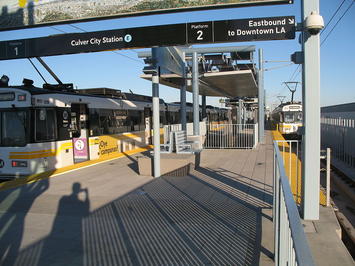 Over the past decade, there has been a growing fixation among planners and developers alike for a return to the last century's monocentric cities served by large-scale train systems. And, to be sure, in a handful of older urban regions, mass transit continues to play an important — and even vital — role in getting commuters to downtown jobs. Overall, a remarkable 40 percent of all transit commuting in the United States takes place in the New York metropolitan area — and just six municipalities make up 55 percent of all transit commuting destinations.
But here's an overlooked fact: Transit now serves about the same number of riders as it did in 1907, when the urban population was barely 15 percent of what it is today. Most urban regions, such as Southern California, are nothing like New York — and they never will be. Downtown Los Angeles may be a better place in which to hang out and eat than in the past, but it sorely lacks the magnetic appeal of a place like Manhattan, or even downtown San Francisco. Manhattan, the world's second-largest employment center, represents a little more than 20 percent of the New York metropolitan area's employment. In Los Angeles, by contrast, the downtown area employs just 2 percent.
Transit is failing in Southern California
As we demonstrate in a new report for Chapman University, our urban form does not work well for conventional mass transit. Too many people go to too many locales to work, and, as housing prices have surged, many have moved farther way, which makes trains less practical, given the lack of a dominant job center. But in its desire to emulate places like New York, Los Angeles has spent some $15 billion trying to evolve into what some East Coast enthusiasts call the "next great transit city."
The rail lines have earned Mayor Eric Garcetti almost endless plaudits from places like the New York Times. Yet, since 1990, transit's work trip market share has dropped from 5.6 percent to 5.1 percent. MTA system ridership stands at least 15 percent below 1985 levels, when there was only bus service, and the population of Los Angeles County was about 20 percent lower. In some places, like Orange County, the fall has been even more precipitous, down 30 percent since 2008. It is no surprise, then, that, according to a recent USC study, the new lines have done little or nothing to lessen congestion.
This experience is not limited to L.A. Most of the 19 metropolitan areas with new mass transit rail systems — including big cities like Atlanta, Houston, Dallas and even Portland, Ore. — have experienced a decline in transit market share since the systems began operations.
Read the entire piece at The Orange County Register.
Joel Kotkin is executive editor of NewGeography.com. He is the Roger Hobbs Distinguished Fellow in Urban Studies at Chapman University and executive director of the Houston-based Center for Opportunity Urbanism. His newest book is The Human City: Urbanism for the rest of us. He is also author of The New Class Conflict, The City: A Global History, and The Next Hundred Million: America in 2050. He lives in Orange County, CA.
Wendell Cox is principal of Demographia, an international public policy and demographics firm. He is a Senior Fellow of the Center for Opportunity Urbanism (US), Senior Fellow for Housing Affordability and Municipal Policy for the Frontier Centre for Public Policy (Canada), and a member of the Board of Advisors of the Center for Demographics and Policy at Chapman University (California). He is co-author of the "Demographia International Housing Affordability Survey" and author of "Demographia World Urban Areas" and "War on the Dream: How Anti-Sprawl Policy Threatens the Quality of Life." He was appointed to three terms on the Los Angeles County Transportation Commission, where he served with the leading city and county leadership as the only non-elected member. He served as a visiting professor at the Conservatoire National des Arts et Metiers, a national university in Paris.
Photo: Esirgen (Own work) [CC BY-SA 3.0], via Wikimedia Commons