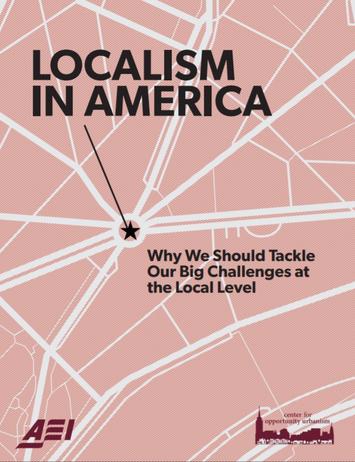 Localism in America, a compilation of essays from the American Enterprise Institute and the Center for Opportunity Urbanism, explores the merits of local governing and how reinvigorating local solution-making is best for American democracy as a whole. Read an excerpt from the introduction, authored by Joel Kotkin and Ryan Streeter, below.
"One of the distinguishing characteristics of American dynamism is that, at its heart, the United States is an intramural, competitive enterprise. Competition among cities, regions, and states for people and investment has been essential to our success as a nation.
Interstate migration has always allowed people to "vote with their feet" and escape a bleak environment for a more promising one. Until the end of the 19th century, this primarily meant moving from the East Coast to the West. "The peculiarity of American institutions," noted historian Frederick Jackson Turner, "is the fact that they have been compelled to adapt themselves to the changes of an expanding people."
Then came other mass movements, including the "great migration" of six million African Americans from the segregated South to the less stringently racist cities of the North. Today there is a reverse migration—among African Americans but also the rest of the country—to the less-regulated, lower-tax states of the Southeast and Intermountain West. Throughout our history, this battle between and within regions has allowed individuals and businesses the luxury of choosing the kind of environment they preferred or that fit their essential needs."
Joel Kotkin is executive editor of NewGeography.com. He is the Roger Hobbs Distinguished Fellow in Urban Studies at Chapman University and executive director of the Houston-based Center for Opportunity Urbanism. His newest book is The Human City: Urbanism for the rest of us. He is also author of The New Class Conflict, The City: A Global History, and The Next Hundred Million: America in 2050. He lives in Orange County, CA.
Ryan Streeter is the director of domestic policy studies at the American Enterprise Institute (AEI), where he oversees research in education, American citizenship, politics, public opinion, and social and cultural studies. Before joining AEI, he was executive director of the Center for Politics and Governance at the University of Texas at Austin.