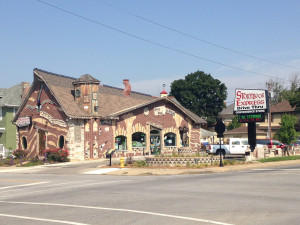 I've written about Kokomo, Indiana before and also posted a podcast with its mayor. It's a small manufacturing city in Indiana, far from glamorous and with its own set of challenges, that has been seeking to reinvent itself for the 21st century. My latest City Journal article is a look at Kokomo and what it's been up to.
"Today, Kokomo is in the midst of a multiyear transformation that's dramatically reshaping it. Downtown is home to new co-working spaces, retailers, restaurants, and a brewery. More than 200 upscale apartments have been built across several developments, along with new senior housing and upgraded public-housing developments. Renovators are working on single-family homes in near-downtown neighborhoods. The city is expanding parks, trails, and bike lanes, and has built a downtown baseball stadium, home to a collegiate summer-league team. Every stoplight was removed from the core of downtown, every one-way street converted to two-way, and numerous intersections were redesigned with attractively landscaped pedestrian-friendly bump-outs and decorative flower-planters on streetlights. There's a sparkling new YMCA, a central parking garage, new firehouses, and a refurbished city hall. After several decades without public transit, the city restarted bus service, which now operates five routes, all fare-free.

The catalyst for all this change has been Mayor Greg Goodnight, in alliance with the Chamber of Commerce, the school corporation, and other community groups. Goodnight is arguably the most dynamic Democratic politician in Indiana. He's a union blueblood—he was previously president of the local United Steelworkers, and his father was formerly the regional president of the Teamsters. But he's also a fiscal hawk who has tussled with local public-employee unions, including a bruising multi-month standoff with the firefighters. And he's a strong proponent of creative-class-style place-making as well. Goodnight, who does not hold a college degree, gave himself a master class in urbanism by reading classics in the field from authors including Jane Jacobs, Edward Glaeser, and Jeff Speck. Books on cities line the shelves behind his desk, and he's internalized them better than many planners. Kokomo's infrastructure projects, in particular, are well designed, with great attention to detail. Goodnight's leadership is arguably the model of the working-class/creative-class, blue-collar/white-collar synthesis that many believe we need today."
Click over to read the whole thing.
This piece originally appeared on Urbanophile.
Aaron M. Renn is a senior fellow at the Manhattan Institute, a contributing editor of City Journal, and an economic development columnist for Governing magazine. He focuses on ways to help America's cities thrive in an ever more complex, competitive, globalized, and diverse twenty-first century. During Renn's 15-year career in management and technology consulting, he was a partner at Accenture and held several technology strategy roles and directed multimillion-dollar global technology implementations. He has contributed to The Guardian, Forbes.com, and numerous other publications. Renn holds a B.S. from Indiana University, where he coauthored an early social-networking platform in 1991.