Apple has picked Austin as the site of its new $1 billion campus, one that will ultimately have 15,000 employees. The Verge has the initial details:
Along with the 6,200 employees that Apple already has in the city, its new 133-acre development is expected to make it the largest private employer in Austin. Apple expects the new campus to accommodate 5,000 employees at first, though it will ultimately have a total capacity of 15,000. The new Austin campus will handle tasks ranging from engineering to customer support for the company. Like all Apple's other facilities worldwide, the facility will run on 100 percent renewable energy.
…
Along with its new Austin campus, Apple has also announced expansions across a number of other US cities. Seattle, San Diego, and Culver City will each grow to have over 1,000 employees apiece, and Apple also plans to expand its operations in Pittsburgh, New York, and Boulder, Colorado, over the next three years. In total, Apple employs 90,000 people across the US, and has over 1,000 employees per state across 16 states.
Once again we see a major tech company going with the "usual suspects." Austin is not a superstar city, but is a booming Sunbelt city with a longstanding tech cluster. Apple picking Austin may help explain how Amazon ended up in Nashville over Austin.
The other places Amazon is going to are all already on the list so to speak. This map from Verge says it all about how things are playing out in American tech: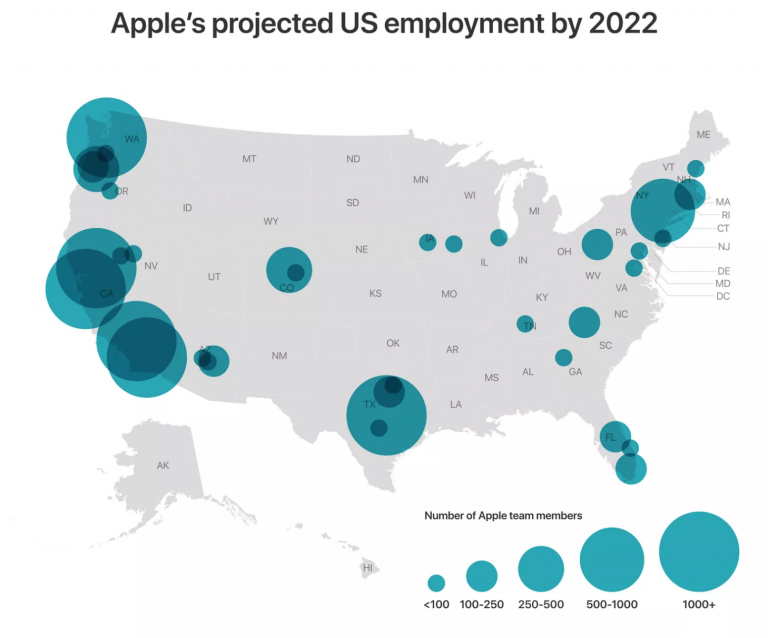 Click through to read the full piece over at the Verge.