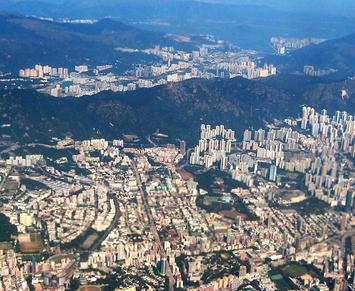 "Hong Kong's infatuation with multi-million dollar shoebox homes is over as quickly as it began," trumpets a December 21 headline in the South China Morning Post. According to Hong Kong's largest English language newspaper, since 2016, there has been a spate of micro-flats construction, with 18 times as many built this year as in 2013. Micro-flats typically have less than 200 square feet of living space (19 square meters). The smallest units are reportedly less than 130 square feet (12 square meters), less than the size of a Hong Kong car parking space.
The Hong Kong Micro-Flat Bust
Despite the "hype" surrounding these units, the bottom has dropped out of the Hong Kong micro-flat market. Little more than one-half of the nearly 1,000 micro-flats made available by developers to the market in 2018 have been sold. According to the Post, speculation had driven the prices up substantially, as it was "not uncommon" for a dozen bids by prospective buyers to be submitted for the new micro-flats. This huge demand induced developers to raise prices (as would be expected in any market), with increases of up to 14 percent in as brief a period as one week. The Post cites a "high-water" mark of HK$6.5 million (more than US$800,000) for a 190 square foot micro-flat in May.
All of this has occurred in the market the Post called the most expensive in the world. The 2018 Demographia International Housing Affordability Survey found Hong Kong median house prices to be 19.4 times median household incomes (the "median multiple") the least affordable market in its nine nation survey, well above severely unaffordable Sydney (12.9), Vancouver (12.4) and San Jose (10.3). This does not even count the generally small size of Hong Kong apartments. UBS, the international investment bank, recently rated the Hong Kong housing market as having the greatest housing bubble risk in the world. Hong Kong Rating and Valuation Department data indicates that house prices more than tripled from the 2008 pre-bubble peak to August of 2018.
In recent months, however, Hong Kong house prices have started to drop. Various factors have been cited. For one thing, the Hong Kong government has imposed a vacancy tax, which removes financial incentives to hold properties rather than to sell them. In addition, mortgage interest rates have begun to increase. House prices have fallen off nearly four percent in just three months, according to the Hong Kong Rating and Valuation Department index.
The micro-flat market has been particularly vulnerable to these developments. As the prices of homes fall, purchasers are able to obtain larger houses, and the demand for the tiny houses falls, according to analysts.
Even before construction of the micro-flats, house sizes in Hong Kong were very small, with data generally indicating average sizes of less than 500 square feet (46 square meters). By comparison, average house sizes in Singapore are nearly 1,000 square feet (90 square meters). By contrast, new house sizes are more than four times or more as large in the United States, Australia, New Zealand and Canada.
The Rise and Challenges of the Micro-Flat
Considerable interest in micro-flats has developed in many metropolitan areas around the world. The greatest interest has been where housing affordability has eroded the most, especially due to the much higher housing costs associated with urban containment policies. However, with their generally larger house sizes than in Hong Kong, micro-flats elsewhere tend to be larger than in Hong Kong although still much smaller than the average apartment.
In New York, micro-flat sizes are reported to be from 250 to 370 square feet (23 to 34 square meters). In Denver, units of 300 to 600 square feet (28 to 56 square meters) have been referred to as micro-flats. In Toronto, units are reportedly at least 275 square feet (26 square meters).
At the same time, some metropolitan areas have been less accommodating of the trend, either retaining higher square footage minimums, or even setting new maximums. In Vancouver, the minimum flat size is reported to be about 400 square feet (37 square meters). In Sydney, according to domain.com, "The era of the micro apartment is over before it even got going … with new state government rules slapping a minimum size on new studios of 35 square metres" (375 square feet).
The city of Seattle has perhaps been particularly unfriendly to micro-flats, according to sightline.com, which reported:
"Seattle was the modern birthplace of micro-housing in North America. It went strong from 2009 to 2013, but building micro-housing projects has since become an uphill battle. In fact, the local war about micro-housing is over… and micro-housing lost."
According to sightline.com, micro housing as small as 140 square feet (13 square meters) was permitted and built in Seattle less than a decade ago. This is close to the size of the smallest micro-flats in Hong Kong (under 130 square feet). Changes in regulations have made it virtually impossible to build below 300 square feet today.
What is the Future of the Micro-Flat Market?
Micro-flats are a new phenomenon. It is anybody's guess how successful they will be in the long run. But there may not be a market better positioned for micro-flat development than Hong Kong, with the highest densities in the high-income world, the smallest house sizes and median house prices that are nearly double to more than triple relative to incomes even severely unaffordable markets like Seattle, San Francisco, Toronto and London.
Moreover, there are indications that house prices have begun to nudge downward in some of the most expensive markets. The same dynamics that have ended Hong Kong's infatuation with micro-flats could do the same elsewhere.
Wendell Cox is principal of Demographia, an international public policy and demographics firm. He is a Senior Fellow of the Center for Opportunity Urbanism (US), Senior Fellow for Housing Affordability and Municipal Policy for the Frontier Centre for Public Policy (Canada), and a member of the Board of Advisors of the Center for Demographics and Policy at Chapman University (California). He is co-author of the "Demographia International Housing Affordability Survey" and author of "Demographia World Urban Areas" and "War on the Dream: How Anti-Sprawl Policy Threatens the Quality of Life." He was appointed to three terms on the Los Angeles County Transportation Commission, where he served with the leading city and county leadership as the only non-elected member. He served as a visiting professor at the Conservatoire National des Arts et Metiers, a national university in Paris.
Photograph: Hong Kong: Kowloon, Sha Tin, Ma On Shan and Tai Po (by Author)