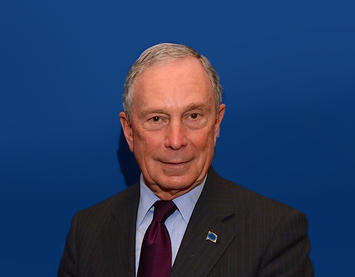 Many in the media and political class see Donald Trump as the face of America's autocratic future. They've had less to say about Michael Bloomberg, a far more successful billionaire with the smarts, motivation, and elitist mentality not only to propose but actually carry out his own deeply authoritarian vision should he be elected president.
Bloomberg, who's quickly moved up in national polls on an unprecedented tsunami of spending and despite sitting out the Democratic debates, represents, in a way never seen in modern American politics, the melding of oligarchal power with political willfulness. His campaign remains a wild long shot, but ask New York City how that can play out—and how difficult it is to dislodge this oligarch once he's in office, even when the law demands that he leave.
Compared to Bloomberg, Trump's estimated $3 billion fortune is paltry. Bloomberg is the world's ninth richest man, with a fortune of nearly $60 billion. The two post-retirement-age party-jumpers share not only flimsy medical excuses for staying out of Vietnam, long histories of locker-room talk, and joint refusals to fully disclose their taxes while running or to step away from their private business interests while serving in public office but, perhaps most fundamentally, a habit of naming things after themselves and a narcissistic sense that common rules don't apply to them.
Already a modern-day Crassus, Bloomberg has both the wealth and the brains to emerge as a true Caesar, albeit a short-statured and aging one. Just as Caesar used the wealth of Gaul to finance his takeover of the Republic, Bloomberg can use his private fortune to bribe, cajole and otherwise promote his ascendancy. In his 12 years as ruler of New York, he showed his willingness to "buy" elective office, spending half a billion dollars on his three runs. To match the $174 per vote he spent to win his final term, Bloomberg—who's has already spent $200 million on TV ads—would need to spend an unheard of $12 billion. He could afford it.
None of this seems beyond a man who demonstrated his l'état c'est moi attitude in 2009, when, after reluctantly giving up a run in the 2008 presidential election, he changed city law and overrode the will of the voters to allow himself to run for a third term after personally meeting with the owners of the city's three major papers to get their editorial boards to reverse themselves and endorse that undemocratic move. Rules, in the Bloombergian universe, only apply to people with less than ten zeros in their net worth. He spent $102 million—not counting off-the-books hush money to keep activist groups quiet, among other things—for a 15-to-one spending advantage as he eked out a narrow win in a city that was so sick and tired of him that it elected corrupt schmendrick Bill de Blasio once Bloomberg's name was finally off of the ballot.
Bloomberg is a man of undisguised arrogance. As mayor, he already saw himself as a sort of little president, once boasting that "I have my own army in the NYPD, which is the seventh largest army in the world… I have my own State Department, to Foggy Bottom's annoyance. We have the UN in New York, so we have entree into the diplomatic world that Washington does not have. I don't listen to Washington very much, which is something they're not thrilled about." Should he gain access to the real Army and State Department, he'll use them as he sees fit, and with little concern for the will of the voters.
Unlike Trump, or some of his leading Democratic rivals, Bloomberg is not playing the populist card but seeking to bury "the great revolt" that has overturned elite control of the country. A fierce defender of Wall Street, Silicon Valley and the corporate elite, he is hoping, as a recent editorial in Bloomberg Opinion suggested, that "populism will probably just fade away" so that the ruling class can again "relax."
Read the rest of the piece at Daily Beast.
Joel Kotkin is the Presidential Fellow in Urban Futures at Chapman University and Executive Director for the Center for Opportunity Urbanism. His last book was The Human City: Urbanism for the Rest of Us (Agate, 2017). His next book, The Coming of Neo-Feudalism: A Warning to the Global Middle Class, is now available to preorder. You can follow him on Twitter @joelkotkin
Photo credit: U.S. Department of State via Flickr, Public Domain.