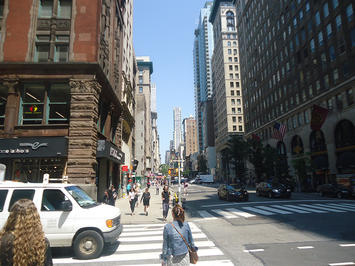 As much of the world begins reopening from lockdown, it will be important for all of us to observe the extraordinary cautions to prevent exposure to the COVID-19 virus, both for ourselves and the people around us. There are already tracking applications that will help identify the source of infections, which is important for both reducing future exposures and the critical research to inform the most effective responses in future pandemics. But more important will be efforts to avoid infection in the first place. Here are the first tools that have begun to appear to assist people in assessing the exposure risk in conducting their everyday lives.
Coronavirus Infection Risk Estimation Apps
A recent article in the prestigious World Economic Forum Agenda ("COVID-19 lockdowns are lifting. How safe is it to go out?") describes a "Physics-Based Coronavirus Infection Risk Estimator for Leaving the House," developed by Elena Polozova. Ms. Polozova spent 3 years as a as a network epidemiology research assistant at MIT, is now a software engineer at Facebook and lives in the city of San Francisco. Her model makes it possible for users to compare the exposure risks of walking trips. She provides a strong disclaimer:
Disclaimer: all models are wrong, but some are useful. I think this one is useful, but please bearin mind that I made it in a week. The exact percentages are definitely inaccurate. I'm sharing because I think the general, directional trend information it reveals — distinguishing between a 1% risk and a 10% risk — is much better than no information at all.
From this, Ezekiel Sebastine, a software engineer with Farmerline in Kumasi, Ghana developed an easy to use mobile application (Should You Go Out?) built on Polozova's model. "The aim," he wrote, "is to provide a simple to use interface for using the models as the models require intermediate to advanced level understanding of maths, physics and statistics. Thus, with little or no knowledge in the listed fields, anyone can use the models and make sense of the estimations."
The two apps provide forms to complete for users to estimate how many people they will be in contact with on the trips and how many surfaces they are likely to touch (shelves, products, shopping carts and the like), the extent of social distancing and mask use. Other, more technical factors are supplied by the apps, but can be changed in the Polozova app. The apps then provide an estimate of the probability of infection.
Shorter Term Enhancements
In the near term, the apps would have a larger audience if they took into account other destinations, such as work, and how they get there. The apps could be useful to the 30 times as many people who drive alone to work as walk, the mode assumed in the apps. This is even true in the city of San Francisco, where driving alone is the choice of three times as many who walk and the metropolitan area where there are 12 times as many solo drivers, according to the Census Bureau's American Community Survey. Indeed, an important enhancement would be to add the exposure risk of transport modes, both in terms of social distancing and surfaces like transit straps or handles, which like elevator buttons, can be potential sources of infection.
The Broader Market: Flight from Exposure Density
The two models break important new ground in providing guidance about individual trips out of the house. The potential for enhancement, however, is substantial. The influence of COVID-19 will go far beyond deciding whether to walk to the store or even estimating the impact of tomorrow's commute.
People are looking for much more than reliable information on individual trips, as indications of a flight from exposure density is reported. Exposure density does not refer to population density alone, which is plenty high in four New York City boroughs (Manhattan, Brooklyn, Queens and the Bronx), but even more importantly to the density of human interaction typical in such environments. This includes such factors as crowded elevators, crowded trains and buses, crowded restaurants, crowded working environments and even crowded sidewalks that simply cannot accommodate sufficient social distancing without negating their very reasons for existence.
Already there are ominous signs in the western world's most indispensible office markets, London and New York City.
According to the Daily Telegraph, Jes Staley, chief executive of Barclays Bank said thousands of workers in one building 'may be a thing of the past' and that instead of 7,000 employees travelling to the bank's Canary Wharf (London) headquarters, just a handful went to the office while the rest worked from home. He told Reuters that the bank would "not revert fully to its pre-January working habits."
The Telegraph article suggested that "an exodus of jobs and people from London looks likely in the next year."
A Redfin poll found that more than 60% of New Yorkers would move to another city if they could work permanently from home.
Zero Hedge describes young people, who have fueled New York's urban core renaissance, abandoning the city, at least temporarily.
Other New Yorkers have been fleeing. The New York Times reported that the City lost 420,000 of its residents between March 1 and May 1, as people fled due to COVID-19. This is a huge number, about 95 % of the entire population gain of New York City from 1950 to 2019 (Figure 1). This is five percent of the population. In some neighborhoods, 40 percent of the residents left. The Times reported that the exodus was much more pronounced among areas of the city with higher incomes.It is, of course, not known how much of this loss will be permanent, or how many less affluent households might follow in larger numbers.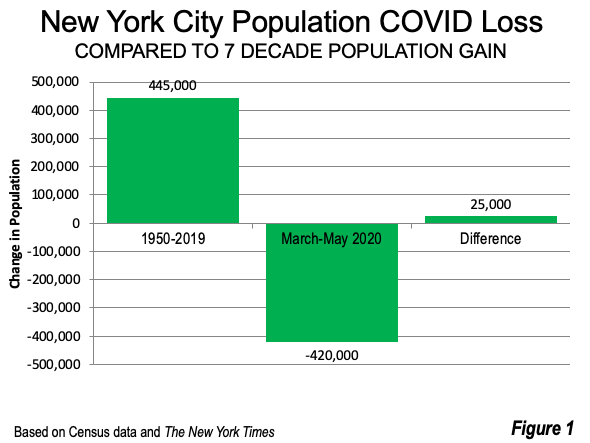 This is about more than New York and London. The Redfin poll ominously that more than 50 percent of homebuyers and sellers in Boston, San Francisco and even Seattle would consider moving to another city if they could permanently work at home.
The experience of working at home, necessitated in such large numbers by pandemic exposure prevention measures has proven popular with employees. Work-at-home expert Kate Lister, president of Global Workplace Analytics expects estimates that post-COVID, 25 to 30 percent of employees will work at home. This would be, at a minimum, a nearly four times increase from the 5.3 percent now reported at the national level by the American Community Survey.
None of this suggests that the end has come for cities, only that they have become less attractive and will need to become less crowded Some residents are already leaving and it is likely more will, as they seek to be better positioned for future pandemics, by living where exposure densities are lower and where thelockdowns are likely to be less harsh. This is likely to be in a less intense area of urbanization, whether in another metropolitan area or a more suburban setting, a rural area (say in the Rockies, on Lake Winnipeg, etc.) or home. There is a need for apps that facilitate optimal inclusion of exposure densities in the relocation decisions.
The environment is changing rapidly, as 21st century digital commuting seems poised for major growth. Even Facebook, which only five years ago offered employees $10,000 to move closer to its San Francisco Bay Area headquarters office, has announced that at least half of its employees will work from home within 10 years. Facebook follows announcements by Twitter, Microsoft, Google, Canada's Shopify (with its 42 story headquarters facility under construction in downtown Toronto) and Amazon to extend or make permanent their liberalized work at home programs.
Meanwhile, congratulations to Elena Polozova and Ezekiel Sebastine for their important work. Others should follow.
---
Photograph: Manhattan, tech hub (by author).
Wendell Cox is principal of Demographia, an international public policy and demographics firm. He is a Senior Fellow of the Urban Reform Institute - formerly Center for Opportunity Urbanism (US), Senior Fellow for Housing Affordability and Municipal Policy for the Frontier Centre for Public Policy (Canada), and a member of the Board of Advisors of the Center for Demographics and Policy at Chapman University (California). He is co-author of the "Demographia International Housing Affordability Survey" and author of "Demographia World Urban Areas" and "War on the Dream: How Anti-Sprawl Policy Threatens the Quality of Life." He was appointed by Mayor Tom Bradley to three terms on the Los Angeles County Transportation Commission, where he served with the leading city and county leadership as the only non-elected member. Speaker of the House of Representatives appointed him to the Amtrak Reform Council. He served as a visiting professor at the Conservatoire National des Arts et Metiers, a national university in Paris.