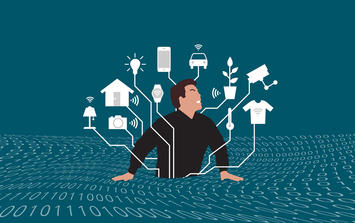 While it's helped a lot of Americans who are displaced from their offices get their work done, it's fallen short in areas like education and disease tracking and has once again highlighted the digital divide.
With smart cities and the need for digital transformation of government already top of mind for state and local leaders, the coronavirus pandemic's disruptions have provided a sort of field test of how technology is really able to respond to key civic and societal challenges. So far, at least, it's a mixed picture.
One of the most dramatic initial changes had an immediate impact on Main Street business activity as consumers shifted their purchasing heavily to online, adding to the disruption from the waves of business shutdowns that began spreading in March. This shift caused some challenges for companies in scaling up. Amazon, for example, temporarily halted inbound warehouse shipments of third-party sellers' goods. It also de-prioritized shipments of non-essential items, including, ironically, its original category of books. But these companies quickly adjusted, and there may well be a permanent uptick in e-commerce market share as a result of the crisis, particularly in sectors like grocery.
Meanwhile, in the white-collar office world, almost overnight both corporate America and the public sector shifted the bulk of employees to work from home. This led to a dramatic upsurge in the usage of video collaboration tools like Zoom and Microsoft Teams. Demand above normal can easily overwhelm capacity in a system, as America's toilet-paper shortage in the first weeks of the pandemic showed. But while there were a few bumps in the video systems, these providers were able to rapidly scale up operations, allowing surprising degrees of effective collaboration despite the sudden dislocation of work. Corporate IT and consultancies also were able to successfully ramp up, deploying additional infrastructure where needed. Accenture, for example, provisioned 80,000 laptops within a week to its workers who were normally based in its offices.
America's broadband internet providers have not been as successful. While most of the country's households have high-bandwidth internet service, hours spent on Zoom calls have revealed just how many intermittent problems these connections can have, regardless of carrier. People planning important webinars are now arranging fallback plans in case a speaker's Internet connection freezes. I've begun using a cellular data connection for important interviews or presentations because inevitably my wired connection would have problems. I know from the grumblings I hear from others that I'm far from the only one in this situation.
These sorts of technology deployments are basically traditional consumer and business applications extended to the next level. But what about the use of technology for transforming the civic realm? Here, the results are less encouraging.
Education switched to many of the same remote technologies as business, but not as successfully. Especially at the high-school level, absenteeism from online courses has been a problem. Many minority and lower-income students are likely to be left permanently behind if virtual schools are ineffective in remote teaching this fall. Meanwhile, well-to-do parents are creating multi-family home-schooling "pods," either directly managing their children's online learning or hiring a teacher to home-school them.
Particularly in education, the realities of the digital divide have again been magnified for us. While white-collar workers may be experiencing intermittent broadband problems, many lower-income families in both rural and urban areas don't have broadband at all. One need the coronavirus has underlined, once again, is for rock-solid, affordable universal broadband. It's a precondition for a more digital future.
Other aspects of civic tech also fell short. Start with virus tracking. For a while we've heard about how technology was going to allow us to revolutionize public health. Yet successful applications have proven elusive. Back in 2008, for example, Google researchers said flu outbreaks could be predicted from the company's search data. Google Flu Trends worked well for a while, then was quietly retired after failing to properly track the 2013 flu season.
Read the rest of this piece at Governing.com.
---
Aaron M. Renn is a contributing editor at City Journal, and an economic development columnist for Governing magazine. He focuses on ways to help America's cities thrive in an ever more complex, competitive, globalized, and diverse twenty-first century. During Renn's 15-year career in management and technology consulting, he was a partner at Accenture and held several technology strategy roles and directed multimillion-dollar global technology implementations.
Image credit: Gerd Leonhard via Flickr under CC 2.0 License.