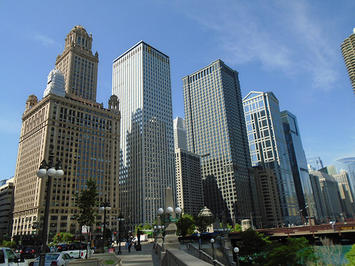 Last year may be the last "normal" year in commuting (work trip travel and access) data. After decades of relative stability in the drive alone and transit market shares, it seems likely autos and transit will show large declines in 2020, both in market shares and actual numbers. During the pandemic, telework (working at home or telecommuting) has grown strongly, as people have significantly reduced their traveling physically to work. Stanford University research reports that telework reached more than 40%, well above the 2019 rate of 5.7% A number. Stanford projects, after the pandemic, the percentage working primarily at home will stay near 20 percent.
The 2019 Results
Driving alone continued to dominate commuting in 2019, with a 75.9% market share. From 2010 to 2019, driving alone increased by 14.2 million (Figures 1 and 2).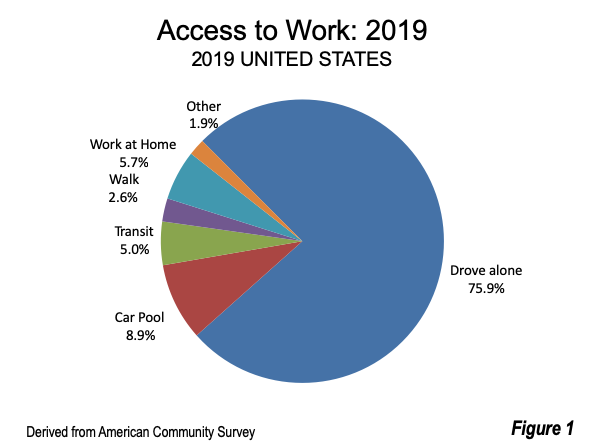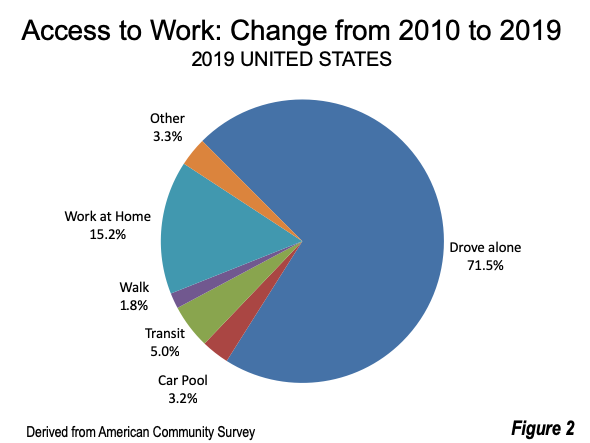 Even before the pandemic, telework was increasing strongly. The number of commuters who usually telework means rose by one third, from 4.3% to 5.7% of the workforce, an increase of 3.0 million over the past decade. Telework captured more than 15% of the increase in commuting from 2010 to 2019, at the expense principally of driving alone and car pools. Further, telework passed transit in market share --- this is true in 44 of 53 largest metropolitan areas --- to become the largest non-automobile mode and has risen to 9.0 million commuters. This is also a higher figure than has been recorded for transit by the Census Bureau since work trip data was collected in the 1960 census.
Car Pools continued to be the second largest commuting mode, at 8.9%. Carpool commuting declined from a 9.7% share to 8.8% between 2010 and 2019. Car pools had been losing share for some time, down from 12.2% in 2000 and 19.7% in 1980. However, during the decade, the increase in jobs was strong enough to support a 600,000 increase in commuting.
Transit's share in 2019 was the same as in 2010 and was up by 1.0 million commuters.
Driving alone, car pools and telework combined for 90.5% of commuting in the United States in 2019. In 44 of the 53 major metropolitan areas, these three modes had more than 90% of commuting, with 17 exceeding 95%. In Memphis, Kansas City and Raleigh more than 97% of commuters used cars or worked at home.
Commuting shares by mode are shown for the major metropolitan areas in Table 1.
Travel Times
A majority of US workers (62.7%) access their jobs in less than 30 minutes, including teleworkers. Despite the considerable media attention, only 9.3% are "super-commuters, "who travel for more than an hour one-way to work (Figure 3).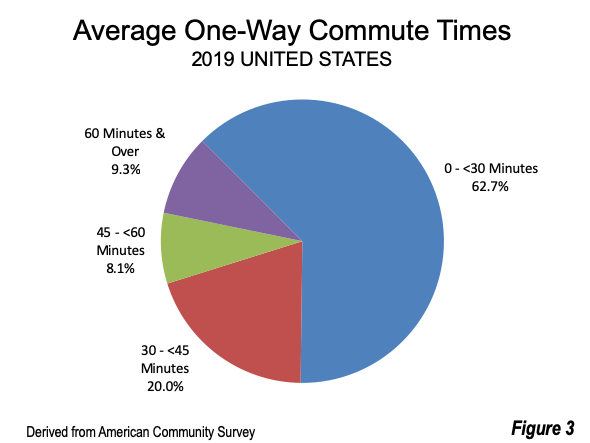 Among those accessing work in less than 30 minutes, 75.3% drive alone, 9.1% are teleworkers, 8.3% car pool, 3.8% walk and only 1.4% use transit (Figure 4).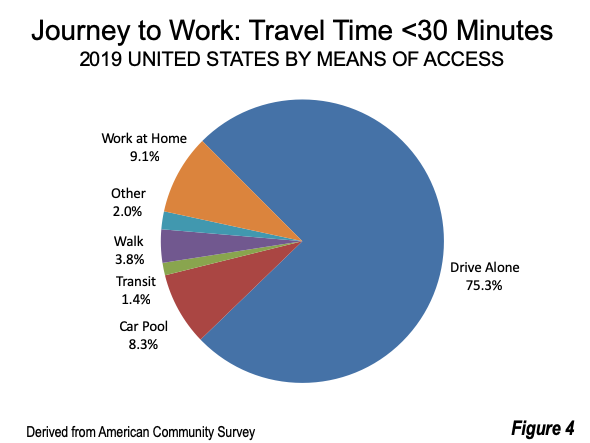 2020 Prospects and Beyond
The pandemic related surge in telework is likely to produce material losses in the auto and transit modes in 2020. Transit is particularly vulnerable, because its market shares are highest in the largest central business districts (See: Demographia Central Business Districts). The six transit legacy city (municipalities, not metropolitan areas) central business districts have transit market shares ranging from 78% (Manhattan in New York), to from 56% in San Francisco and Boston, 50% in Washington, 49% in Philadelphia and 46% in Chicago (Figure 5). These metropolitan areas account for more than three-quarters of transit's increase since 2010, according to American Community Survey data.
Some of the new commuting behavior seems likely to survive well beyond the pandemic. This will mean that workers will spend much less time commuting which could likely to lead to greater economic growth. Economic research has shown that metropolitan areas are more productive when a greater percentage of jobs can be reached in a particular time, and telework certainly puts employees closer to their work.
Moreover, it seems likely that these modes will also lose market share in the years that follow, given that so many employers and employees are embracing telework. This would reduce commute trips, commute times, vehicle miles traveled, and fuel consumption and could reduce peak hour traffic congestion. The adoption of remote work locations by some companies would have similar effects.
The irony is that reducing auto use has been a principal objective of transit policy for decades. Transit failed, because it could not maintain, much less improve the lives of drivers. Indeed, the average driver in in metropolitan areas over 1,000,000 residents can reach more than 50 times as many jobs by car as by transit in 30 minutes. Telework is succeeding, because, for many people and many companies, it eliminates work trips, while improving productivity.
Things are not likely to be the same again.
---
Wendell Cox is principal of Demographia, an international public policy firm located in the St. Louis metropolitan area. He is a founding senior fellow at the Urban Reform Institute, Houston and a member of the Advisory Board of the Center for Demographics and Policy at Chapman University in Orange, California. He has served as a visiting professor at the Conservatoire National des Arts et Metiers in Paris. His principal interests are economics, poverty alleviation, demographics, urban policy and transport. He is co-author of the annual Demographia International Housing Affordability Survey and author of Demographia World Urban Areas.
Mayor Tom Bradley appointed him to three terms on the Los Angeles County Transportation Commission (1977-1985) and Speaker of the House Newt Gingrich appointed him to the Amtrak Reform Council, to complete the unexpired term of New Jersey Governor Christine Todd Whitman (1999-2002). He is author of War on the Dream: How Anti-Sprawl Policy Threatens the Quality of Life and Toward More Prosperous Cities: A Framing Essay on Urban Areas, Transport, Planning and the Dimensions of Sustainability.
Photograph: Wacker Drive, Chicago Loop (by author)
Employment by Means of Access: 2019

Metropolitan Area
Drive Alone
Car Pool
Telework
Transit
Walk
Other
Atlanta, GA
76.3%
8.9%
8.8%
2.8%
1.3%
1.9%
Austin, TX
74.5%
9.1%
10.5%
1.9%
2.0%
1.9%
Baltimore, MD
76.7%
7.8%
5.5%
5.9%
2.5%
1.5%
Birmingham, AL
84.6%
8.2%
4.0%
0.5%
1.3%
1.4%
Boston, MA-NH
66.0%
6.9%
5.6%
13.4%
5.6%
2.6%
Buffalo, NY
81.9%
7.4%
3.5%
2.9%
2.6%
1.7%
Charlotte, NC-SC
78.9%
8.5%
8.0%
1.6%
1.4%
1.4%
Chicago, IL-IN-WI
69.4%
7.4%
5.7%
12.4%
3.0%
2.0%
Cincinnati, OH-KY-IN
81.8%
8.4%
5.4%
1.5%
2.0%
0.9%
Cleveland, OH
80.7%
7.8%
4.8%
2.9%
2.3%
1.4%
Columbus, OH
81.6%
7.8%
5.4%
1.7%
2.3%
1.2%
Dallas-Fort Worth, TX
80.4%
9.4%
6.6%
1.3%
1.2%
1.2%
Denver, CO
74.1%
8.1%
9.1%
4.5%
2.4%
1.8%
Detroit,  MI
82.4%
9.2%
4.4%
1.4%
1.3%
1.3%
Grand Rapids, MI
82.1%
8.5%
4.8%
1.4%
2.1%
1.1%
Hartford, CT
82.1%
6.2%
5.3%
2.4%
3.0%
1.0%
Houston, TX
80.8%
9.3%
5.1%
2.0%
1.3%
1.5%
Indianapolis. IN
81.6%
9.5%
5.7%
0.7%
1.5%
1.0%
Jacksonville, FL
80.1%
7.5%
7.5%
1.2%
1.1%
2.5%
Kansas City, MO-KS
83.6%
7.2%
6.4%
0.8%
1.2%
0.8%
Las Vegas, NV
78.2%
9.7%
4.7%
2.9%
1.2%
3.4%
Los Angeles, CA
74.7%
9.3%
6.3%
4.8%
2.5%
2.5%
Louisville, KY-IN
81.6%
7.8%
5.1%
1.9%
2.0%
1.7%
Memphis, TN-MS-AR
84.6%
9.0%
3.6%
0.3%
1.2%
1.2%
Miami, FL
77.2%
8.9%
6.3%
2.9%
1.7%
2.9%
Milwaukee,WI
80.8%
7.8%
4.7%
3.0%
2.7%
1.0%
Minneapolis-St. Paul, MN-WI
77.2%
7.7%
6.5%
4.5%
2.3%
1.8%
Nashville, TN
78.9%
9.3%
7.8%
1.1%
1.4%
1.5%
New Orleans. LA
76.9%
10.2%
5.4%
2.2%
2.9%
2.4%
New York, NY-NJ-PA
49.2%
6.0%
4.8%
31.6%
5.9%
2.5%
Oklahoma City, OK
83.9%
8.5%
4.4%
0.5%
1.3%
1.4%
Orlando, FL
77.4%
10.8%
7.0%
1.4%
1.4%
2.0%
Philadelphia, PA-NJ-DE-MD
71.4%
8.0%
5.9%
9.4%
3.5%
1.8%
Phoenix, AZ
75.4%
10.7%
7.9%
1.8%
1.5%
2.6%
Pittsburgh, PA
74.9%
8.3%
5.8%
6.0%
3.5%
1.3%
Portland, OR-WA
69.7%
8.7%
8.0%
6.7%
3.5%
3.4%
Providence, RI-MA
80.7%
8.5%
4.0%
2.9%
2.8%
1.1%
Raleigh, NC
79.5%
7.3%
10.2%
0.8%
1.0%
1.2%
Richmond, VA
80.3%
8.6%
5.8%
1.7%
1.7%
1.8%
Riverside-San Bernardino, CA
79.5%
10.5%
5.9%
1.1%
1.2%
1.7%
Rochester, NY
81.0%
8.0%
4.6%
1.9%
3.2%
1.4%
Sacramento, CA
76.3%
9.3%
7.8%
2.2%
1.6%
2.7%
St. Louis,, MO-IL
83.2%
7.1%
5.1%
1.8%
1.7%
1.2%
Salt Lake City, UT
77.0%
10.0%
6.5%
3.5%
1.6%
1.4%
San Antonio, TX
78.5%
11.3%
4.8%
1.9%
2.0%
1.6%
San Diego, CA
75.7%
8.6%
7.5%
2.8%
3.0%
2.4%
San Francisco, CA
56.5%
8.6%
7.2%
18.9%
4.7%
4.1%
San Jose, CA
74.7%
10.5%
4.8%
4.7%
2.3%
3.0%
Seattle, WA
66.7%
9.9%
6.5%
10.7%
3.9%
2.2%
Tampa-St. Petersburg, FL
77.6%
8.5%
8.6%
1.1%
1.6%
2.5%
Tucson, AZ
76.5%
9.6%
6.9%
1.6%
2.5%
2.9%
Virginia Beach-Norfolk, VA-NC
81.3%
7.8%
4.5%
1.6%
3.0%
1.8%
Washington, DC-VA-MD-WV
65.5%
9.2%
6.3%
13.1%
3.3%
2.6%
UNITED STATES
75.9%
8.9%
5.7%
5.0%
2.6%
1.9%
Derived from American Community Survey 2019