A Thursday morning (February 11, 2021) announcement from the Bureau of Transportation Statistics (USDOT) shows that US air passenger volumes have fallen behind China for the first time. This is also the first time that the US has not been the world leader, based on available data.
From January through November, US airlines carried 354 million domestic passengers, according to data from the United States Department of Transportation Bureau of Transportation Statistics. By comparison, the China domestic airline volume was 363 million domestic passengers, based on data from the Civil Aviation Administration of China (CAAC), reported through CEIC Data.
China had achieved a virtual tie with the United States in the October data, when both nations reached a 2020 volume of 324 million, with the US retaining a small lead.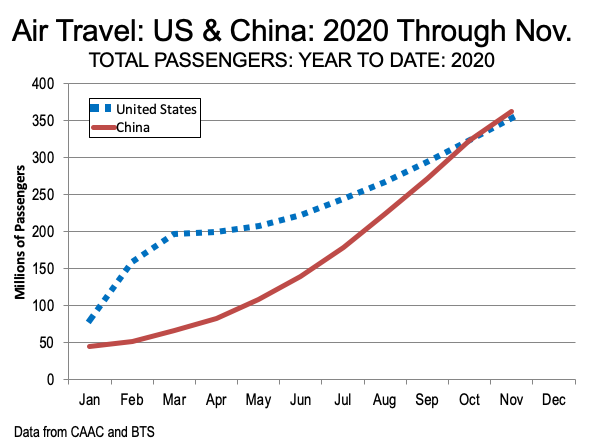 Obviously, these are not normal times, due to the COVID pandemic, which has been far more destructive to US air volumes than those of China. By comparison, in the pre-COVID year of 2019, US air passenger volume was 927 million. China, which has occupied second place internationally for 15 years, carried 587 million passengers, 37% below that of the United States.
Before the pandemic, China had assumed world leadership in high speed rail, having opened 37,900 kilometers (23,500 miles) in just the last 12 years. This is about two-thirds of all the world's high speed rail mileage, and China carries two-thirds of the passengers.
As normality returns, it seems likely that the United States will resume its air passenger volume.
---
Wendell Cox is principal of Demographia, an international public policy firm located in the St. Louis metropolitan area. He is a founding senior fellow at the Urban Reform Institute, Houston and a member of the Advisory Board of the Center for Demographics and Policy at Chapman University in Orange, California. He has served as a visiting professor at the Conservatoire National des Arts et Metiers in Paris. His principal interests are economics, poverty alleviation, demographics, urban policy and transport. He is co-author of the annual Demographia International Housing Affordability Survey and author of Demographia World Urban Areas.
Mayor Tom Bradley appointed him to three terms on the Los Angeles County Transportation Commission (1977-1985) and Speaker of the House Newt Gingrich appointed him to the Amtrak Reform Council, to complete the unexpired term of New Jersey Governor Christine Todd Whitman (1999-2002). He is author of War on the Dream: How Anti-Sprawl Policy Threatens the Quality of Life and Toward More Prosperous Cities: A Framing Essay on Urban Areas, Transport, Planning and the Dimensions of Sustainability.