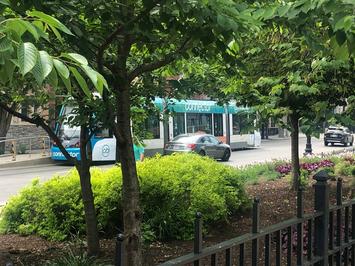 Back in 2008 I labeled Cincinnati "a Midwest conundrum." The city is a sort of counter-example to all the claims that urban design is a shaper of urban destiny. If high quality traditional urbanism made a city prosperous, Cincinnati would be a boomtown. In reality, it's a relatively prosperous but merely stable city.
Cincinnati was the original boomtown of the West, the Chicago of the 1830s. This endowed it with an incredible rich legacy of dense, traditional urbanism with neighborhoods like Over the Rhine and Mt. Adams among the best in the country. In some ways it is like a Midwest San Francisco in this regard. I posted a collection of Cincinnati neighborhood photos in 2010 should you be interested in seeing a sample. Combine this with interesting geography, a sizable collection of Fortune 500 companies, a genuinely unique regional culture etc. and it would seem to have much of what is supposedly needed for success. But it radically underperforms.
Frequent gadfly commenter Matt Hall has observed that Cincinnati has a hyper-insular, parochial culture of the type found in other Midwest river cities of similar vintage, like Pittsburgh, Louisville, and St. Louis. I noted back in 2014 that these characteristics included include a heavy German Catholic demographic heritage, hyper-geopolitical fragmentation, a multi-state region, a unique local culture, and a strong provincialism.
I was in Cincinnati a couple weeks ago and visited Over-the-Rhine, one of America's great historic neighborhoods, which is located just north of downtown and in a sense is an extension of downtown. Here are some people waiting to pick up their orders at a local bakery there.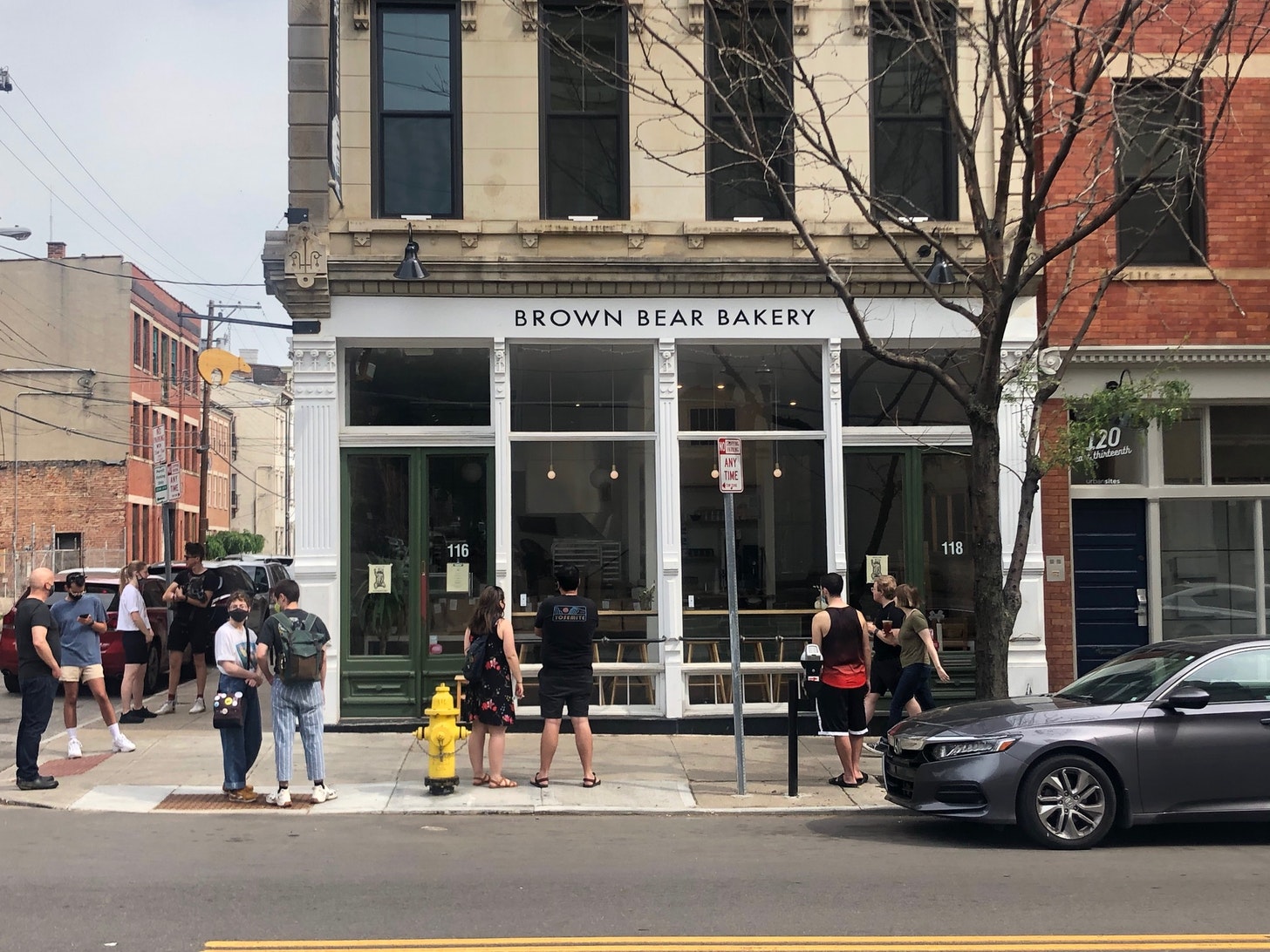 Over the Rhine was once the heart of German Cincinnati. However, it had transitioned into a large poor, black area. In other words, this was not a historically black area, but saw an ethnic transition to become black starting in the 1960s. In 2001 there was a riot there. This prompted the city and corporate community to create a the Cincinnati Center City Development Corporation, usually known as 3CDC. It's a widely known case study for CDCs nationally now.
Basically this very well funded group bought up a lot of real estate and began redeveloping it. Go to OTR now and you will see 3CDC signs everywhere. They have not only rehabbed a lot of buildings and built a lot new buildings, they also appear to be involved in the redevelopment of Washington Park and Ziegler Park. Speaking of Washington Park, this a big park in front of Music Hall (home to the orchestra and opera). It was redeveloped at astronomical cost but the results are excellent. They did a good job of integrating a playground and gazebo stage into existing mature trees for shading. There's a splash pad, restroom, underground parking, etc.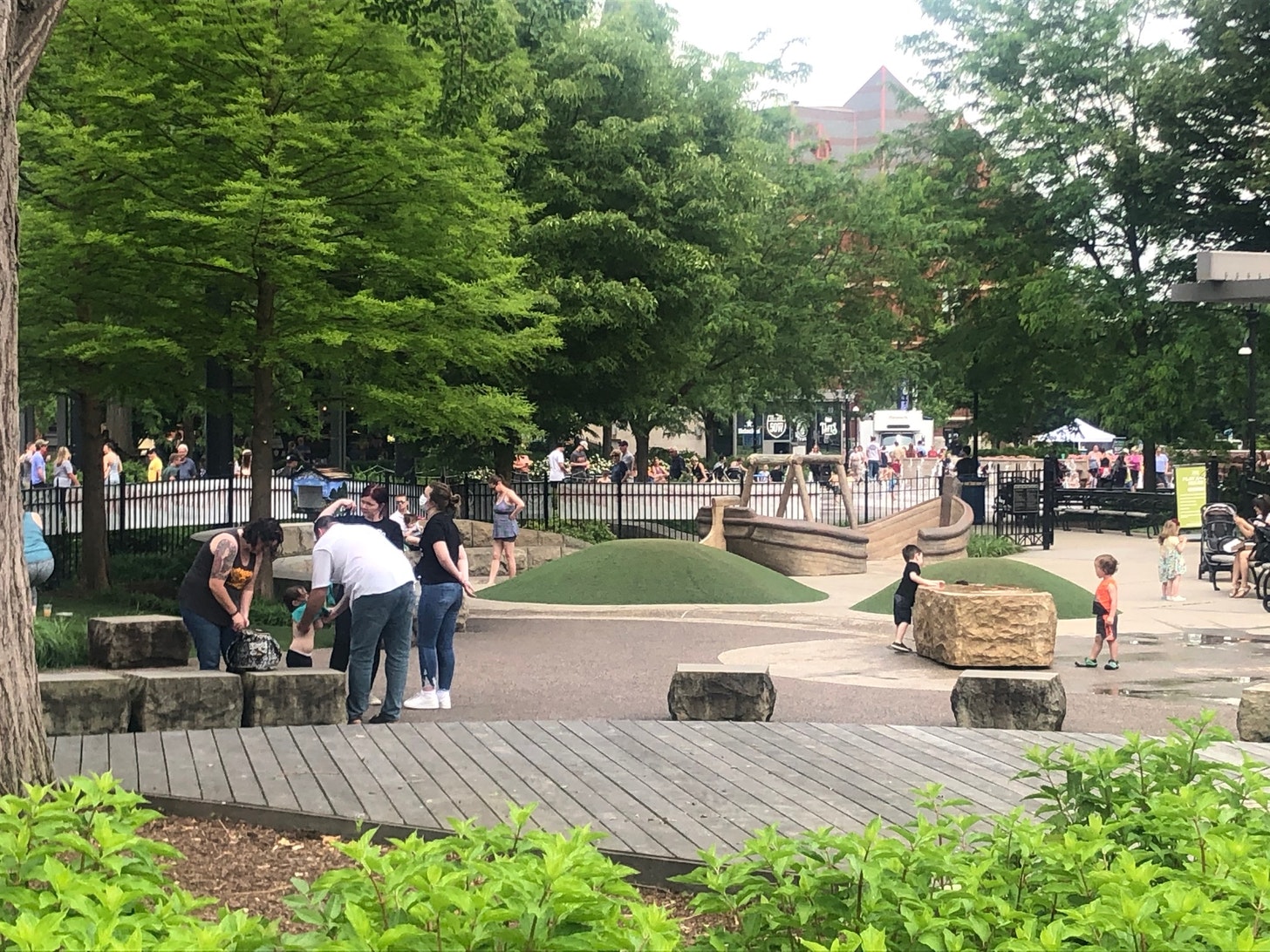 As you can see, the park is well-patronized.
As you can also probably tell, 3CDC was essentially a gentrification bomb dropped on the area. It's actually fairly rare for black neighborhoods to gentrify. But this is an exception. Walking around in OTR is strange in that you can see both the previous and new residents occupying the same physical space.
I'm told that a lot of the property in the area is either owned by non-profit developers or is required to remain income restricted for extended periods of time. 3CDC is a big player, but not the monopolist they may appear from their signs that are all over the place.
Nevertheless, the area has a very strange feel on this account. I'm amazed how little controversy seems to have been generated by 3CDC's redevelopment efforts. This picture of the juxtaposition of the old and new gives some insight into the area.
It will be interesting to see how these dynamics play out over time, but right now there is high demand for upscale living in this area.
OTR also is along the route of a controversial and very expensive streetcar project. To be honest, the streetcar was something of a debacle. It had been pseudo-mothballed during Covid-19. That is, it ran, but without passengers. Apparently the cost of re-certifying all the equipment after months of shutdown would have been more than simply running empty cars. But it was back in business when I was there, with the fare eliminated (hopefully permanently).
Cincinnati's mayor John Cranley is running for governor. He's unpopular with the urbanist crowd, but is undoubtedly a very shrewd politician.
When I interviewed him back in 2014, he made a very interesting point that with the urban renaissance hitting America's cities, places like Cincinnati that did not annex large suburban spaces or undergo city-county mergers would end up at a long term advantage. For a long term, expansionary city limits and city-county mergers had been viewed as a best practice. Places like Indianapolis and Columbus, OH were extolled. But now that places like Cincinnati have hit bottom and rebounded, they will get to keep all the spoils of this resurgence, while Indy and Columbus and others will be saddled with vast tracts of aging suburbia they are responsible for. It's an interesting thesis and we'll see whether it plays out.
Cincinnati and other Midwest river cities are very interesting animals. They are worth looking at as testing grounds for various theories of how cities perform.
This piece first appeared at Heartland Intelligence.
---
Aaron M. Renn is an opinion-leading urban analyst, consultant, speaker and writer on a mission to help America's cities and people thrive and find real success in the 21st century. He focuses on urban, economic development and infrastructure policy in the greater American Midwest. He also regularly contributes to and is cited by national and global media outlets, and his work has appeared in many publications, including the The Guardian, The New York Times and The Washington Post.