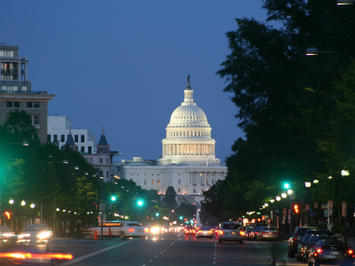 The Washington Post's recent article about how the District government is making plans to make the city "less-welcoming to suburban cars" is one more example of suicidal behavior that the city is known for.
Unfortunately, other cities are thinking similarly. In the plan, "City officials say that the moves are part of a policy of putting the needs of its residents and businesses before those of suburban commuters and that they are trying to create a walkable, bikeable, transit-oriented metropolis." Apparently Washington has decided to become a bedroom suburb. Newsflash: even those don't exist anymore – much less in the center of a metropolitan region of over five million.
It is hard to believe that the District could consciously make the city less welcoming to vehicles than it already is – with potholes on every block and roads like I-295 right out of the 1930s with design features for the tin lizzie, or New York Avenue that says "Welcome to your Nation's Capitol" with neglect apparent on every block. Maybe because they cannot fix those things they decided to turn it into a virtue at least among some segments of the society.
You would think the District would have noticed that more of their own citizens get to work by car than by transit and about 45 percent of those riding transit are on the roads they want to make worse. This is just an extension of the District's perennial search for revenue with a tortured way to get to a commuter tax that has been around for decades.
All it would take is a few minutes on the back of an envelope to recognize how important commuters are to the city. First answer would be a simple thought experiment – would the city be better off with no suburban commuters or with what they have now? Someone in the District government could do a small calculation of the amount of office building space, with the attendant real estate taxes they generate, the restaurants, shops and services, the parking garages and the revenue they earn, the taxes they pay, and the District workers they support, to recognize that the benefits to the City per thousand commuters far exceeds the costs. Without the suburbs even its beloved Metro wouldn't exist.
More importantly, it shows that the District once again has failed to recognize its responsibility as the nation's capitol. Those responsibilities are really not that terribly different from other center cities. This is part of a looming public policy conflict of national proportions. As cities adopt the new mantra of "metro mobility" – which is code for an attack on autos and an assumption that transit needs can be met by walking, biking and mass transit – they only address trips under five miles. This completely neglects the responsibility that every city and metropolitan region in the country has, much less the nation's capitol, to meet the needs of interstate commerce – whether through access to ports or to major rail or highway routes.
This is not optional. An area cannot opt out of that obligation. If all areas of the Baltimore-Washington metropolitan area operated that way, rather than a great region comprised of dozens of counties it would be a series of hamlets adjacent to each other with the obvious decline in market power and productivity that entails.
The great challenge to the nation in the next few years will be providing access to those workers needed to replace the aging baby boom generation. We will need to expand the commuter market-sheds around our cities not contract them. Congressman Moran got it right, providing a sense of scale when he told reporter Eric M. Weiss, "U.S. Rep. James P. Moran Jr. (D-Va.) said … the city should be careful not to chase people away. Like the District, Old Town Alexandria would be a nicer place without all the cars, he said. But there is an economic component to be considered, he said, and people in cars represent customers for restaurants and shops."
He also said be careful what you wish for... For a city that lost 180,000 people over the last 30 years the District should listen to wiser heads.