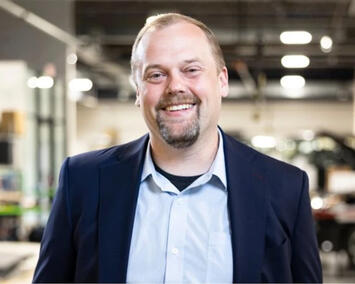 The experiences of three too-rare high-growth tech companies in Flyover Country illustrate how the Great Reshuffling of workers amid the pandemic has become a mixed blessing for our region.
Jeff Mason, for example, is standing in front of a long table of dozens of computer work stations in a big industrial-style room in the Ann Arbor, Michigan, headquarters of Groundspeed Analytics, the startup he founded in 2016 aimed at digitizing the paper-heavy communications in the commercial-insurance business.
Before covid, the chairs at the table would have been full with millennial and GenZ whizzes helping Groundspeed flourish into the near-unicorn it already was becoming, as one of Flyover Country's fastest-growing tech companies.
But nowadays, Mason's only companion in the building some days is Jessie, his Wheatondoodle, who's got the whole place to cavort. The pandemic whacked the company's tight-knit culture as it did the workplaces of most companies, and now the space fills up only on some typical weekdays and for special collaborative meetings. Everyone's dispersed to work remotely.
Remote Opportunity
And along the way, Mason realized that while the pandemic had robbed his startups of the very real benefits of tangible interaction among employees physically co-located in a workspace, he could pounce on benefits for Groundspeed Analytics that were on the flip side of that trend.
"We've completely changed our work culture, and now we are remote first," Mason told me. "We've got team members in 30 different states. Many people are working from home now, and we're able to tap into more of a national labor pool. So we can take a new look at what a Michigan employee looks like; they could work in Michigan and work for Google. Or someone who lives in Austin could work for a Michigan company.
"So we have to think about how you influence and advance Michigan companies while recognizing that employees now can work anywhere."
Elsewhere in Ann Arbor, Edwin Olson is head of May Mobility, an autonomous-vehicle startup and another near-unicorn. Because May actually modifies vehicles into driverless ones and is developing others, the company is more tied to its physical space, so the pandemic hasn't cleared everyone out.
Olson, a former researcher with Toyota in Ann Arbor, loves Flyover Country for its low cost of living and other reasons.
Only Place To Be
"We asked ourselves very deliberately where the company should be, and the [San Francisco] Bay Area was one candidate, where there are a lot of investors and a lot of tech hype," he told me. But if you want to take seriously building these vehicles and partnering with OEMs and the Tier One ecosystem, then Southeast Michigan is a great place to be.
"Add the talent. We're kind of the big fish of autonomous vehicles in Michigan, so we have incredible access to talent here. People are really excited, and it has served us well."
At the same time, however, Olson said that May Mobility is "going to need more and more people" beyond its current cast of about 200 as the company grows. "We will be expanding out into other talent pools to get access to people outside of here, and also doing more remote work. We're always hungry for more people. We've got a nice population in Michigan, but we always need more."
In Rochester, Michigan, a suburb directly on the other side of Detroit from Ann Arbor, Tom Shea is the least reserved of the three tech CEOs about going outside of the Michigan base of his company, OneStream Software, to expand. Shea developed a platform for financial management for company CFOs, and OneStream became a unicorn over the last few years, with huge plans to continue to grow.
Read the rest of this piece at Flyover Coalition.
---
Dale Buss is founder and executive director of The Flyover Coalition, a not-for-profit organization aimed at helping revitalize and promote the economy, companies and people of the region between the Appalachians and Rockies, the Gulf Coast and the Great Lakes. He is a long-time author, journalist, and magazine and newspaper editor, and contributor to Chief Executive, Forbes, the Wall Street Journal, the New York Times and many other publications. Buss is a Wisconsin native who lives in Michigan and has also lived in Texas, Pennsylvania and Florida.
Photo: courtesy Flyover Coalition