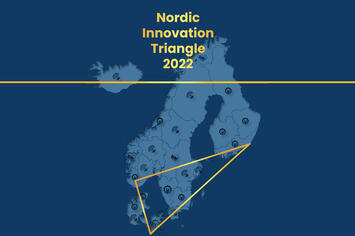 Innovation does not occur in a vacuum, but rather through cooperation. This explains in part why innovation activities tend to be focused on specific regions. One such region is Stockholm, which has served as home for globally successful enterprises in different sectors, such as fintech, environmental technology, and communication. In April 2021, Bloomberg wrote: "Sweden's capital has bred more tech unicorns per capita than any other region in the world save for Silicon Valley."1 Stockholm lies in the centre of a Nordic innovation triangle, formed by the capital cities of Oslo, Helsinki, and Copenhagen. The four Nordic capital cities are all important innovation hubs, with much cooperation between them. However, many important innovations of the Nordics are also produced outside the capitals.
The Nordic Innovation Triangle is a new collaboration between the European Centre of Entrepreneurship and Policy Reform (ECEPR) and Esmaeilzadeh Holding, a Swedish innovation investment company. Previous studies such as the European Innovation Scoreboard, the Global Innovation Index, and the Brain Business Jobs index all point to the Nordic region being one of the most innovative regions in the world.2 The Nordic Innovation Triangle expands our understanding of Nordic innovation by mapping the geography, sectoral distribution, and core innovative activities of novel innovation companies founded in the 26 regions that make up the Nordics, during the past five years.
One New Nordic Unicorn, and Five Potential Future Unicorns
Among Nordic firms founded in the past five years, Adevinta in Oslo is the one that has managed to attain a market valuation above 1 billion USD. Adevinta runs a digital marketplace that provides online classifieds services, in numerous European countries. There are also five potential unicorns, companies with a valuation above 100 million USD, which may grow to become unicorns in the coming years.
Three of the potential new unicorns have their seat in Stockholm: VOI Technology, which rents electric scooters to urban commuters, Essity, a global hygiene, and health company that developed from the reorganization of existing businesses in SCA, and H2 Green which develops fossil-free manufacturing of steel. The other two potential uniforms are Cognite, based in the Norwegian city of Lysander (in the Oslo region), which develops an industrial internet-of-things data platform, and IQM in Finnish Espoo (close to the capital city of Helsinki), which builds scalable hardware for universal quantum computers.
Innovation Outside the Capital Regions
Many prominent novel Nordic innovation firms are however founded outside of the capital regions. Examples include Docly International, founded in Malmö, in the south of Sweden, which has attracted nearly 16 million euros in external public finance, and West Swedish firm OnDosis located in Mölndal, which has attracted close to 13 million euro, for delivering individualized dosing of oral medicines as micro-units. In the Danish Midtjylland region, Risskov-based Draupnir Bio, which develops a new type of cholesterol-lowering medicine, has attracted 28 million in public external funding. Aarhus-based Stipe Therapeutics, which works on technology to harness the innate immune system to fight cancer, has attracted 20 million euros.
In the Vestlandet region of Norway, Molde-based Salmon Evolution has attracted 28 million euros for salmon growing technology, while Bergen-based imove, which offers mobility services and car subscriptions via a software as a service approach, has attracted 21 million euro. In West Finland, Jyväskylä-based Logmore has attracted 4 million euros for improving logistics quality control by data loggers and a cloud platform.
Innovation Focus of Novel Nordic Innovation Companies
We have mapped the sector distribution, and the innovation focuses, of innovation companies founded in the last five years in the 26 regions which together make up the Nordics. As shown in figure 1, software/IT, technology, platform, and health/education are the most common sectors for novel innovation firms in the Nordics. Nearly a quarter of the novel innovation firms are engaged in software/IT, making it the most common sector for novel, innovative businesses. The least common sector is consumer goods, followed by transportation and marketplace/trade. In total, merely nine percent of novel Nordic innovation firms are found in these three sectors.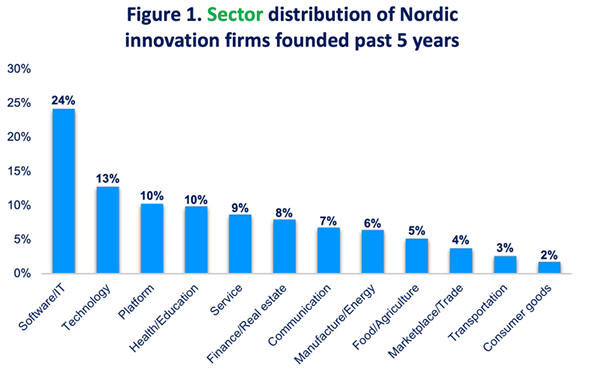 Figure 2 shows the prevalence of innovation among the different companies. Many companies combine different forms of core innovation, with 54 percent relying on business service innovations, 45 percent on software innovations, and 43 percent on digital infrastructure/platform innovation. Product technology (29 percent) and consumer services (23 percent) are also relatively common forms of innovation. Manufacturing technology is less common, with 15 percent of firms relying on this form of innovation, while material technology is even slightly less common, with 14 percent relying on this innovation. Digital meetings are the least common form of innovation, with only 9 percent of novel innovation firms relying on digital meetings as part of their core innovation.
Green Innovations from Industrially Focused Regions
Less common material technology and manufacturing innovations however have vital roles in the transformation to a more sustainable economic model. Examples include Gothenburg-based Heart Aerospace, in Western Sweden, which makes regional electric airplanes and has attracted 32 million euro in external financing, and Blue World Technologies, in Aalborg, Nordjylland region of Denmark, which has attracted 6 million euro for using methanol fuel cells as an alternative to non-renewable fuels. In remotely located Mo I Rana, North Norway, FREYR has attracted 4 million euros in external public financing for developing a lithium battery facility and onshore wind park. Montinutra in Kuhmo, Lapland, and Oulu region of Finland, has attracted one million euros for producing bioactive products from forest industry side streams.
Overall, the study finds that Finland is the industrial innovation powerhouse of the Nordics. Norway has a mixed approach with strengths in manufacturing but also digital and service innovation. In Denmark and Sweden, most regions are focused on digital innovations, but there are also regions with a focus on industrial and service innovations. While the Nordic nations only have 27 million inhabitants, they play a key role in global innovation. Perhaps most importantly, Nordic innovations play a key role in the shift towards environmentally sustainable production.
The Nordic Lesson: Spread Out Innovation
It might seem a puzzle why the small Nordic nations are so successful in innovation, despite much of the population living in large territories with limited population density. A key explanation is that innovation companies, and universities with research and development activities, are found throughout the Nordics. If the innovation activities of the Nordics had only existed in the capital cities, the focus would have been limited to mainly digital solutions and business services. The geographical distribution of innovation leads to a broader focus on innovation activities, including the innovations in manufacturing, energy, and materials which have great potential for environmental sustainability. Policymakers around the world often focus on how to promote one or a few distinct innovation regions, often based on Silicon Valley as a role model. The Nordic model, with much innovation in the knowledge triangle formed by the capital regions, but also in the periphery, is however also viable. Encouraging innovation activity also in distant regions is important, for fostering green innovation, and for ensuring that the jobs of the future develop broadly, not focused only on metropolitan regions. It is therefore a strategy for preventing geographical imbalances in new job creation.
---
Endnotes:
1. Bloomberg (2021), From Spotify to Minecraft, Sweden Proves Fertile Ground for Unicorns, 20221-04-26.
2. European Commission (2021), European Innovation Scoreboard 2021; Cornell SC Johnson College of Business, Insead & WIPO (2020), Global Innovation Index 2020 - Who Will Finance Innovation?; ECEPR & Nordic Capital (2021), The Geography of Europe's Brain Business Jobs: 2021 Index; Cornell SC Johnson College of Business, Insead & WIPO (2020), ECEPR & Nordic Capital (2021).
---
Dr. Nima Sanandaji, director ECEPR (European Centre for Entrepreneurship and Policy Reform)

Dr. Saeid Esmaeilzadeh, co-founder and CEO Esmaeilzadeh Holding

Dr. Mouna Esmaeilzadeh, co-founder and chariman Esmaeilzadeh Holding