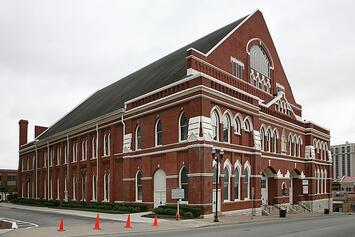 Nashville's has long been known as "Music City," a title that dates nearly a century to 1925 when the first "Grand Ole Opry" performance was held in the Ryman Auditorium (above). For even longer, Nashville has been the capital of Tennessee, with the 10th oldest state capitol building in the nation (below). But the big story increasingly has been the area's rapid growth, Nashville --- the metropolitan area --- (see: Note on Cities 1) has grown by five times in the post-World War II era and doubled since 1990. Nashville, with nearly two million residents had become the nation's 36th largest metropolitan area according to the 2020 Census.

The Metropolitan Area: Nashville is a recent addition to the list of major metropolitan areas, having had a population of only 320,000 residents in 1950 and nearing 2,000,000 residents in the 2020 census. In 1950, the entire metropolitan area was confined to Davidson County, and the central city of Nashville had about 175,000 residents. The Nashville metropolitan area was the third largest in the state, after Memphis (not yet having spread into Arkansas and Mississippi) which was 50% larger and Knoxville, which was about five percent larger.
During the 1960s, there was a merger of much of Davidson County and the city of Nashville, which greatly increased the population of the "central city" by incorporating vast suburban areas. The successor government is the "Metropolitan Government of Nashville and Davidson County" (often referred to as Nashville-Davidson).
Now, Nashville is the largest metro in the state, with about 50% more population than Memphis (1.34 million), which now stretches into Arkansas and Mississippi, and more than double the 880,000 population of the Knoxville metropolitan area.
Between 2010 and 2020, metro Nashville grew 20.9%, trailing only Austin, Orlando and Raleigh among the 56 major metropolitan areas (more than 1,000,000 population).
Consistent with national trends much of the recent growth has been in the suburbs. The metropolitan area now has thirteen counties. Since 1990, 77% of the population growth has been in the suburban counties (as currently defined) outside Davidson County (Figures 1 & 2).

The Urban Area
The Nashville urban area (see: Note on Urban Areas 2) reaches beyond Nashville-Davidson, to include all or part of cities like Franklin and Smyrna (Figure 3: Map).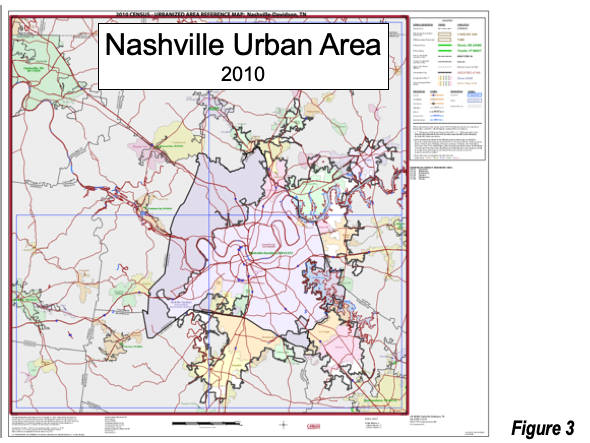 As elsewhere, both in the United States and outside, the Nashville urban area has declined in density. In 1950, when urban areas were first designated by the US Census Bureau, Nashville's urban footprint covered fifty-five square miles, with a population of 259,000 and an urban density of about 4,800 residents per square mile.
By 2010, the urban area covered 560 square miles, with a population of 970,000 and a population density of 1,720. The urban density of core Davidson County in 2010 was 2,050. This low density is reflective of the overwhelmingly suburban form of the county.
Exurban areas, which are within the metropolitan area, but outside the Nashville urban area, accounted for a plurality of the population (Figure 4).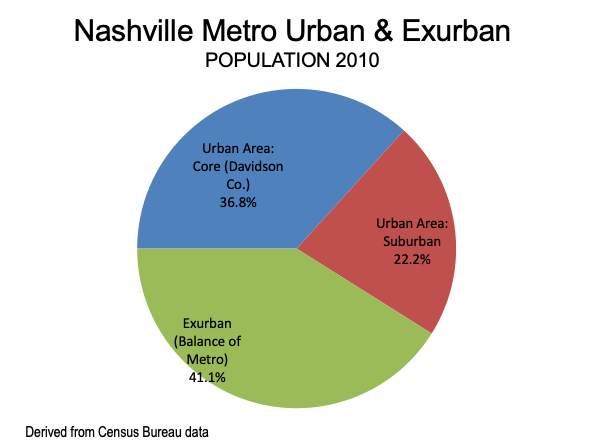 Domestic Migration
The Nashville metropolitan area has become one of the strongest destinations for domestic migration (moving from one county within the US to another) in the nation. The metropolitan area added 177,000 net domestic migrants between 2010 and 2020, according to US Census Bureau estimates.
Further, net domestic migration to the Nashville metropolitan area was all to the suburban counties between 2010 and 2020. Core Davidson County lost 7,800 net domestic migrants, while all suburban counties added net domestic migrants and gained a total of 185,000 (Figure 5 & 6).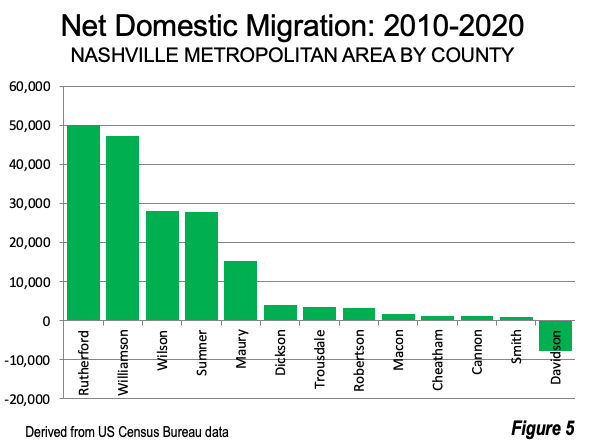 A recent article in the Los Angeles Times "The Great California Migration" series, focused on Nashville, and quotes one ex-Californian's reasons for moving: "We wanted to go to a state where we can actually live and have a cost of living that someone young like myself could start a life," The Nashville metro attracted 58% of Tennessee's net domestic migration between 2010 and 2020, double its share of the state's 2020 population.
Tennessee's Rising Net Domestic Migration
The article also noted the rising popularity of Tennessee as a domestic migration destination for exiting Californians: "Some from Golden State flock to Texas or Nevada, but others find Tennessee's charm, affordability more alluring." Nashville's rise is part of a broader state-wide phenomena. Tennessee has emerged as one of the leading destination states for net domestic migration. Internal Revenue Service data indicates that Tennessee ranked 10th in attracting Californians, following leaders Texas, Arizona, Nevada, Oregon, and Washington and four others between 2014 and 2019 (Figure 7).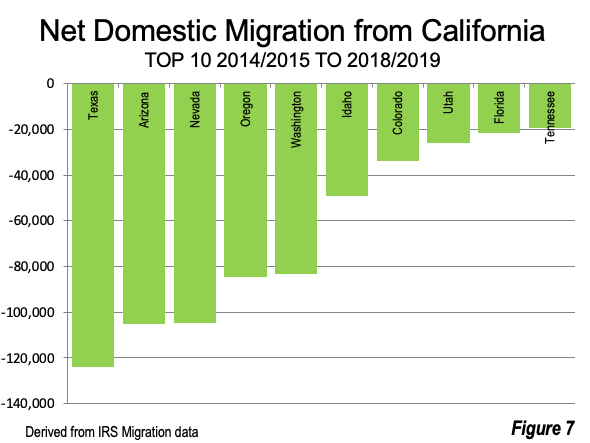 The latest Census Bureau estimates, for 2021 and limited to states, indicate that Tennessee is starting the current decade with even stronger net domestic migration, while other leading states have faltered. Tennessee attracted 61,000 net domestic migrants in 2021, up from the 41,000 annual average from 2015 to 2020. Washington had a small 2021 decrease (28), compared to its 2015-2020 average of 50,000. Nevada fell from 40,000 to 25,000, Colorado from 38,000 to 13,000 and Oregon from 32,000 to 8,000 (Figure 8).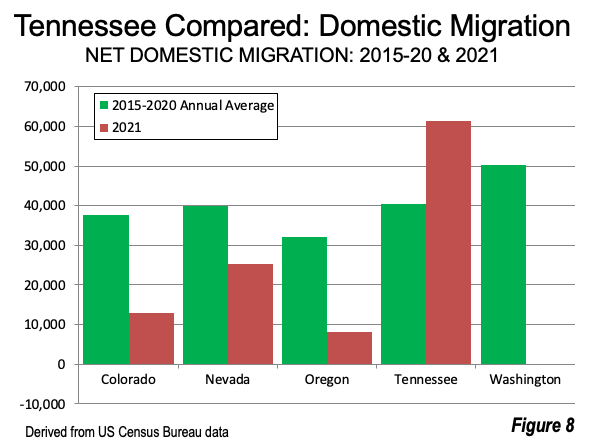 Business Migration
Tennessee is also attracting businesses from elsewhere. A Hoover Institution report by Joseph Vranich and Lee E. Ohanian found that in a 3.5-year period ending in June 2021, 272 the corporate headquarters of 272 companies left California, with Tennessee ranking as the second leading destination state, following Texas. Tennessee's second ranking was an improvement over previous years, when Arizona or Nevada ranked second (based on related research).
Metro Nashville has been a strong competitor for corporate headquarters relocation, with the automobile industry being an example. Two national automobile corporate headquarters --- Nissan and Mitsubishi --- have relocated from California to metro Nashville, both located in suburban Franklin.
Suburban Nashville is also home to two automobile manufacturing plants, including the largest America, originally built to produce GM's now discontinued Saturn line of cars. Nissan also has a manufacturing facility in Franklin. The state has also become an emerging center for electric cars as well.
Comparative Advantages
Not only has metro Nashville emerged as one of the principal growth centers of the nation, but its momentum may be improving, especially due to net domestic migration. These improved demographics arises, at least in part, from widening competitive advantages, such as its low cost of living, and the absence of a state income tax. Nashville --- like Raleigh and newly emerging southern metros --- appear to have a bright future ahead.
Note on Cities
There are two generic forms of cities. (1) Urban areas, which are the physical extent of built up (developed) land and exclude all urban land and (2) Metropolitan areas, which are centered around the urban area, but which also include exurban areas from which sufficient numbers of resident workers commute to jobs in the urban area.
Note on Urban Areas
Urban areas are the contiguous built-up development that normally includes all or part of multiple municipalities around which, in the United States, metropolitan areas (composed of entire counties) are designated. Urban areas (originally called urbanized area) have been designated for each of the decennial censuses, starting with 1950. For example, the Los Angeles urban area includes the city of Los Angeles and other municipalities stretching 40 miles to the east (city of Ontario) and 50 miles to the south (city of Irvine in Orange County). A map (Figure 9) of the Los Angeles urban area shows all of the included municipalities, with the large yellow area to the left being the city of Los Angeles. At the time of this map (2010), the city of Los Angeles had 3.8 million residents, which is less than one-third of the Los Angeles urban area (12.2 million residents).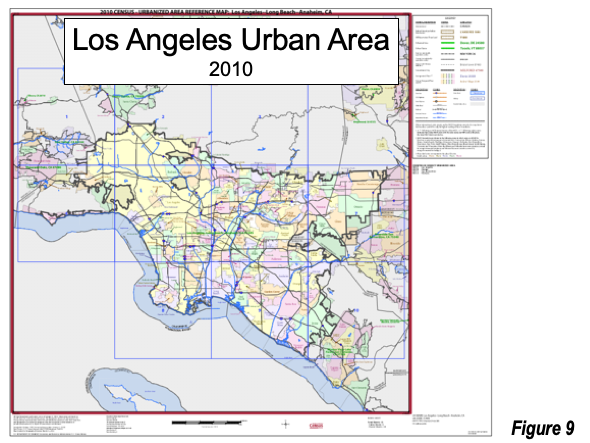 ---
Wendell Cox is principal of Demographia, an international public policy firm located in the St. Louis metropolitan area. He is a founding senior fellow at the Urban Reform Institute, Houston, a Senior Fellow with the Frontier Centre for Public Policy in Winnipeg and a member of the Advisory Board of the Center for Demographics and Policy at Chapman University in Orange, California. He has served as a visiting professor at the Conservatoire National des Arts et Metiers in Paris. His principal interests are economics, poverty alleviation, demographics, urban policy and transport. He is co-author of the annual Demographia International Housing Affordability Survey and author of Demographia World Urban Areas.
Mayor Tom Bradley appointed him to three terms on the Los Angeles County Transportation Commission (1977-1985) and Speaker of the House Newt Gingrich appointed him to the Amtrak Reform Council, to complete the unexpired term of New Jersey Governor Christine Todd Whitman (1999-2002). He is author of War on the Dream: How Anti-Sprawl Policy Threatens the Quality of Life and Toward More Prosperous Cities: A Framing Essay on Urban Areas, Transport, Planning and the Dimensions of Sustainability.
Top photo: Ryman Auditorium, the Mother church of country, Nashville, Tennessee - by Daniel Schwen, via Wikimediaunder CC 4.0 License.