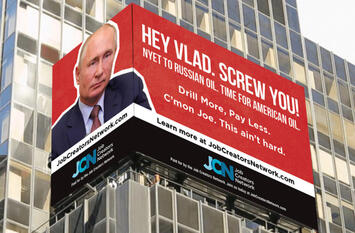 No thanks to President Biden — who botched our star turn in his State of the Union address and refuses to loosen his restrictions on our hydrocarbon industry —but Flyover Country is beginning to experience a major moment.
It may be enough not only to finally shed the "Rust Belt" moniker Biden used in his speech to describe the Upper Midwest but also to pave the way for us to adopt an updated and more accurate regional descriptor for the entire heartland.
How about the "Future Belt"?
The Russian invasion of Ukraine is a travesty and a tragedy that may yet result in nuclear annihilation. But in the meantime, the reverberations from this new war have created great potential for our region alone to enhance the national security of the entire United States. And combined with the renewal of our industrial base with coming investments in microchips and electric-vehicle manufacturing, we have a generational opportunity to re-assert ourselves as the bell cow of American economic progress.
The administration and Congress can try mostly symbolic measures to punish the Russians, such as banning imports of their hydrocarbons. On the other hand and perhaps paradoxically, the federal government also can provide more supply to oil markets by tapping the national strategic petroleum reserve. Biden also can press our conditional friends in the Middle East to open their oil spigots a little wider.
What Must Be Done
But it's frustrating that the most obvious step to restore significant supplies to global oil markets and simultaneously weaken Russia may never occur. That would be for Biden to let loose the animal spirits in the oil patch that he so abruptly restrained once he took office a year ago, by canceling pipeline projects and thwarting oil and gas exploration to bow to the green lobby. His moves helped throw in reverse many years of increasing U.S. oil and natural gas production that truly had made us energy independent.
One group of accomplished and proactive business people, the Job Creators Network, loudly has pointed out to the president exactly what he should do. "Hey Vlad. Screw you!" reads the billboard erected in New York's Times Square this week by the Atlanta-based organization founded by Home Depot co-founder Bernie Marcus. "Nyet to Russian oil. Time for American oil. Drill more. Pay less. C'mon Joe. This ain't Hard."
Even business organizations that are woke relative to the Job Creators Network at least are alluding to the most obvious thing we can do in the face of the biggest ground war in Europe since World War II. The Business Roundtable, for example, just called for "steps to increase our energy independence."
Read the rest of this piece at Flyover Coalition.
---
Dale Buss is founder and executive director of The Flyover Coalition, a not-for-profit organization aimed at helping revitalize and promote the economy, companies and people of the region between the Appalachians and Rockies, the Gulf Coast and the Great Lakes. He is a long-time author, journalist, and magazine and newspaper editor, and contributor to Chief Executive, Forbes, the Wall Street Journal, the New York Times and many other publications. Buss is a Wisconsin native who lives in Michigan and has also lived in Texas, Pennsylvania and Florida.
Photo: courtesy Flyover Coalition.