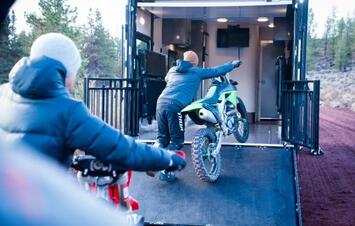 Few beehives of industrial activity have prospered more through the last decade than Elkhart County, Indiana. As the global capital of recreational-vehicle manufacturing, the area prospered from the RV-sales boom after the Great Recession and amid $2-a-gallon gasoline, and then the industry got another accelerant when Americans fled to the great outdoors over the last couple of years in reaction to the pandemic.
All that time, ATC Trailers has been grinding away, solidifying its workforce by leveraging some benefit enhancements to help recruit from other RV makers in a labor-starved industry at the same time that the company emerged as a leader in a growing part of the genre: "toy haulers."
And ATC is just a thriving part of the incredible industrial ecosystem that has grown up around the design, development, manufacturing and marketing of recreational vehicles in northern Indiana and the surrounding region. With the many factories making components and assembling RVs that dot the entire top tier of the Hoosier State and even sweeping over into facilities like the new Airstream factory in central Ohio, this industry is powerfully motoring the entire region to new heights of prosperity.
No More Bust?
RVs used to ensnare this area in a boom-and-bust cycle that could be really bad when it busted, as in the Great Recession. But the last decade gave the industry a chance to adapt and retool for a modern era and to provide millions more Americans with a travel alternative that could be embraced in an increasing number of ways. Then, the pandemic supercharged this phenomenon and helped give it an extra platform that seems like permanence. So here we are.
Recreational vehicles can be expensive enough, but for consumers who want the ultimate in travel convenience or an ability to take their hobbies with them, toy haulers are the answer. In addition to the living spaces that are conventional in RV trailers and coaches, toy haulers provide a garage on the back end that can be used to stuff all-terrain vehicles, bicycles, golf carts — or just a whole lot of luggage for the extremely high-maintenance traveler.
"People have realized that toy haulers are more versatile than conventional travel trailers," Jason Schalbach, RV category manager for ATC. "One customer is an avid collector of antiques and likes to go to auctions with his toy hauler. He travels around, opens up the ramp door and puts his stuff in the trailer."
ATC is an example of the specialization in the industry that its prior history has enabled. ATC models typically bring $100,000 to as much as $180,000 at the company's independent dealers, in models ranging from 20 to 45 feet. Some can even fit full-size vehicles such as a four-door Jeep Wrangler.
"We get a lot of customers that maybe had a motor home and always towed their cars behind it, and these people like the fact that they can pull their car inside our trailer," Schalbach said.
Read the rest of this piece at Flyover Coalition.
---
Dale Buss is founder and executive director of The Flyover Coalition, a not-for-profit organization aimed at helping revitalize and promote the economy, companies and people of the region between the Appalachians and Rockies, the Gulf Coast and the Great Lakes. He is a long-time author, journalist, and magazine and newspaper editor, and contributor to Chief Executive, Forbes, the Wall Street Journal, the New York Times and many other publications. Buss is a Wisconsin native who lives in Michigan and has also lived in Texas, Pennsylvania and Florida.
Photo: courtesy Flyover Coalition.