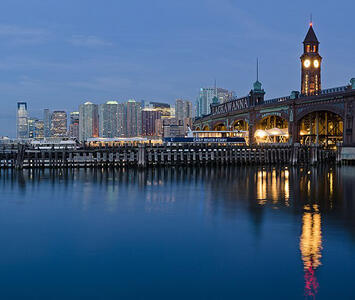 In some ways, Hudson County, New Jersey shares characteristics of a New York City borough. This is evident in various urban and transportation indicators and their similarities in urban form.
Hudson County lies on the west bank of the Hudson River, opposite three of New York City's boroughs. The county seat is Jersey City, which is also the second largest municipality in New Jersey (after Newark). Hudson County stretches from just north of the borough of Staten Island and across the river from Lower and Mid-Town Manhattan to about as far north as 79th Street, at a latitude equal to the southern third of Central Park. Hudson County is also directly across Upper New York Bay from the borough of Brooklyn.
From time to time, writers and analysts have referred to Hudson County or parts of it — such as Jersey City and Hoboken as the sixth borough of New York City: such as here, here and here.
This article describes ways in which Hudson County functions like a borough of New York and provides charts.
Population, Density and Trends
New York City is the densest incorporated municipality in the United States with more than 70,000 residents, and ranks sixth densest (as calculated by the author) regardless of population according to data from the 2020 US Census (29,000 per square mile). Four of the five municipalities in the US denser than New York are in Hudson County, including, Guttenberg (61,000 per square mile), West New York (59,000), Union City (54,000) and Hoboken (47,000). Among the "six boroughs" (the name used for the sake of convenience in this article) however, the highest neighborhood density is to be found on Manhattan's Upper East Side, at 287,000 per square mile.
During the last decade, Jersey City reached a population of 292,000 and with a density of 19,800 overtook San Francisco (18,600) as the second densest municipality with more than 250,000 residents between 2010 and 2020. Even so, Jersey City remains below its 1930 population of 317,000.
Hudson County's density (Figure 1) would rank fifth among the six boroughs (15,200), at halfway between Staten Island (8,500) and Queens (21,500), but well below that of Manhattan (69,100), which (as New York County) is, by far, the nation's densest. Hudson County's land area would be the fourth largest among the six boroughs, behind Queens, Brooklyn and Staten island (Figure 2).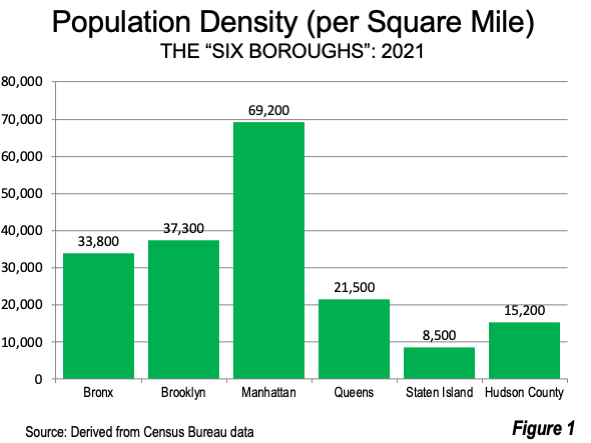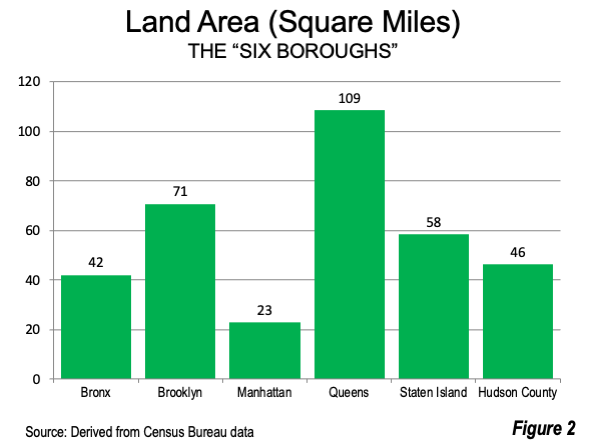 Hudson County would have the fifth largest population, half that of The Bronx and more than 40% above Staten Island (Figure 3).
All of the "six boroughs" have faced challenging times during the pandemic, with Hudson County losing 20,000 residents (Figure 4) in the last year (2020 to 2021). The smallest loss among the six was in Staten Island (2,000) and the largest was in Manhattan (111,000).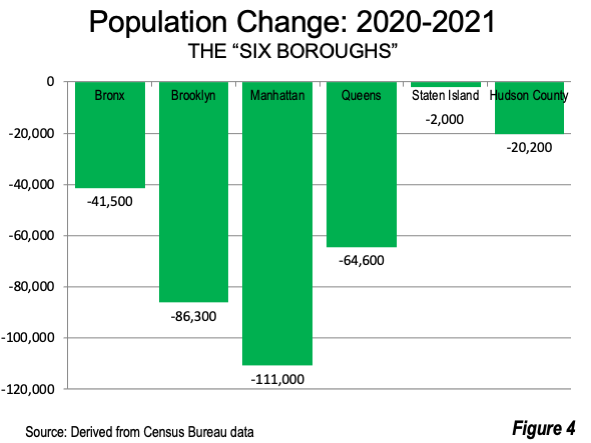 The losses are largely the result of net outmigration, apparently much of it related to the rise of remote work related during the pandemic and lingering fears of contagion associated with mass transit and density. Hudson County lost 22,400 net domestic migrants, while the New York boroughs ranged from a loss of 2,300 in Staten Island to a drop of 117,400 in Manhattan (Figure 5). As a percentage of 2020 population, Hudson County placed in the middle near The Bronx, Brooklyn and Queens (Figure 6), losing 3.6% of its 2020 residents to net domestic migration. Staten Island had the lowest percentage loss (0.5%), while Manhattan had the highest percentage loss (6.7%).
Employment and Commuting
Hudson County contains 277,000 jobs, well ahead of Staten Island (Figure 7), but trails Manhattan by more than 2 million jobs.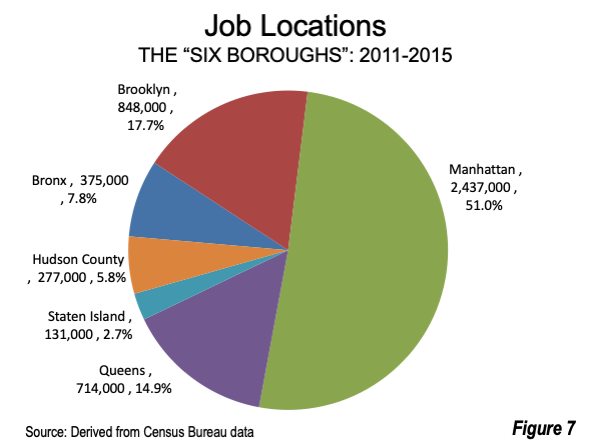 But Hudson County is very much an urban job center. On a jobs per resident employee basis it has more employment per resident than all boroughs but Manhattan, with its 2.81 jobs relative to workers (Figure 8). The huge excess of jobs over resident workers in Manhattan means that other areas (in this case the Bronx, Brooklyn, Queens and Brooklyn) have large excesses of resident workers compared to local jobs.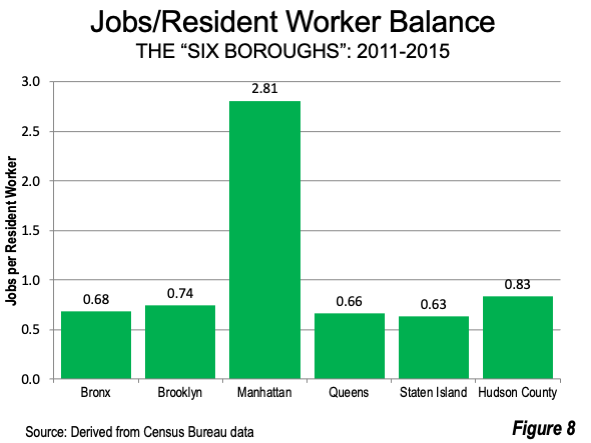 Yet the County's strong job position does not alter the fact it functions within a large labor market. Hudson County sends 26% of its commuters to Manhattan. This is more than Staten Island (24%). At the same time, with so many jobs available worker in Manhattan, it is surprising that 16% apparently could found their jobs of choice outside the borough (Figure 9).
Hudson County has a high transit commuting share, similar to that of the New York City boroughs. Hudson County's 42.7% is 20% to 40% below that of the four densest boroughs, and it is about 40% greater than that of Staten Island. Hudson County's transit share is about 12 times that of the nation outside the "six boroughs" (Figure 10).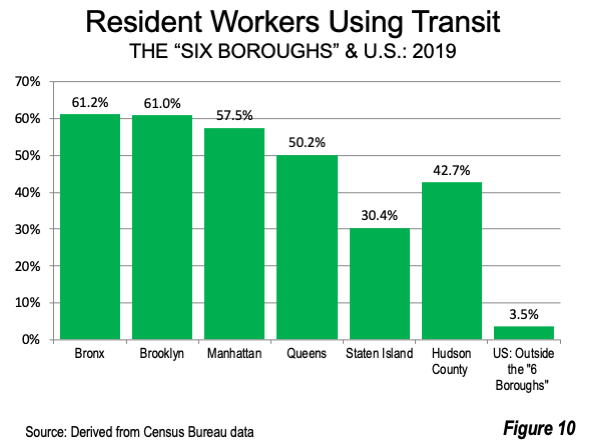 Hudson County also has a strong walking share, at 7.2%, ahead of both Staten Island and Queens but well below that of nation leading Manhattan (21.8%). Hudson County's walking share is three times that of the nation outside the "six boroughs" (Figure 11).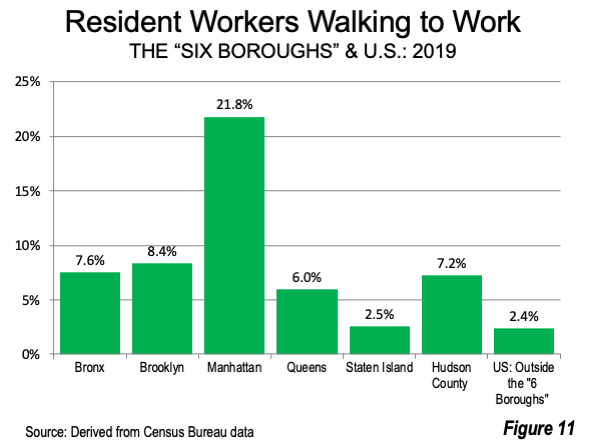 Hudson County has less than half the share of commuters driving alone to work than the nation outside the "six boroughs." Fewer commuters from Hudson County drive alone than in Staten Island, and only four percentage points more of its commuters drive alone than in Queens. However, more than six times as many Hudson County commuters drive than those living in Manhattan (Figure 12).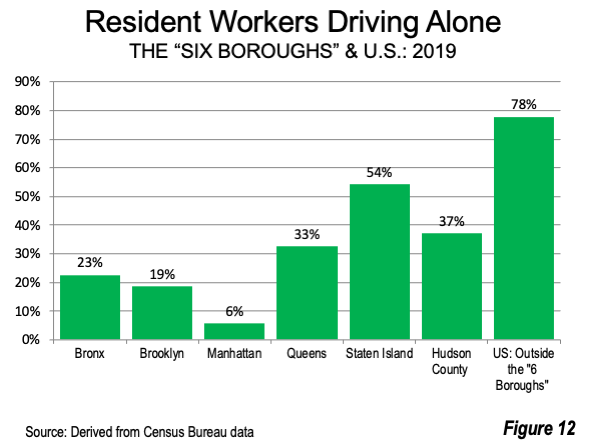 Hudson County has a smaller working at home share (3.9%) than Manhattan (7.6%) and Brooklyn (4.8%), and trails the nation outside the "six boroughs" (5.7%), though more than the Bronx, Queens and Staten Island (Figure 13).

Connecting the Six Boroughs
Hudson County is well connected to Manhattan, with its by far the largest central business district (by employment) in the nation.
Hudson County's Exchange Place has emerged as a new central business district (photo above) on the Hudson riverfront. Exchange Place is a virtual extension of lower Manhattan's financial district and is a rapid transit commuting destination in its own right (Port Authority Trans-Hudson County or "PATH"). The line continues in a tunnel to the World Trade Center station in Manhattan, and also serves downtown Newark.
Another PATH rapid transit tunnel provides services from Jersey City and Hoboken to lower Manhattan, Penn Station in Mid-town and downtown Newark. By virtue of PATH, Hudson County, like the Bronx, Brooklyn and Queens is connected by rapid transit to Manhattan. Staten Island is not, though it has the fabled Staten Island Ferry to Manhattan. There is also ferry service from Hudson County to Manhattan, much of it from the historic ferry terminal in Hoboken (photo above).
Hudson County residents can also access Penn Station in Manhattan by New Jersey Transit commuter rail services, as well as points in New Jersey via Hudson County's Secaucus Junction station.
Connections can be made in Manhattan to the New York City subway, as well as the Long Island and Metro-North commuter rail services.
The Holland and Lincoln Tunnels provide road access to lower Manhattan and Midtown. The Bayonne Bridge provides road access to Staten Island.
The Uniqueness of New York and Hudson County
The uniqueness of New York is well known. No other urban core in the United States can match its population, its density, its urban transport system, its central business district. At the same time, Hudson County shares this uniqueness by virtue of the fact that on most indicators it ranks within the range of New York City's five boroughs. Indeed, Hudson County exhibits the urban core characteristics of New York, but under its own control and that of its 12 local general purpose governments. It is a power that Brooklyn and Kings County forfeited with the 1898 consolidation that established the present city of New York.
Note: Hudson County has 12 general purpose local government units to serve its 700,000 residents, as opposed to the city of New York, with its six such governments serving about 8.5 million residents, according to the American Factfinder.
---
Wendell Cox is principal of Demographia, an international public policy firm located in the St. Louis metropolitan area. He is a founding senior fellow at the Urban Reform Institute, Houston, a Senior Fellow with the Frontier Centre for Public Policy in Winnipeg and a member of the Advisory Board of the Center for Demographics and Policy at Chapman University in Orange, California. He has served as a visiting professor at the Conservatoire National des Arts et Metiers in Paris. His principal interests are economics, poverty alleviation, demographics, urban policy and transport. He is co-author of the annual Demographia International Housing Affordability Survey and author of Demographia World Urban Areas.
Mayor Tom Bradley appointed him to three terms on the Los Angeles County Transportation Commission (1977-1985) and Speaker of the House Newt Gingrich appointed him to the Amtrak Reform Council, to complete the unexpired term of New Jersey Governor Christine Todd Whitman (1999-2002). He is author of War on the Dream: How Anti-Sprawl Policy Threatens the Quality of Life and Toward More Prosperous Cities: A Framing Essay on Urban Areas, Transport, Planning and the Dimensions of Sustainability.
Photo: Hoboken Terminal, with Exchange Plaza (Jersey City) in the background, by "King of Hearts", via Wikimedia, under CC 4.0 License.