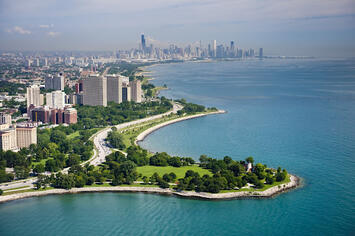 I was playing around with Chicago population figures by community area (the 77 officially designated "communities" established in the 1920s) and ended up with a map you might find interesting. Check it out: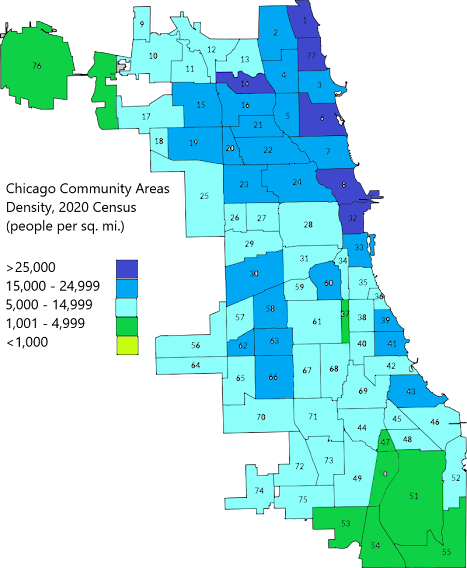 This is Chicago's population density, or persons per square mile, according to 2020 Census data. A few observations:
Chicago is probably the most dense city in the nation behind New York. Chicago's overall density of just under 12,000 people per square mile is high by American standards, but not especially so. However, where Chicago is densest it has only one peer. The two darkest blue areas fanning to the north and northwest from the Near South Side (#33 on the map) are 1,027,643 people within 46.26 square miles, or 22,214 per square mile. That's not Manhattan, Brooklyn or the Bronx density, but it does surpass every other dense jurisdiction in the nation: Queens, Hudson and Essex counties in New Jersey, San Francisco.
The real interesting findings might be in the 5,000-14,999 people per square mile tier. There are really very different kinds of communities in this tier. I see four types: 1) stable, middle-class neighborhoods on the far Northwest and Southwest sides; 2) depopulating neighborhoods on the West and South sides; 3) stable, working-class industrial-adjacent neighborhoods on the Southeast side, and 4) rapidly growing neighborhoods on the south lakefront.
The south lakefront has turned the corner. The Near South Side, Douglas, Grand Boulevard, Oakland, Kenwood, Woodlawn and South Shore (numbers 35, 36, 38, 39, 42 and 43 on the map) are growing after decades of population decline. They're regaining the densities they once had in the mid-20th century, and could soon catch up with the very dense north lakefront.
A stretch of the Southwest Side is becoming a dense hub. The South Lawndale/Little Village, Archer Heights, Brighton Park, West Elsdon, Gage Park, West Lawn and Chicago Lawn communities (numbers 30, 57, 58, 62, 63, 65 and 66 on the map) has gotten quite dense in recent years. The Chicago Transit Authority's Orange Line, which opened in 1993, connects Midway Airport with the Loop through these communities, and density has ticked upward in them since. It appears the Orange Line has helped create a community I imagine is like much of Queens -- beyond the city's core but still dense, while being working-class and relatively affordable.
The concentration of industrial uses puts a real dent into the density of the Southeast Side. Steel plants, auto factories, rail yards, the city's Lake Calumet industrial port -- all make intrusions into the population density of the Southeast side. There are small pockets of residential areas that would, on a larger scale, be as dense as some of the city's denser neighborhoods. And with the closure of many such facilities over the last 40 years, much of that land is vacant.
What used to be a North Side/South Side Chicago divide may be increasingly becoming a Lakefront/Inland divide. I've mentioned this before, but it bears saying again. Chicago's quickly moving toward being a very dense city within a couple miles or so from the lakefront, and far less dense further in, with some exceptions. I'm finding that's also becoming true for household income, educational attainment, housing prices and rents, but that's another story.
Please offer your thoughts. (click here to leave a comment at the author's site)
This piece first appeared at Corner Side Yard Blog
---
Pete Saunders is a writer and researcher whose work focuses on urbanism and public policy. Pete has been the editor/publisher of the Corner Side Yard, an urbanist blog, since 2012. Pete is also an urban affairs contributor to Forbes Magazine's online platform. Pete's writings have been published widely in traditional and internet media outlets, including the feature article in the December 2018 issue of Planning Magazine. Pete has more than twenty years' experience in planning, economic development, and community development, with stops in the public, private and non-profit sectors. He lives in Chicago.
Image: Chicago's south lakefront, looking north from Hyde Park's Promontory Point. The south lakefront is in the middle of a remarkable rebound, and beginning to mirror the density of the north lakefront. Source: chicagobusiness.com