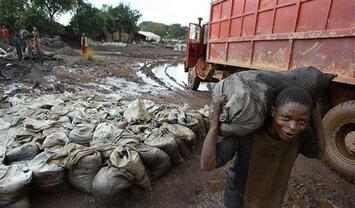 Global cobalt demand soared with the advent of cell phones and laptop computers. It exploded with the arrival of electric vehicles and now is skyrocketing in tandem with government EV mandates and subsidies. Cobalt improves battery performance, extends driving range and reduces fire risks.
Demand will reach stratospheric heights if governments remain obsessed with climate change and Net Zero. States and nations would have to switch to electric cars, trucks, buses and tractors; end coal and gas electricity generation; convert gas furnaces, water heaters and stoves to electricity; and provide alternative power for windless, sunless periods. Electricity generation would triple or quadruple.
Weather-dependent wind turbines and solar panels would require billions of battery modules, to stabilize power grids and avoid blackouts every time wind and sunshine don't cooperate.
All that Net Zero transformation equipment – plus transmission lines, substations and transformers – will require billions of tons of cobalt, lithium, copper, nickel, graphite, iron, aluminum, rare earths and other raw materials at scales unprecedented in human history. That will necessitate mining, ore processing, manufacturing, land disruption and pollution at equally unprecedented levels.
Just President Biden's first tranche of US offshore wind turbines (30,000 megawatts by 2030) will require some 110,000 tons of copper, for the turbines alone. Transmission lines, transformers and batteries are extra. Based on average global ore concentrations, getting that copper would require extracting 40,000,000 tons of surface rock (overburden) and 25,000,000 tons of copper ore.
But those 2,500 12-megawatt 800-foot-tall turbines would provide barely enough electricity to power New York state on a hot summer day, if the wind is blowing, and before its Net Zero mandates kick in.
However, the Biden Administration opposes mining in the United States – even for essential Net Zero materials; even under stringent US pollution, workplace safety and mined-land reclamation regulations. The President's horse-blindered Secretary of the Interior has vetoed mining for materials in Alaska, Minnesota and almost anywhere critical metals and minerals might be found.
The Administration is laser-focused on ending the "climate crisis" by switching to "clean" energy. It has few qualms about importing the critically needed materials from foreign countries, primarily China – regardless of economic, defense, national security, ecological or human rights implications. It just wants the dirty aspects of "clean" energy far away and out of sight.
Cobalt mining involves unimaginable horrors. Cobalt Red, by Nottingham University associate professor of modern slavery Siddharth Kara, exposes the excruciating realities that Stop Oil and Net Zero campaigners strive to keep buried – along with the bodies of parents and children killed in cave-ins or dying slowly and painfully after being maimed or poisoned in cobalt mines.
Read the rest of this piece at Townhall.
---
Paul Driessen is senior policy advisor for the Committee For A Constructive Tomorrow (www.CFACT.org) and author of books, reports and articles on energy, environmental, climate and human rights issues.
Photo: courtesy Townhall.