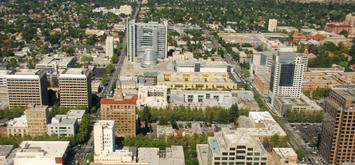 Dionne Warwick posed the question more than 40 years ago, yet most Americans still don't know 'The way to San Jose'. Possessing neither the international cachet of San Francisco nor the notoriety of Oakland, San Jose continues to fly under the national radar in comparison to its Bay Area compatriots. Even with its self-proclaimed status as the 'Heart of Silicon Valley', many would be hard pressed to locate San Jose on a map of California.
More well-known American cities may try to gain population by branding themselves as interesting places, but San Jose does not struggle to attract newcomers. Sprawling over 178 square miles, San Jose sits at the southern end of the San Francisco Bay. This year the city exceeded the 1 million population mark for the first time.
So what makes this city, the 10th-largest in the United States, appealing? Unlike its precious neighbor 50 miles to the north, San Francisco, people move to San Jose primarily for jobs – especially those related to the coveted technology sector. Whereas San Francisco balances its role as playground for the independently wealthy and welfare state for the lumpenproletariat, San Jose remains favored among families and those looking for a safe environment in which to raise children – not to mention, the weather is better.
San Jose does not stimulate a sense of urban exaltation. Aside from a commercial downtown core with a collection of mediocre high-rises (limited in height due to do downtown's adjacency to the San Jose Airport), the city is unapologetically suburban in a character.
San Jose's pattern of development can be traced back to its origins as an agricultural community supporting early Spanish settlers who chose to settle in the fertile Santa Clara Valley. It remained a modest-size agrarian community until the end of World War II when it underwent a period of rapid expansion-not unlike that of Los Angeles to the south. During the 1950s, with the emergence of semiconductor technology derived from silicon, San Jose and the greater Santa Clara Valley exploded into a center for the evolution of computer technology.
Today, San Jose can best be understood by its ambivalent relationship with neighboring Silicon Valley cities. Mid-size suburbs such as Cupertino, Sunnyvale, Mountain View and Palo Alto, all located west/northwest of San Jose as one travels up the peninsula towards San Francisco, are very distinct and separate entities. Home to some of Silicon Valley's heaviest hitters (Cupertino has Apple, Sunnyvale has Yahoo!, Mountain View has Google, Palo Alto has Hewlett-Packard, Facebook and Stanford University), these cities largely define the technology-focused region. To be sure, San Jose's has its share of big players, including eBay and Adobe as well as the 'Innovation Triangle', an industrial area of north San Jose, home to the headquarters of large companies like Cisco Systems and Cypress Semiconductor.
Yet, despite the presence of these firms, San Jose has become ever more a residential community, with among the worst jobs to housing balances in the region. Furthermore, a whopping 59% of the city's developed land constitutes residential use – 78% of that being single-family detached housing. In this sense, despite being the largest city, San Jose essentially serves as a 'bedroom community' for the rest of Silicon Valley.
This has been a burden for the city, which, unlike its neighbors, lacks enough large information technology companies to help fill their tax coffers. In contrast job rich 'green' cities like Palo Alto have remained staunchly 'anti-growth' regarding residential development and consequently have very high housing prices.
This pattern poses fiscal problems for San Jose. City officials have long been aware of the need to stimulate economic development instead of continuing to lose out to its neighbors but the city seems determined to increase further its role as dormitory for its neighbors. Indeed, amazingly the city's development agenda has in recent years shifted to a relentless focus on high-density, multi-family residential in the downtown core and along transit corridors. In 2007, 79% of all new housing built in San Jose was multi-family – a staggering deviation from its history of low density development.
Though well-intentioned, the slant towards densification has yielded a glut of empty condo units throughout the city. Those that have purchased units in new developments often find themselves with underwater mortgages. During a recent visit to one the flashy new downtown condo buildings, The 88, I entered a desolate sales office and was greeted by a skittish sales agent. When asked how sales were, my question was deferred without a direct answer in an act of not-so-quiet desperation.
Although it's clear most people in San Jose prefer lower density living, the city government continues hedging tax dollars against a future in which newcomers will want to live in a high-density setting. Outside of downtown, low to mid-rise multi-family housing has been built along the city's light-rail lines in what are conceived to be 'transit villages'. The popularity for such a lifestyle is questionable given the high price point and unreasonable HOA dues of these condo units, particularly when single-family detached houses can be purchased at comparable prices.
Despite these issues, San Jose seems hell-bent on its path towards densification. The city has major plans to develop the area around its Diridon Train Station, just west of downtown, as California High-Speed Rail and BART are projected to make their way to San Jose. Furthermore, the city government is counting on the Oakland A's baseball team making a move to San Jose.
From the Champs-Élysées to Tiananmen Square, grand urban visions are what have defined cities historically. As a product of the Silicon Valley ethos as well as an observer of planning trends, I would argue that this is no longer valid – especially for any city with the hopes of a prosperous future. Rather, in democratic societies, it will be the idiosyncrasies of individual actors and the prospect of upward mobility that will define a sense of place.
Obsessed with density and urban form, planners don't seem to grasp the chicken and egg conundrum – the notion that lifestyle amenities follow on the heels of economic opportunity. San Jose needs to cast its future on nurturing its entrepreneurs instead of trying to become something it is not yet ready to become.
Adam Nathaniel Mayer is a native of the San Francisco Bay Area. Raised in the town of Los Gatos, on the edge of Silicon Valley, Adam developed a keen interest in the importance of place within the framework of a highly globalized economy. He currently lives in San Francisco where he works in the architecture profession.