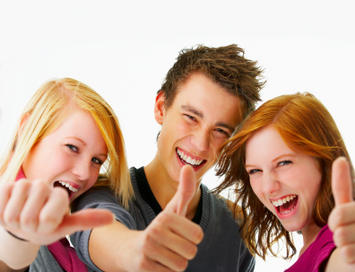 Perhaps nothing will shape the future of the country more than the emergence of the so-called Millennial generation. They have already put their stamp on the election, as Carl Cannon suggests in his insightful article in Reader's Digest, becoming a key driver for Senator Barack Obama's Presidential run.
But as Morley Winograd and Michael Hais, authors of the best-selling "Millenial Makeover," point out, the Millennial generation -- roughly those born between 1983 and 2003 -- represent far more than a rerun of 60s' generation liberalism. They share as well many traditionalist views about home, family and religion that may impact the nation's geography and attitudes on everything from race relations to suburbia for decades to come.
Not everyone is thrilled with the current celebration of Millennials. Some, like the insightful Lisa Chamberlain point out that many of the optimistic predictions made for her generation -- the so-called Xers -- turned out to be off target. She maintains that powerful outside influences, such as high energy prices, may constrain the normative optimism widely identified with the Millennials.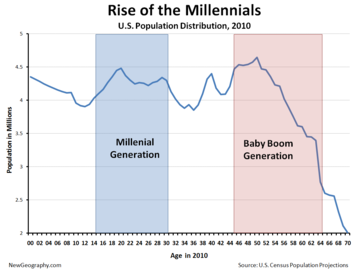 But however they might turn out, one thing is certain: by the sheer weight of numbers the Millennials will shape the nation in profound ways. By 2010 this generation will be entering adulthood and will equal or surpass the boomers. They will become the new force in the housing market, forming the base for a new wave of homeowners.
Although it is far too early to predict where they will settle, authors Winograd and Hais argue, the first groups of older Millennials appear to be following their predecessors to the suburbs. They point out that this group values homeownership even more than earlier generations, seems more amenable to living near their parents and have expressed strong interest in raising children.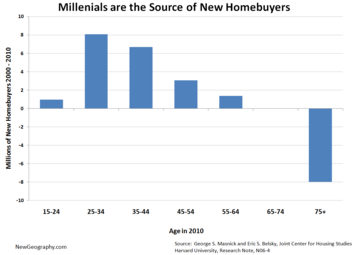 Of course, other factors, as Lisa Chamberlain argues, could force the Millennials to live more in dense urban areas. The imposition of draconian planning regimes -- in part based on the idea that suburbs promote global warming -- could leave them with little other choice. And finally land prices could force suburban developers to densify and all but eliminate the single-family residence.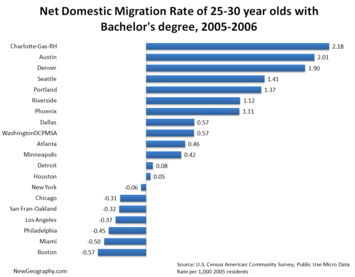 But history suggests none of this is likely. People will locate in those areas that provide quality of life, affordable housing and economic opportunity. Our snapshot of educated Millennials between 25 and 30, which may be considered the vanguard of that generation, shows a preference for the generally affordable Western and Sunbelt regions like Charlotte, Austin, Denver, Portland, Riverside-San Bernardino, Phoenix and Dallas.
One place on balance the older Millennials are not going: the big metropolitan areas of California and the Northeast. In 2006, New York, Los Angeles, Chicago, Philadelphia, the San Francisco Bay Area and Boston all lost more educated Millennials than they gained. As the impact of the financial meltdown shifts to these cities, particularly the financial centers, this trend could accelerate, particularly in the New York area.
Yet in the end, predicting the future is a tricky business. In the hippy heyday of 1968 few people would have expected the Boomers to follow their parents into suburbia and, as a group, flock to the banner of Ronald Reagan and become the bulkwark of a great conservative resurgence. That's why, while it's always good to tap as much good data as possible, prognostication remains more as an art than a science.
Joel Kotkin is Executive Editor of www.newgeography.com.