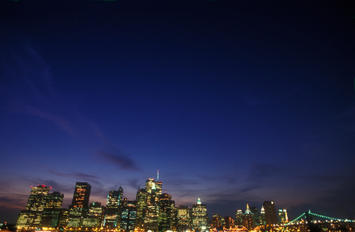 When Michael Bloomberg stood on the steps of City Hall last week to be sworn in for a third term as New York City's mayor, he spoke in upbeat terms about the challenges ahead. The situation, however, is far more difficult than he portrays it. American financial power has shifted from New York to Washington, while global clout moves toward Singapore, Hong Kong, and Shanghai. Even if the local economy rebounds, the traditional media industries that employ many of Bloomberg's influential constituents likely will continue to decline. New Yorkers have long had an outsize view of their city; historically, its mayors have touted mottos that encouraged that view, from Rudy Giuliani's "capital of the world" to Mike Bloomberg's "luxury city." But as Bloomberg begins his new term, New York needs to reexamine its core economic strategy.
A good first step would be to recognize that the world owes New York nothing. The city cannot simply rely on inertia and the disbursements of Wall Street megabonuses to save its economy. Instead, it needs to rebuild its middle-class neighborhoods and diversify toward a wide range of industries that can capitalize on the city's unique advantages—including its appeal to immigrants; the port; and its leadership in design, culture, and high-end professional services.
It's also time to get rid of the Sex and the City image and start making New York a city where people can have both sex and children. This will become more important as the millennial generation enters its late 20s and early 30s later this decade. This is when many young migrants to the city, including upwardly mobile immigrants, typically become ex–New Yorkers.
Despite all the "back to the city" hype, New York over the past decade suffered one of the highest rates of out-migration of any region in the country. Young singles may come to New York, but many leave as they get older and have families. An analysis by the city controller's office in 2005 found that people leaving the city were three times more likely to have children than those arriving.
If New York is to thrive, it will need to keep more of these largely middle-class families. To do that, it needs to diversify its economy beyond Wall Street, which in 2007 provided roughly 35 percent of all income earned in the city. Since the recession, the city has lost 40,000 financial-service jobs, but the industry has been quietly downsizing for years: over the past two decades, more than 100,000 financial-services jobs have disappeared from New York. In good years, financial services provided an enormous cash engine, but it can no longer provide enough jobs. According to an analysis by the Praxis Strategy Group, finance now accounts for barely one in eight jobs in New York City. Most job growth has come instead in lower-paying professions like health care and tourism.
To become economically sustainable, New York needs to create policies that help encourage development in areas where its less wealthy citizens live. Most outsiders identify New York almost exclusively with Manhattan, yet roughly three out of four New Yorkers actually live in the outer boroughs: Queens, Brooklyn, Staten Island, and the Bronx. Neighborhoods like Bay Ridge, Whitestone, Flatbush, Howard Beach, and Middle Village are really New York's middle-class bastions.
Over the past decade, these communities have provided a critical middle ground between the bifurcated Bloombergian "luxury city" with its high-end enclaves and the many distressed neighborhoods throughout the city. Although the mayor, some urbanists, and many developers would like to make these middle-class enclaves ever denser, their very appeal often lies in their moderate scale, proximity to work areas, decent schools, and parks. Those attributes hold sway, even in a recession. "Brand- new and expensive places have not held up as well as the established family neighborhoods," says Jonathan Bowles, director of the New York–based Center for an Urban Future.
Nurturing these neighborhoods will require a distinct shift in public policy. During the Bloomberg years the big subsidies have gone to luxury condo megadevelopments, sports stadiums, or huge office complexes. Consider the 22-acre Atlantic Yards project in downtown Brooklyn, which will include luxury housing and a new arena for the NBA's Nets; one recent report by the city's Independent Budget Office put the total subsidies provided by the city, New York state, and the transit authority at $726 million and estimated the project will hurt, not help, the city's economy over time.
More than anything, the plain-vanilla neighborhoods that represent New York's real future will require policies that create a broad array of economic opportunities. Right now New York is so overregulated and highly taxed that only the most high-end business, such as big media and financial firms, can possibly thrive. The city has neglected its smaller firms, typically engaged in such activities as food processing, furniture making, and garment production. Traditionally these industries were run by Russian, German, Polish, and Italian immigrants; West Indians, Latinos, Koreans, Chinese, and South Asians do much of this work today. Over the past decade, the number of self-employed immigrants in New York has grown even as the number of self-employed among the native-born has dropped.
Earlier generations of urban residents as well as many immigrants today stay in the city to be close to their communities and industries dominated by them. These days many others stay in the city largely because of its cultural attributes and quality of life. This doesn't mean these workers remain unreconstructed bohemians forever. Their priorities often change as they age, start businesses, and raise families. Different, more mundane issues—stable employment, taxes, safety, schools, and housing affordability—often determine whether they stay in the city. "It's easy to name the things that attracted us—the neighbors, the moderate density," says Nelson Ryland, a film editor with two children who works in his sprawling home in Brooklyn's Flatbush neighborhood. "More than anything it's the sense of the community. That's the great thing that keeps people like us here."
Technology will boost this sense of community. Online groups like the Flatbush Family Network can facilitate contact in different parts of a city among artists, families, and neighborhood groups, supplementing the traditional community adhesives of schools, churches, synagogues, and clubs. These new online institutions can perform some of the functions that urbanist Jane Jacobs's "eyes on the street" did in the old, cohesive city neighborhood. Information about the arrival of a promising new store or restaurant, or the unwelcome appearance of a possible child molester, travels through these community networks much as it did when mothers spoke over the washing, men went to the pool hall, or kids hung out at the candy store.
Bloomberg has built on many of the achievements of his predecessor during his eight years in City Hall. This, combined with huge campaign spending from his personal fortune, is why voters sent him back for a third term. To position the city for prosperity in an economy that's no longer overly dominated by Wall Street, he'd be wise to spend his final term focused on making new opportunities for people who live far from his own Upper East Side neighborhood—the people who represent the real future of New York.
This article originally appeared at Newsweek.
Joel Kotkin is executive editor of NewGeography.com and is a distinguished presidential fellow in urban futures at Chapman University. He is author of The City: A Global History
. His next book, The Next Hundred Million: America in 2050
, will be published by Penguin Press early next year.