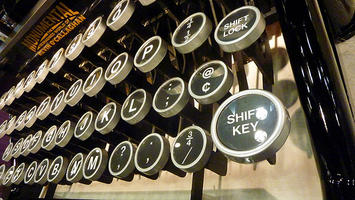 If the future of the printed word lies inside the sleek case of Apple's new iPad, get ready for illuminated manuscripts that will turn most books into animated cartoons. It was all on display at Book Expo America (BEA), the just-ended annual trade fair extravaganza that pulls together under one roof all the players in the publishing industry.
BEA met in the vast caverns of New York's Jacob Javits Center, which for two days was clogged with booksellers, librarians, authors distributors, packagers, literary agents, ghost writers, designers, and editors, all searching for the holy grail of the next bestseller.
The former Duchess of York, Sarah Ferguson, known to the tabloids as Fergie, was hyping her new book, which I daydreamed might have the title, "Diary of a Bag Woman." She wasn't alone: To tout their wares, at BEA, every publisher that can do so arranges for its star authors to sign advance copies of their forthcoming books.
Other authors on display at this year's exposition were Ian Frazier, of New Yorker fame, who has a new book about his travels in Siberia, and Gary Trudeau, Doonesbury's creator, who was flogging an anthology of Zonker's forty years. The publishers of L. Ron Hubbard accosted me in the aisles with some raptures on Scientology. And I sat through several presentations on the future of electronic books, which are best understood as clouds of literacy delivered with the whoosh of an email.
The eight hundred pound gorilla in the rooms at the Javits Center was, of course, Amazon, which delivers an endless river of books to readers, but which shaves the margins of publishers and writers.
There was little evidence of Barnes and Noble or Borders, the overweight gorillas of earlier years. Both retailers now appear in the guise of suburban dinosaurs, heavy on inventory, coffee, and "gift ideas."
Who needs to venture to the mall for a book when Amazon can deliver it to your mailbox, or an ebook to your Kindle, seemingly in seconds? Amazon also offers "print on demand" services that, based on your digital file, can print a quality paperback edition of a book in about four hours from when an order is received, sparing the industry the headache of remaindered copies and large warehouses.
The next step in retailing was on display, as well: the so-called Espresso Book Machine, a $75,000 on-demand printing press that, almost instantly, can print top quality paperback books. Imagine printing out War and Peace as you are waiting to board a (delayed) flight.
The model of the book publishing industry hasn't changed since Gutenberg printed his bible. As in the Renaissance, publishers recruit authors to write compelling stories, print them between cardboard, and try to sell the products to captive audiences.
The author's take from this production line is about fifteen percent, after expenses have been paid. For a book that sold 20,000 copies with a cover price of $30, the publisher might gross $200,000, while the author could hope to take home about $30,000 — one reason why publishers at BEA entertain each other with expense account lunches while writers live in garrets.
Even Amazon has no lock on the future of book publishing, especially that of ebooks. Its Kindle, despite being early in the game, is proprietary to Amazon, and the future of electronic publishing may be in the sale of "open format" devices, so that consumers can read their book files on whatever portable reader they happen to own.
The question of which format will become the ebook industry standard was certainly a buzz topic at BEA. Don't bet on the iPad sweeping the field; many conventioneers complained that it was heavy. The hot concept at BEA was the enhanced manuscript, which marries the traditional electronic book with Internet hyperlinks.
Imagine that your child is struggling through a school text on the treaties of Westphalia (the end of the Thirty Years War in 1648). On encountering the word "Münster," the child is invited to click through to a short film that shows the Papal legate arriving in the German city with his dog or to listen to simulated dialogue between Cardinal Mazarin and the German princes. Elsewhere, maps of Europe's new nation-state configuration pop up on demand.
Some of the most crowded stands were those of small and independent publishers. Is the traditional publishing business doomed? Many publishers would appear to be heading to the exits. Their business model is laden with costs (staff, paper, printing, distribution, and warehousing), and their profits are squeezed by Amazon and other online sources.
The only reason to publish a book with a house like Simon & Schuster is because they have the access to sales and distribution markets. Anyone with a Mac and some patience can turn out an ebook and post it to Amazon. The big publishers may garner shelf space at Barnes and Noble, but big box stores themselves may be going the way of all flesh.
My guess is that most reading in the future will be done online and electronically, and that readers who want a hard copy of the book will print one from something like the Espresso Book machines.
The big retailers are likely to fade away, but small independent book shops, places like Margot Farris's Pages in Manhattan Beach, California, will survive as local centers of literacy, gathering like-minded reading spirits that want something more than an e-file, even if it's just wine and cheese.
As a reader, what excited me at BEA? Very little, I confess. Despite wandering a convention center the size of the Astrodome full of books, I saw little that I wanted to read.
For a long time, publishing has served up specialty books about self-improvement, wine, dogs, antiques, exercise, home repair, and the like. Books about things that interest me — that's history, travel, essays, classical fiction, baseball, Theodore Dreiser, and the Russo-Japanese War of 1904-05 — seemed lost in the glitzy displays.
I did pick up a biography of Montaigne, Frazier's travels to Krasnoyarsk, and an invitation to visit Oman's Department of Education, whose booth staff, next to the glitter of Harper Collins, looked like contestants on "Lost."
As for writers, I fear that printed words will remain an oversupplied commodity, abundant on all sorts of devices, pages, and sites that are notable for their inability to pay writers for their work, even if it is hyperlinked, profusely illustrated, gold embossed, or dedicated to the lives of the saints.
As a book writer, I might wish it otherwise, and pine for the days when typeset words, printed on heavy stock paper, were all that were required to prod the reader's illumination. To use the words of E.B. White, who wrote Charlotte's Web, I write "to amuse myself and for children." That's not something iPads, Fergie, or L. Ron Hubbard can take away.
Photo of Abrams Books' giant typewriter display, Book Expo America, May, 2010 by gruntzooki: http://www.flickr.com/photos/doctorow/4639586151/
Matthew Stevenson is the author of Remembering the Twentieth Century Limited
, winner of Foreword's bronze award for best travel essays at this year's BEA. He is also editor of Rules of the Game: The Best Sports Writing from Harper's Magazine
. He lives in Switzerland.